 Zündapp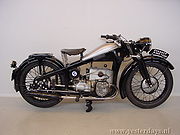 Zündapp
was a major
German
Germany
Germany , officially the Federal Republic of Germany , is a federal parliamentary republic in Europe. The country consists of 16 states while the capital and largest city is Berlin. Germany covers an area of 357,021 km2 and has a largely temperate seasonal climate...
motorcycle
Motorcycle
A motorcycle is a single-track, two-wheeled motor vehicle. Motorcycles vary considerably depending on the task for which they are designed, such as long distance travel, navigating congested urban traffic, cruising, sport and racing, or off-road conditions.Motorcycles are one of the most...
manufacturer. The company was founded in 1917 in
Nuremberg
Nuremberg
Nuremberg[p] is a city in the German state of Bavaria, in the administrative region of Middle Franconia. Situated on the Pegnitz river and the Rhine–Main–Danube Canal, it is located about north of Munich and is Franconia's largest city. The population is 505,664...
by Fritz Neumeyer, together with the Friedrich
Krupp
Krupp
The Krupp family , a prominent 400-year-old German dynasty from Essen, have become famous for their steel production and for their manufacture of ammunition and armaments. The family business, known as Friedrich Krupp AG Hoesch-Krupp, was the largest company in Europe at the beginning of the 20th...
AG and the
machine tool
Machine tool
A machine tool is a machine, typically powered other than by human muscle , used to make manufactured parts in various ways that include cutting or certain other kinds of deformation...
manufacturer Thiel under the name "
Zünd
er- und
App
aratebau G.m.b.H." as a producer of
detonator
Detonator
A detonator is a device used to trigger an explosive device. Detonators can be chemically, mechanically, or electrically initiated, the latter two being the most common....
s. In 1919, as the demand for weapons parts declined after the
First World War
World War I
World War I , which was predominantly called the World War or the Great War from its occurrence until 1939, and the First World War or World War I thereafter, was a major war centred in Europe that began on 28 July 1914 and lasted until 11 November 1918...
, Neumeyer became the sole proprietor of the company, and two years later he diversified into the construction of
motorcycle
Motorcycle
A motorcycle is a single-track, two-wheeled motor vehicle. Motorcycles vary considerably depending on the task for which they are designed, such as long distance travel, navigating congested urban traffic, cruising, sport and racing, or off-road conditions.Motorcycles are one of the most...
s. The company folded in 1984.
The first Zündapp motorcycle was the model
Z22
in 1921. This was the
Motorrad für Jedermann
("motorcycle for everyone"), a simple and reliable design that was produced in large series. Zündapp's history of heavy motorcycles began in 1933 with the K-series. The "K" stands for
"Kardanantrieb"
,
i.e.
enclosed driveshaft with two universal joints, the type of drivetrain that these models used. They introduced the enclosed engine case, a novelty at the time. The series encompassed models from 200 to 800 cc
displacement
Engine displacement
Engine displacement is the volume swept by all the pistons inside the cylinders of an internal combustion engine in a single movement from top dead centre to bottom dead centre . It is commonly specified in cubic centimeters , litres , or cubic inches...
and was a major success, increasing Zündapp's market share in Germany from 5% in 1931 to 18% in 1937.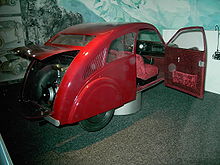 From 1931
Ferdinand Porsche
Ferdinand Porsche
Ferdinand Porsche was an Austrian automotive engineer and honorary Doctor of Engineering. He is best known for creating the first hybrid vehicle , the Volkswagen Beetle, and the Mercedes-Benz SS/SSK, as well as the first of many Porsche automobiles...
and Zündapp developed the prototype
Auto für Jedermann
("car for everyone"), which was the first time the name "
Volkswagen
Volkswagen
Volkswagen is a German automobile manufacturer and is the original and biggest-selling marque of the Volkswagen Group, which now also owns the Audi, Bentley, Bugatti, Lamborghini, SEAT, and Škoda marques and the truck manufacturer Scania.Volkswagen means "people's car" in German, where it is...
" was used. Porsche preferred the 4-cylinder flat engine, but Zündapp used a water-cooled 5-cylinder radial engine. In 1932 three prototypes were running. All three cars were lost during the war, the last in 1945 in
Stuttgart
Stuttgart
Stuttgart is the capital of the state of Baden-Württemberg in southern Germany. The sixth-largest city in Germany, Stuttgart has a population of 600,038 while the metropolitan area has a population of 5.3 million ....
during a bombing raid.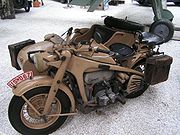 From 1936 to 1938 Zündapp produced the KKS500 model. This was the first Zündapp with a foot gearchange, and 170 examples were built. From 1940 onwards Zündapp produced more than 18,000 units of the Zündapp KS 750. This is a
sidecar
Sidecar
A sidecar is a one-wheeled device attached to the side of a motorcycle, scooter, or bicycle, producing a three-wheeled vehicle.-History:A sidecar appeared in a cartoon by George Moore in the January 7, 1903, issue of the British newspaper Motor Cycling. Three weeks later, a provisional patent was...
outfit with a driven side wheel and a
locking differential
Locking differential
A locking differential, diff-lock or locker is a variation on the standard automotive differential. A locking differential may provide increased traction compared to a standard, or "open" differential by restricting each of the two wheels on an axle to the same rotational speed without regard to...
, supplied to the German
Wehrmacht
Wehrmacht
The Wehrmacht – from , to defend and , the might/power) were the unified armed forces of Nazi Germany from 1935 to 1945. It consisted of the Heer , the Kriegsmarine and the Luftwaffe .-Origin and use of the term:...
.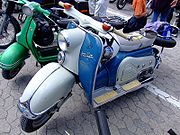 After the
Second World War
World War II
World War II, or the Second World War , was a global conflict lasting from 1939 to 1945, involving most of the world's nations—including all of the great powers—eventually forming two opposing military alliances: the Allies and the Axis...
the company gradually shifted to producing smaller machines, notably the "Bella" motor scooter, which was, however, a relatively heavy machine for its type. In 1951 Zündapp released the last of its heavy motorcycle models, but also one of its most famous: the KS601 (the "green elephant") with a 598 cc two-cylinder engine. From 1957 to 1958 the company also produced the
Zündapp Janus
Zündapp Janus
Zündapp Janus was the name of a microcar model made by Zündapp in Germany between 1957 and 1958. Originally Zündapp made motorcycles, but in 1954 decided to make a more weatherproof vehicle. They looked at designs from Kroboth, Brütsch, and Fuldamobil before settling for a design by Dornier...
microcar
Microcar
A microcar is the smallest automobile classification usually applied to standard small car . Such small cars were generally referred to as cyclecars until the 1940s. More recent models are also called bubblecars due to their egg-shaped appearance.-Definition:The definition of a microcar has varied...
.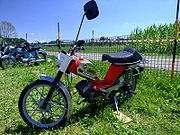 In 1958 the company moved from Nuremberg to
Munich
Munich
Munich The city's motto is "" . Before 2006, it was "Weltstadt mit Herz" . Its native name, , is derived from the Old High German Munichen, meaning "by the monks' place". The city's name derives from the monks of the Benedictine order who founded the city; hence the monk depicted on the city's coat...
. Subsequently, the company developed several new smaller models, discontinued the development of
four-stroke
Four-stroke cycle
A four-stroke engine, also known as four-cycle, is an internal combustion engine in which the piston completes four separate strokes—intake, compression, power, and exhaust—during two separate revolutions of the engine's crankshaft, and one single thermodynamic cycle.There are two...
engines and only produced
two-stroke
Two-stroke cycle
A two-stroke engine is an internal combustion engine that completes the process cycle in one revolution of the crankshaft...
models. Initially, Zündapp scooters and
moped
Moped
Mopeds are a type of low-powered motorcycle designed to provide economical and relatively safe transport with minimal licensing requirements.Mopeds were once all equipped with bicycle-like pedals , but moped has been increasingly applied by governments to vehicles without pedals, based on their...
s sold well, but later sales declined and in 1984 the company went bankrupt and closed.
After the bankruptcy, the entire production line and intellectual properties was bought by Xunda Motor Co.,
Tianjin
Tianjin
' is a metropolis in northern China and one of the five national central cities of the People's Republic of China. It is governed as a direct-controlled municipality, one of four such designations, and is, thus, under direct administration of the central government...
, China. They produced small Zündapp motorcycles from 1987 till early 1990s. Zundapp is still in business, but makes Honda based 4-stroke motorcycles and electric mopeds.
Zündapp also had a technical collaboration with Enfield India to build mopeds and motorcycles. A dedicated factory was built at Ranipet near
Chennai
Chennai
Chennai , formerly known as Madras or Madarasapatinam , is the capital city of the Indian state of Tamil Nadu, located on the Coromandel Coast off the Bay of Bengal. Chennai is the fourth most populous metropolitan area and the sixth most populous city in India...
in early 1980's to manufacture small, lightweight two-stroke motorcycles to be offered along with their flagship
Royal Enfield Bullet
Royal Enfield Bullet
The Royal Enfield Bullet was originally a British overhead valve single cylinder 4-stroke motorcycle made by Royal Enfield in Redditch, West Midlands, but now produced by Royal Enfield Motors, the successor to the British company, at Chennai , Tamil Nadu in India...
. Enfield launched two 50 cc motorcycles first,the step- thru Silver Plus and the 3-speed Explorer motorcycle. Later, 175 cc Enfield Fury (based on Zündapp KS175) was introduced as a performance motorcycle. It had 5-speed gearbox, a hydraulic
Brembo
Brembo
Brembo S.p.A. is a manufacturer of automotive brake systems, especially for high-performance cars and motorcycles. It was established in Bergamo, Italy in 1961. Soon after the company was formed, it specialised in disc brakes, which were exclusively imported from the United Kingdom at the time...
disc brake and a sleeveless hard chromed cylinder barrel, all were a first on a motorcycle in that country.
See also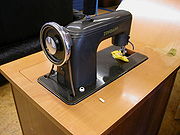 BMW (motorcycles)

BMW motorcycles

BMW's motorcycle history began in 1921 when the company commenced manufacturing engines for other companies. Motorcycle manufacturing now operates under the BMW Motorrad brand...



Čezeta
Heinkel

Heinkel

Heinkel Flugzeugwerke was a German aircraft manufacturing company founded by and named after Ernst Heinkel. It is noted for producing bomber aircraft for the Luftwaffe in World War II and for important contributions to high-speed flight.-History:...



Maico

Maico

For the manga series, see Maico 2010.Maicowerk A.G. was founded in 1926, originally assembling 98 and 123 cc Ilo two stroke motors. After World War II the West German motorcycle manufacturer began producing its own unit construction two stroke engines, selling engines and complete motorcycles...



MZ Motorrad- und Zweiradwerk GmbH
External links
Zundapp at the Open Directory Project

Open Directory Project

The Open Directory Project , also known as Dmoz , is a multilingual open content directory of World Wide Web links. It is owned by Netscape but it is constructed and maintained by a community of volunteer editors.ODP uses a hierarchical ontology scheme for organizing site listings...