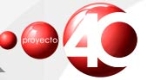 XHTVM-TV
XHTVM-TV
channel 40, also known as
Proyecto 40
, is the call sign assigned to a TV channel operated by
TV Azteca
TV Azteca
Azteca, is the second largest Mexican television entertainment. It was established in 1983 as the state-owned Instituto Mexicano de la Televisión , a holding of the national TV networks channel 13 and 7 and was privatized under its current name in 1993 and now is part of Grupo Salinas...
in
Mexico City
Mexico City
Mexico City is the Federal District , capital of Mexico and seat of the federal powers of the Mexican Union. It is a federal entity within Mexico which is not part of any one of the 31 Mexican states but belongs to the federation as a whole...
,
Mexico
Mexico
The United Mexican States , commonly known as Mexico , is a federal constitutional republic in North America. It is bordered on the north by the United States; on the south and west by the Pacific Ocean; on the southeast by Guatemala, Belize, and the Caribbean Sea; and on the east by the Gulf of...
, owned by Televisora del Valle de México. Programming generally consists of news, informational and entertainment programming.
History
XHTVM first signed on in
October
October
October is the tenth month of the year in the Julian and Gregorian Calendars and one of seven months with a length of 31 days. The eighth month in the old Roman calendar, October retained its name after January and February were inserted into the calendar that had originally been created by the...
1995 as
CNI Canal 40
, "CNI" being an acronym for
Corporación de Noticias e Información
(News and Information Corporation). As CNI, XHTVM concentrated on news and discussion programming, along with some general entertainment shows and infomercials. News sources for CNI came from Telenoticias,
Reuters
Reuters
Reuters is a news agency headquartered in New York City. Until 2008 the Reuters news agency formed part of a British independent company, Reuters Group plc, which was also a provider of financial market data...
,
Telemundo
Telemundo
Telemundo is an American television network that broadcasts in Spanish. The network is the second-largest Spanish-language content producer in the world, and the second-largest Spanish-language network in the United States, behind Univision....
, Artear, Spain's
Antena 3
Antena 3 (Spain)
Antena 3 is a Spanish terrestrial television channel owned by Antena 3 de Televisión. Some of the more popular programmes broadcast by Antena 3 include Aquí no hay quien viva, El Barco, Los Protegidos, Los Simpson and El Internado....
and
NBC
NBC
The National Broadcasting Company is an American commercial broadcasting television network and former radio network headquartered in the GE Building in New York City's Rockefeller Center with additional major offices near Los Angeles and in Chicago...
. CNI also had 123 reporters and correspondents filing reports from throughout Mexico.
In 1997, programming rights for CNI were sold to
CNN
CNN
Cable News Network is a U.S. cable news channel founded in 1980 by Ted Turner. Upon its launch, CNN was the first channel to provide 24-hour television news coverage, and the first all-news television channel in the United States...
, which then used the station to rebroadcast
CNN en Español
CNN en Español
CNN en Español is CNN's Spanish language news channel. On March 17, 1997, CNN launched CNN en Español, a 24-hour Spanish-language news network for the Hispanic American and United States marketplace.-Mexico programming:...
, with the station's staff concentrating on the Mexico City area.
In 1999, CNI partnered with
TV Azteca
TV Azteca
Azteca, is the second largest Mexican television entertainment. It was established in 1983 as the state-owned Instituto Mexicano de la Televisión , a holding of the national TV networks channel 13 and 7 and was privatized under its current name in 1993 and now is part of Grupo Salinas...
, becoming "Azteca 40", TV Azteca's third station. Under this partnership, CNI would carry programming provided by TV Azteca, including its news and entertainment programming; Azteca loaned CNI $15 million. The channel was split in half - one half was TV Azteca's entertainment shows and the other half was produced by CNI, featuring "CNI Noticias" – the station's flagship newscast with Ciro Gomez Leyva and Dennis Maerker – and other such programs. The contract allowed Azteca to buy 51% of XHTVM if the deal were to be broken.
On 16 July 2000, station owner Javier Moreno Valle unilaterally broke the contract with TV Azteca, removing the network's programming from the air. Valle believed TV Azteca was filling up the time allotted to his CNI with leftover TV Azteca programs. As a result, TV Azteca sued Valle for breach of contract.
On 27 December 2002, TV Azteca used armed guards to take over the station and its transmitting facilities in Cerro del Chiquihuite, renaming the channel to "Azteca 40" again; this situation generated a lot of criticism against TV Azteca and the lack of action on the part of the "Dirección General de Radio, Televisión y Cinematografía" or RTC (the Mexican government's "Department of Radio, Television and Film") (RTC claimed that all its representatives were on holiday); in the meantime, CNI kept transmitting its programming on cable.
Fox would end up being questioned why he permitted the take of CNI's installations. When questioned in the presidential plane on the subject, Fox merely said, "¿Y yo por qué?" ("And why me?"), leading to one of his greatest political blunders in his tenure as president.
After the end of holiday celebrations, the RTC and Mexico's Secretariat of Communications and Transportation took the matter into their own hands and determined that the takeover of XHTVM was illegal and asked for the removal of Azteca's personnel from the Chiquihuite transmitter site. Color bars reappeared on 6 January 2003; by the end of the month, CNI resumed control of the channel and of its transmission facilities.
In October 2003, CNI put XHTVM up for sale: one potential buyer for what would have been a 51% stake in the network was Isaac Saba.
However, shortly after the station's crisis with TV Azteca, CNI suffered financial problems and a looming threat of a strike by its employees. On May 19, 2005, 300 unionized CNI employees went on strike, demanding $3.6 million US in back pay. The station was forced off the air by this strike action. Valle had his own legal troubles: on June 29, an arrest warrant was issued for Valle for evading some $297,000 US in taxes in addition to claims by Mexico's Tax and Finance Secretariat that XHTVM owed $19 million in unpaid taxes. Valle was arrested in Houston, Texas on 9 November 2005. The country's then-Attorney General Daniel Cabeza de Vaca asked the United States to extradite Valle to México.
General Electric
General Electric
General Electric Company , or GE, is an American multinational conglomerate corporation incorporated in Schenectady, New York and headquartered in Fairfield, Connecticut, United States...
México loaned $5 million to CNI and was willing to help ease its financial woes, but the Mexican government blocked the loan due to its stance against foreign ownership of broadcasters; in fact, Azteca sued, claiming XHTVM defrauded its creditors by accepting a loan that they might not be able to guarantee. The union additionally would not accept payment until the loan was validated.
On 19 September 2005, the Juez Séptimo Civil del Tribunal Superior de Justicia del Distrito Federal (Seventh Civil Court of the Superior Court of Justice for the Federal District) ruled that TV Azteca could operate XHTVM.
After several legal mistrials against Moreno Valle, XHTVM returned to the air in early 2006, now under its current moniker
Proyecto 40
(Project 40). The station would continue to carry its slate of news and entertainment programming, but without interference from the large media companies. In late November 2007, Valle's lawyers sued TV Azteca for illegally using XHTVM. To date, TV Azteca has not been able to claim victory in the legal dispute. XHTVM was the first Mexico City television station ever to face an employee strike.
End of Conflict
On October 11 2011 it was announced that Mr. Moreno Valle had won the conflict and that TV Azteca has to deliver the Channel 40 to its rightful owner,Mr.Javier Moreno Valle.Thanks to Mr.Javier Quijano Baz,Channel 40 s lawyer, managed to insert Mr Moreno Valle back to his post of Owner
of the company due to some meetings held in September 12 2005 where he is rectified.
Now Azteca is forced to deliver the channel back and to continue its original run as CNI Canal 40,according to the lawyer.Although Azteca argues that they have the rights to operate the channel they are not the owners.
External links