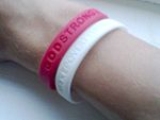 Wristband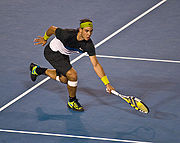 Wristbands
are encircling strips worn on the
wrist
Wrist
In human anatomy, the wrist is variously defined as 1) the carpus or carpal bones, the complex of eight bones forming the proximal skeletal segment of the hand;...
, made from a variety of materials depending on the purpose. The term can be used to refer to the
bracelet
Bracelet
A bracelet is an article of jewelry which is worn around the wrist. Bracelets can be manufactured from metal, leather, cloth, plastic or other materials and sometimes contain jewels, rocks, wood, and/or shells...
-like band of a
wristwatch
Watch
A watch is a small timepiece, typically worn either on the wrist or attached on a chain and carried in a pocket, with wristwatches being the most common type of watch used today. They evolved in the 17th century from spring powered clocks, which appeared in the 15th century. The first watches were...
, to the
cuff
Cuff
A cuff is an extra layer of fabric at the lower edge of the sleeve of a garment covering the arms. In US usage the word may also refer to the end of the leg of a pair of trousers...
or other part of a
sleeve
Sleeve
Sleeve is that part of a garment which covers the arm, or through which the arm passes or slips. The pattern of the sleeve is one of the characteristics of fashion in dress, varying in every country and period...
that covers the wrist, or to decorative or functional bands worn on the wrist for other reasons, such as
lanyard
Lanyard
A lanyard is a rope or cord exclusively worn around the neck or wrist to carry something. Usually it is used where there is a risk of losing the object or to ensure it is visible at all times. Aboard a ship, it may refer to a piece of rigging used to secure objects...
s.
One type of wristband is also known as a sweatband, and is usually made of a towel-like
terrycloth
Terrycloth
There are two types of terry fabrics# Towell Terry is a [woven] fabric with long loops that can absorb large amounts of water. Its content is usually 100% cotton, but may sometimes contain polyester....
material. These are usually used to wipe sweat from the forehead during sport, or as a badge or fashion statement. A practice common in mid-eighties
punk
Punk subculture
The punk subculture includes a diverse array of ideologies, and forms of expression, including fashion, visual art, dance, literature, and film, which grew out of punk rock.-History:...
subculture
Subculture
In sociology, anthropology and cultural studies, a subculture is a group of people with a culture which differentiates them from the larger culture to which they belong.- Definition :...
was to cut the top off of a
sock
Sock
A sock is an item of clothing worn on the feet. The foot is among the heaviest producers of sweat in the body, as it is able to produce over of perspiration per day. Socks help to absorb this sweat and draw it to areas where air can evaporate the perspiration. In cold environments, socks decrease...
and fashion the
elastic
Elastomer
An elastomer is a polymer with the property of viscoelasticity , generally having notably low Young's modulus and high yield strain compared with other materials. The term, which is derived from elastic polymer, is often used interchangeably with the term rubber, although the latter is preferred...
into this type of wristband.
Another common type of wristband is the loops of
plastic
Plastic
A plastic material is any of a wide range of synthetic or semi-synthetic organic solids used in the manufacture of industrial products. Plastics are typically polymers of high molecular mass, and may contain other substances to improve performance and/or reduce production costs...
that are placed around the
wrist
Wrist
In human anatomy, the wrist is variously defined as 1) the carpus or carpal bones, the complex of eight bones forming the proximal skeletal segment of the hand;...
for identification purposes (demonstrating the wearer's authorization to be at a
venue
Music venue
A music venue is any location used for a concert or musical performance. Music venues range in size and location, from an outdoor bandshell or bandstand or a concert hall to an indoor sports stadium. Typically, different types of venues host different genres of music...
, for example).
Silicone wristbands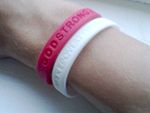 In the early to mid-2000s, bracelets often made of
silicone
Silicone
Silicones are inert, synthetic compounds with a variety of forms and uses. Typically heat-resistant and rubber-like, they are used in sealants, adhesives, lubricants, medical applications , cookware, and insulation....
became popular. They are worn to demonstrate the wearer's support of a
cause
Social movement
Social movements are a type of group action. They are large informal groupings of individuals or organizations focused on specific political or social issues, in other words, on carrying out, resisting or undoing a social change....
or
charitable organization
Charitable organization
A charitable organization is a type of non-profit organization . It differs from other types of NPOs in that it centers on philanthropic goals A charitable organization is a type of non-profit organization (NPO). It differs from other types of NPOs in that it centers on philanthropic goals A...
, similar to
awareness ribbon
Awareness ribbon
Awareness ribbons, due to their ubiquitous nature, have come to symbolize various concerns depending on the colours or the patterns used. For example, black ribbons may be used for mourning....
s. Such wristbands are sometimes called awareness bracelets to distinguish them from other types of wristbands.
UV ultra violet wristbands
UV Ultra Violet Sensitive silicone wristbands appear clear/white when out of UV light, but when exposed to ultra violet light such as sunlight the wristbands' color changes to blue or fuchsia. These bands can be used as reminders for people to apply sunscreen or stay in the shade on hot summer days.
Hospital wristbands
Hospital wristbands are a commonly used safety device for identifying patients undergoing medical care. Available in a variety of sizes to accommodate patients as small as newborns and as large as obese adults, hospital wristbands can be handwritten, embossed, laser-printed or thermal-imaged with names, pictures, medical record numbers, barcodes and other personal identifiers.
Laser printing and thermal imaging—the most advanced technologies for personalizing hospital wristbands—support fonts, colors and barcodes for improved
patient safety
Patient safety
Patient safety is a new healthcare discipline that emphasizes the reporting, analysis, and prevention of medical error that often leads to adverse healthcare events. The frequency and magnitude of avoidable adverse patient events was not well known until the 1990s, when multiple countries reported...
through electronic patient and medication tracking. Handwritten and embossed wristbands remain in widespread use, however, despite findings on compromised safety reported in 2007. The
National Patient Safety Agency
National Patient Safety Agency
The National Patient Safety Agency is a special health authority of the National Health Service in England. It was created to monitor patient safety incidents, including medication and prescribing error reporting, in the NHS....
(NPSA) found that as many as 2,900 patients each year were receiving the wrong medical care because of the hospital staff's inability to read damaged or otherwise illegible patient information on handwritten and embossed wristbands.
Event wristbands
Colored wristbands are often given to attendees at events such as
music festival
Music festival
A music festival is a festival oriented towards music that is sometimes presented with a theme such as musical genre, nationality or locality of musicians, or holiday. They are commonly held outdoors, and are often inclusive of other attractions such as food and merchandise vending machines,...
s and gigs, as an
access control
Access control
Access control refers to exerting control over who can interact with a resource. Often but not always, this involves an authority, who does the controlling. The resource can be a given building, group of buildings, or computer-based information system...
measure. Counterfeit wristbands are increasingly common. Some people keep the wristbands as
souvenir
Souvenir
A souvenir , memento, keepsake or token of remembrance is an object a person acquires for the memories the owner associates with it. The term souvenir brings to mind the mass-produced kitsch that is the main commodity of souvenir and gift shops in many tourist traps around the world...
s or wear the wristbands after the event to show what events they went to.
Further uses for the wristband in event ticketing at music festivals and sporting events may include an NFC (Near Field Communications) chip that would allow contactless payment at the concessions and turnstiles. This would allow for faster service at the concessions as the wristband only needs to be passed across a reader in order for payment to be made. Wristbands are ideal to use for dark environments such as night clubs and bars or outdoor venues where patrons can be afar such as festivals and theme parks. They became even more popular after the smoking ban came into effect in closed public areas.
See also
Diving watch#Strap/bracelet
Polyurethane#Watch-band wrapping
Power Balance

Power Balance

Power Balance is a brand of hologram bracelet once claimed by its manufacturers and vendors to "use holographic technology" to "resonate with and respond to the natural energy field of the body", and increase sporting ability...