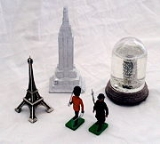 Souvenir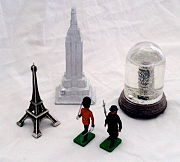 A
souvenir
memento
,
keepsake
or
token of remembrance
is an object a person acquires for the
memories
Memory
In psychology, memory is an organism's ability to store, retain, and recall information and experiences. Traditional studies of memory began in the fields of philosophy, including techniques of artificially enhancing memory....
the owner associates with it. The term souvenir brings to mind the mass-produced kitsch that is the main commodity of souvenir and gift shops in many tourist traps around the world. But a souvenir can be any object that can be collected or purchased and transported home by the traveler. The object itself has no real significance other than the psychological connection the possessor has with the object as a symbol of past experience. Without the owner's input, the object's meaning is invisible and cannot be articulated.
Souvenirs as objects
The tourism industry designates tourism souvenirs as commemorative merchandise associated with a location, often including geographic information and usually produced in a manner that promotes souvenir collecting. Throughout the world, souvenir trade is an important part of the tourism industry serving a dual role, first to help improve the local economy, and second to allow visitors to take with them a memento of their visit, ultimately to encourage an opportunity for a return visit, or to promote the locale to other tourists as a form of
word-of-mouth marketing
Word-of-mouth marketing
Word-of-mouth marketing , also called word of mouth advertising, is an unpaid form of promotion—oral or written—in which satisfied customers tell other people how much they like a business, product, service, or event...
. Perhaps the most collected souvenirs by tourists are photographs as a medium to document specific events and places for future reference.
Souvenirs as objects include mass-produced merchandise such as
clothing
Clothing
Clothing refers to any covering for the human body that is worn. The wearing of clothing is exclusively a human characteristic and is a feature of nearly all human societies...
:
T-shirt
T-shirt
A T-shirt is a style of shirt. A T-shirt is buttonless and collarless, with short sleeves and frequently a round neck line....
s and
hat
Hat
A hat is a head covering. It can be worn for protection against the elements, for ceremonial or religious reasons, for safety, or as a fashion accessory. In the past, hats were an indicator of social status...
s; collectables:
postcard
Postcard
A postcard or post card is a rectangular piece of thick paper or thin cardboard intended for writing and mailing without an envelope....
s,
refrigerator magnet
Refrigerator magnet
A refrigerator magnet is an ornament, often whimsical, attached to a small magnet which is used to post items such as shopping lists or report cards on a refrigerator door, or which simply serves as decoration. Refrigerator magnets come in a wide variety of shapes and sizes, including but not...
s, miniature figures; household items:
mug
Mug
A mug is a sturdily built type of cup often used for drinking hot beverages, such as coffee, tea, or hot chocolate. Mugs, by definition, have handles and often hold a larger amount of fluid than other types of cup. Usually a mug holds approximately 12 fluid ounces of liquid; double a tea cup...
s,
bowls
Bowl (vessel)
A bowl is a common open-top container used in many cultures to serve food, and is also used for drinking and storing other items. They are typically small and shallow, although some, such as punch bowls and salad bowls, are larger and often intended to serve many people.Bowls have existed for...
,
plate
Plate (dishware)
A plate is a broad, concave, but mainly flat vessel on which food can be served. A plate can also be used for ceremonial or decorative purposes.-Materials:...
s,
ashtray
Ashtray
An ashtray is a receptacle for ash and butts from cigarettes and cigars. Ashtrays are typically made of fireproof material such as glass, heat-resistant plastic, pottery, metal, or rock....
s,
egg timer
Egg timer
An egg-timer is a device the primary function of which is to assist in timing the cooking of eggs. Early designs simply counted down for a specific period of time. Some modern designs are able to time more accurately by depending on water temperature rather than an absolute time...
s,
spoon
Spoon
A spoon is a utensil consisting of a small shallow bowl, oval or round, at the end of a handle. A type of cutlery , especially as part of a place setting, it is used primarily for serving. Spoons are also used in food preparation to measure, mix, stir and toss ingredients...
s,
notepads
Notebook
A notebook is a book or binder composed of pages of notes, often ruled, made out of paper, used for purposes including recording notes or memoranda, writing, drawing, and scrapbooking....
plus many others. Souvenirs also include non-mass-produced items like folk art, handicrafts and antiques, and non-commercial items such as natural objects, and anything else that a person attaches nostalgic value to and collects among his personal belongings.
Souvenirs as memorabilia
Similar to souvenirs,
memorabilia
(
Latin
Latin
Latin is an Italic language originally spoken in Latium and Ancient Rome. It, along with most European languages, is a descendant of the ancient Proto-Indo-European language. Although it is considered a dead language, a number of scholars and members of the Christian clergy speak it fluently, and...
for
memorable (things)
, plural of
memorābile
) are objects treasured for their memories; however, unlike souvenirs, memorabilia are valued for a connection to an event. Examples include sporting events, historical events, culture and entertainment. Such items include
cigarette card
Cigarette card
Cigarette cards are trade cards issued by tobacco manufacturers to stiffen cigarette packaging and advertise cigarette brands.-History:Beginning in 1875, cards depicting actresses, baseball players, Indian chiefs, and boxers were issued by the US-based Allen and Ginter tobacco company. These are...
s,
air sickness bag
Airsickness bag
An airsickness bag is a small bag commonly provided to passengers on board airplanes and boats to collect and contain vomit in the event of motion sickness. Hovercraft-ferry operators and even train companies have also been known to supply bags...
s, publicity photographs,
poster
Poster
A poster is any piece of printed paper designed to be attached to a wall or vertical surface. Typically posters include both textual and graphic elements, although a poster may be either wholly graphical or wholly text. Posters are designed to be both eye-catching and informative. Posters may be...
s, entertainment-related
merchandise
Merchandising
Merchandising is the methods, practices, and operations used to promote and sustain certain categories of commercial activity. In the broadest sense, merchandising is any practice which contributes to the sale of products to a retail consumer...
, movie memorabilia,
pin
Pin
A pin is a device used for fastening objects or material together.Pin may also refer to:* Award pin, a small piece of metal or plastic with a pin attached given as an award for some achievement...
s and other, often-
license
License
The verb license or grant licence means to give permission. The noun license or licence refers to that permission as well as to the document recording that permission.A license may be granted by a party to another party as an element of an agreement...
d, items.
Souvenirs as gifts
In
Japan
Japan
Japan is an island nation in East Asia. Located in the Pacific Ocean, it lies to the east of the Sea of Japan, China, North Korea, South Korea and Russia, stretching from the Sea of Okhotsk in the north to the East China Sea and Taiwan in the south...
, souvenirs are known as
meibutsu
Meibutsu
Meibutsu is a Japanese term for famous products associated with particular regions. Meibutsu are usually items of Japanese regional cuisine, although the category includes local handicrafts. Meibutsu typically have a traditional character, although contemporary products may qualify as meibutsu...
(products associated with a particular region); and
omiyage
, candies or other edibles to be shared with co-workers.
Omiyage
sales are big business at Japanese
tourist
Tourism
Tourism is travel for recreational, leisure or business purposes. The World Tourism Organization defines tourists as people "traveling to and staying in places outside their usual environment for not more than one consecutive year for leisure, business and other purposes".Tourism has become a...
sites.
Travelers may buy souvenirs as
gift
Gift
A gift or a present is the transfer of something without the expectation of receiving something in return. Although gift-giving might involve an expectation of reciprocity, a gift is meant to be free. In many human societies, the act of mutually exchanging money, goods, etc. may contribute to...
s for those who did not make the trip.
See also