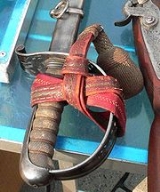 Lanyard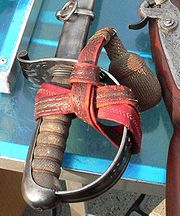 A
lanyard
is a
rope
Rope
A rope is a length of fibres, twisted or braided together to improve strength for pulling and connecting. It has tensile strength but is too flexible to provide compressive strength...
or cord exclusively worn around the
neck
Neck
The neck is the part of the body, on many terrestrial or secondarily aquatic vertebrates, that distinguishes the head from the torso or trunk. The adjective signifying "of the neck" is cervical .-Boner anatomy: The cervical spine:The cervical portion of the human spine comprises seven boney...
or
wrist
Wrist
In human anatomy, the wrist is variously defined as 1) the carpus or carpal bones, the complex of eight bones forming the proximal skeletal segment of the hand;...
to carry something. Usually it is used where there is a risk of losing the object or to ensure it is visible at all times. Aboard a
ship
Ship
Since the end of the age of sail a ship has been any large buoyant marine vessel. Ships are generally distinguished from boats based on size and cargo or passenger capacity. Ships are used on lakes, seas, and rivers for a variety of activities, such as the transport of people or goods, fishing,...
, it may refer to a piece of
rigging
Rigging
Rigging is the apparatus through which the force of the wind is used to propel sailboats and sailing ships forward. This includes masts, yards, sails, and cordage.-Terms and classifications:...
used to secure objects. Alternatively it is a length of cord or wire with a hook at the end used to fire an artillery piece, or to arm the fuze mechanism on an air-dropped bomb by pulling out a
cotter pin
Cotter pin
A split pin, also known in U.S. usage as a cotter pin or cotter key, is a metal fastener with two tines that are bent during installation, similar to a staple or rivet. Typically made of thick wire with a half-circular cross section, split pins come in multiple sizes and types.The British...
(thereby starting the arming delay) when it leaves the aircraft.
Origin
In the military, lanyards originally were used to connect a
pistol
Pistol
When distinguished as a subset of handguns, a pistol is a handgun with a chamber that is integral with the barrel, as opposed to a revolver, wherein the chamber is separate from the barrel as a revolving cylinder. Typically, pistols have an effective range of about 100 feet.-History:The pistol...
, sword or whistle (for signalling) to a uniform on a semi-permanent basis. Lanyards were used in situations where there was a good chance of losing the object - commonly by cavalry and naval officers at sea. A well-made pistol lanyard can be easily removed and reattached by the user, but otherwise will stay connected to the pistol whether it is drawn or in a
holster
Holster
A handgun holster is a device used to hold or restrict the undesired movement of a handgun, most commonly in a location where it can be easily withdrawn for immediate use.-Function:...
. Lanyards later became a more decorative item.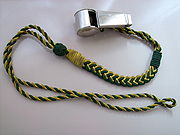 Lanyards of various colour combinations and braid patterns are also commonly worn on the shoulders of military uniforms to denote the wearer's qualification or regimental affiliation. Many regiments were originally mounted and wore the lanyard on the left, enabling the rider to pull a whistle from his left tunic pocket and maintain communication with his troop.
Styles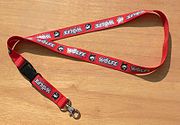 Simple lanyards made of braided fabric with a clip attached to the end are used frequently in retail and business situations for holding name badges. The typical arrangement is to attach a plastic pouch with at least one clear side to the lanyard, with the person's name badge facing the front and occasionally small items such as business cards, pens or tools stashed behind the badge for easy access. Such lanyards can also be used as
keychain
Keychain
A keychain or key chain is a small chain, usually made from metal or plastic, that connects a small item to a keyring. The length of a keychain allows an item to be used more easily than if connected directly to a keyring...
s, particularly in situations where keys can easily be lost for lack of storage, such as gyms, public pools and communal showers.
Common lanyard materials include
polyester
Polyester
Polyester is a category of polymers which contain the ester functional group in their main chain. Although there are many polyesters, the term "polyester" as a specific material most commonly refers to polyethylene terephthalate...
,
nylon
Nylon
Nylon is a generic designation for a family of synthetic polymers known generically as polyamides, first produced on February 28, 1935, by Wallace Carothers at DuPont's research facility at the DuPont Experimental Station...
,
satin
Satin
Satin is a weave that typically has a glossy surface and a dull back. It is a warp-dominated weaving technique that forms a minimum number of interlacings in a fabric. If a fabric is formed with a satin weave using filament fibres such as silk, nylon, or polyester, the corresponding fabric is...
,
silk
Silk
Silk is a natural protein fiber, some forms of which can be woven into textiles. The best-known type of silk is obtained from the cocoons of the larvae of the mulberry silkworm Bombyx mori reared in captivity...
, and
Polyethylene terephthalate
Polyethylene terephthalate
Polyethylene terephthalate , commonly abbreviated PET, PETE, or the obsolete PETP or PET-P, is a thermoplastic polymer resin of the polyester family and is used in synthetic fibers; beverage, food and other liquid containers; thermoforming applications; and engineering resins often in combination...
or PET.
Other uses
Lanyards are widely used with small electronic devices such as
camera
Camera
A camera is a device that records and stores images. These images may be still photographs or moving images such as videos or movies. The term camera comes from the camera obscura , an early mechanism for projecting images...
s, MP3 players and
USB flash drive
USB flash drive
A flash drive is a data storage device that consists of flash memory with an integrated Universal Serial Bus interface. flash drives are typically removable and rewritable, and physically much smaller than a floppy disk. Most weigh less than 30 g...
s to prevent loss or dropping. Electronics designed to take a lanyard usually have a small through-hole built into a corner or edge of the case or anchored to the frame of the device; the corresponding lanyard generally has a loop of thread on the end that is attached to that hole with a simple knot, usually a
cow hitch
Cow hitch
The cow hitch is a hitch knot used to attach a rope to an object. The cow hitch comprises a pair of half-hitches tied in opposing directions, as compared to the clove hitch in which the half-hitches are tied in the same direction. It has several variations and is known under a variety of names...
. Some earphones incorporate the audio signal into the lanyard, meaning it doubles up as headphone cords as well. The
Wii Remote
Wii Remote
The , also known as the Wiimote, is the primary controller for Nintendo's Wii console. A main feature of the Wii Remote is its motion sensing capability, which allows the user to interact with and manipulate items on screen via gesture recognition and pointing through the use of accelerometer and...
wrist strap is a form of lanyard, keeping the device attached to a player's arm during the often vigorous movements involved in its use.
Lanyards are commonly used to display badges, tickets or ID cards for identification where security is required, for example, public places such as hospitals, prisons and some schools or in commercial enterprises as well as public gatherings such as concerts,
conventions
Convention (meeting)
A convention, in the sense of a meeting, is a gathering of individuals who meet at an arranged place and time in order to discuss or engage in some common interest. The most common conventions are based upon industry, profession, and fandom...
and
trade fair
Trade fair
A trade fair is an exhibition organized so that companies in a specific industry can showcase and demonstrate their latest products, service, study activities of rivals and examine recent market trends and opportunities...
s.
In these cases, lanyards are often customized with the related name and/or logo of the event, business, or organization. Lanyards can feature a variety of customization techniques including
screen-printing
Screen-printing
Screen printing is a printing technique that uses a woven mesh to support an ink-blocking stencil. The attached stencil forms open areas of mesh that transfer ink or other printable materials which can be pressed through the mesh as a sharp-edged image onto a substrate...
,
Jacquard loom
Jacquard loom
The Jacquard loom is a mechanical loom, invented by Joseph Marie Jacquard in 1801, that simplifies the process of manufacturing textiles with complex patterns such as brocade, damask and matelasse. The loom is controlled by punched cards with punched holes, each row of which corresponds to one row...
weaving,
heat transfer
Heat transfer
Heat transfer is a discipline of thermal engineering that concerns the exchange of thermal energy from one physical system to another. Heat transfer is classified into various mechanisms, such as heat conduction, convection, thermal radiation, and phase-change transfer...
, and
offset printing
Offset printing
Offset printing is a commonly used printing technique in which the inked image is transferred from a plate to a rubber blanket, then to the printing surface...
.
Lanyards are also often attached to
dead man's switch
Dead man's switch
A dead man's switch is a switch that is automatically operated in case the human operator becomes incapacitated, such as through death or loss of consciousness....
es or "kill switches" on dangerous machinery, such as large industrial cutting/slicing machines; on vehicles, such as jet-skis or trains; and on exercise treadmills, so that if the operator suddenly becomes incapacitated, their fall will pull on the lanyard attached to their wrist, which will then pull the switch to immediately stop the machine or vehicle.
Some law enforcement officers and members of the military utilize specialized lanyards to keep sidearms from falling to the ground during missions.
Military Lanyards
Certain lanyards are still worn on uniforms as decorations. Among these are the Orange Lanyard in the Military William Order of the
Netherlands
Netherlands
The Netherlands is a constituent country of the Kingdom of the Netherlands, located mainly in North-West Europe and with several islands in the Caribbean. Mainland Netherlands borders the North Sea to the north and west, Belgium to the south, and Germany to the east, and shares maritime borders...
, and the
German Armed Forces Badge of Marksmanship
German Armed Forces Badge of Marksmanship
The German Armed Forces Badge for Weapons Proficiency is a decoration of the Bundeswehr, the armed forces of the Federal Republic of Germany....
.
Also
Lanyard can also refer to
Scoubidou
Scoubidou
Scoubidou is a plaiting and knotting craft, originally aimed at children. It originated in France, where it became a fad in the late 1950s and has remained popular...
, (also called Gimp, Scoubi, Scoobie, or Boondoggle). It is a plaiting and knotting craft, originally aimed at children, which originated in France, where it became a fad in the late 1950s. Scoubidou-making is a popular pastime at summer camps for children, often employed to keep the children busy.
External links