 Wire brush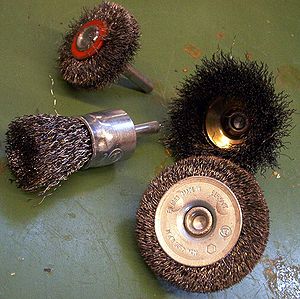 A
wire brush
is a tool, consisting of a
handle
Handle (grip)
A handle is a part of, or attachment to, an object that can be moved or used by hand. The design of each type of handle involves substantial ergonomic issues, even where these are dealt with intuitively or by following tradition...
, usually wood or plastic, occasionally bone, and a
brush
Brush
A brush is a tool with bristles, wire or other filaments, used for cleaning, grooming hair, make up, painting, surface finishing and for many other purposes. It is one of the most basic and versatile tools known to mankind, and the average household may contain several dozen varieties...
. The brush is usually made from a large number of
steel
Steel
Steel is an alloy that consists mostly of iron and has a carbon content between 0.2% and 2.1% by weight, depending on the grade. Carbon is the most common alloying material for iron, but various other alloying elements are used, such as manganese, chromium, vanadium, and tungsten...
wire
bristle
Bristle
A bristle is a stiff hair or feather. Also used are synthetic materials such as nylon in items such as brooms and sweepers. Bristles are often used to make brushes for cleaning uses, as they are strongly abrasive; common examples include the toothbrush and toilet brush...
s. The steel used is generally a high carbon variety and very hard. Other wire brushes feature bristles made from brass or stainless steel, depending on application. Wires in a wire brush can be held together by epoxy, staples, or in some cases one continuous wire. Some types of wire brushes can also be used on an
angle grinder
Angle grinder
An angle grinder, also known as a side or disc grinder, is a handheld power tool used for cutting, grinding and polishing.Angle grinders can be powered by an electric motor, petrol engine or compressed air. The motor drives a geared head at a right-angle on which is mounted an abrasive disc or a...
or electric
drill
Drill
A drill or drill motor is a tool fitted with a cutting tool attachment or driving tool attachment, usually a drill bit or driver bit, used for drilling holes in various materials or fastening various materials together with the use of fasteners. The attachment is gripped by a chuck at one end of...
.
Uses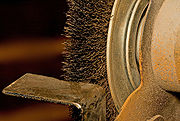 The wire brush is primarily an abrasive implement, used for cleaning rust and removing paint. It is also used to
clean
Clean
-Music:* The Clean, an influential first-wave punk band* Clean , an industrial album by Deitiphobia* "Clean", a song by Depeche Mode from their 1990 album Violator* Clean, an amplifier sound in guitar terminology* Clean, an Edwin Starr album...
surfaces and to create a better conductive area for attaching electrical connections, such as those between
car battery
Car battery
An automotive battery is a type of rechargeable battery that supplies electric energy to an automobile. Usually this refers to an SLI battery to power the starter motor, the lights, and the ignition system of a vehicle's engine...
posts and their connectors, should they accumulate a build-up of grime and dirt. When cleaning
stainless steel
Stainless steel
In metallurgy, stainless steel, also known as inox steel or inox from French "inoxydable", is defined as a steel alloy with a minimum of 10.5 or 11% chromium content by mass....
, it is advisable to use a stainless steel bristle wire brush, as a plain carbon steel brush can contaminate the stainless steel and cause rust spots to appear. Brass bristle brushes are used on softer surfaces or in potentially flammable environments where non-sparking tools are required. Wire brushes are also used to clean the teeth of large animals, such as crocodiles and pigs.
Powered wire brushes are commonly used to create
brushed metal
Brushed metal
Brushed metal is metal that has been abraded , usually with a fine grit sandpaper. The brushing gives the metal a distinctive look, as it retains some but not all of its metallic lustre and is given a pattern of very fine lines. It can be compared to metal with several small scratches all running...
and to deburr edges.
History
The origins of the wire brush are unknown, although it is believed that the
Romans
Ancient Rome
Ancient Rome was a thriving civilization that grew on the Italian Peninsula as early as the 8th century BC. Located along the Mediterranean Sea and centered on the city of Rome, it expanded to one of the largest empires in the ancient world....
used similar tools in the manufacture of roof tiles. As the
Roman Empire
Roman Empire
The Roman Empire was the post-Republican period of the ancient Roman civilization, characterised by an autocratic form of government and large territorial holdings in Europe and around the Mediterranean....
fell, the tool was phased out.