 Winifred Bonfils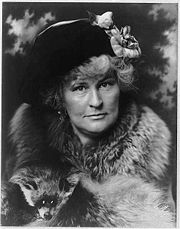 Winifred Sweet Black Bonfils
(October 14, 1863,
Chilton, Wisconsin
Chilton, Wisconsin
Chilton is a city in and county seat of Calumet County in the U.S. state of Wisconsin. The population was 3,708 at the 2000 census. The city is located partially within the Town of Chilton.-History:...
– May 25, 1936,
San Francisco, California
San Francisco, California
San Francisco , officially the City and County of San Francisco, is the financial, cultural, and transportation center of the San Francisco Bay Area, a region of 7.15 million people which includes San Jose and Oakland...
) was an American reporter and columnist for
William Randolph Hearst
William Randolph Hearst
William Randolph Hearst was an American business magnate and leading newspaper publisher. Hearst entered the publishing business in 1887, after taking control of The San Francisco Examiner from his father...
's news syndicate writing as Winifred Black, and for the
San Francisco Examiner
as Annie Laurie. She was one of the most prominent "sob sisters", a label given female reporters who wrote human interest stories. Her first husband was Orlow Black, and her second was publisher Charles Bonfils.
After writing to the
Chicago Tribune
Chicago Tribune
The Chicago Tribune is a major daily newspaper based in Chicago, Illinois, and the flagship publication of the Tribune Company. Formerly self-styled as the "World's Greatest Newspaper" , it remains the most read daily newspaper of the Chicago metropolitan area and the Great Lakes region and is...
, she was hired for a short time then in 1890 she found work at the
San Francisco Examiner
.
She is famous for staging a fainting on the street to test emergency services in San Francisco which were found wanting, resulting in a major scandal and institution of ambulance service. In 1900, she dressed as a boy and was the first reporter on the line at the
Galveston Hurricane
Galveston Hurricane of 1900
The Hurricane of 1900 made landfall on the city of Galveston in the U.S. state of Texas, on September 8, 1900.It had estimated winds of at landfall, making it a Category 4 storm on the Saffir-Simpson Hurricane Scale...
. She delivered an exclusive and Hearst sent relief supplies by train.
She covered the San Francisco earthquake and had a front row seat at the trial of Harry Thaw in 1907. Her coverage of the trial and descriptions of
Evelyn Nesbit
Evelyn Nesbit
Evelyn Nesbit was an American artists' model and chorus girl, noted for her entanglement in the murder of her ex-lover, architect Stanford White, by her first husband, Harry Kendall Thaw.-Early life:...
earned her the label of "sob sister".
She reported from Europe during the First World War, later becoming a columnist.
She wrote a biography of
Phoebe Apperson Hearst
Phoebe Hearst
Phoebe Apperson Hearst was an American philanthropist, feminist and suffragist. She was also the mother of William Randolph Hearst.-Biography:...
,
The Life and Personality of Phoebe Apperson Hearst
.
The name "Annie Laurie" was a tribute to her contemporary
Nellie Bly
Nellie Bly
Nellie Bly was the pen name of American pioneer female journalist Elizabeth Jane Cochran. She remains notable for two feats: a record-breaking trip around the world in emulation of Jules Verne's character Phileas Fogg, and an exposé in which she faked insanity to study a mental institution from...
. Her funeral was nearly a state event in San Francisco. Her body lay in state at the city hall.
Family
Bonfils was the daughter of Civil War General Benjamin Sweet. She was married in June 1891 to Orrin Black, a fellow worker on a morning San Francisco newspaper. They had one son in 1892. On September 13, 1897, she filed for divorce, charging Black with cruelty. "The divorce complaint pictures Mrs. Black as the breadwinner of the family."
Quotes
"a woman has a distinct advantage over a man in reporting if she has sense. . . . Men always are good to women."
On the label, sob-sister, "Most of them are sap sisters."
"I'd rather smell the printer's ink and hear the presses go around than go to any grand opera in the world."
"I like newspapers and newspaper people and newspaper standards, and I like newspaper news too, and I'm just foolish enough to say so. . . . I'm proud of being, in a very humble way, a member of the good old newspaper gang — the kindest-hearted, quickest-witted, clearest-eyed, most courageous assemblage of people I have ever had the honor and the good fortune to know. . . ."
External links