 Wilhelm Leibl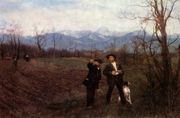 Wilhelm Maria Hubertus Leibl
(October 23, 1844 – December 4, 1900) was a
German
Germany
Germany , officially the Federal Republic of Germany , is a federal parliamentary republic in Europe. The country consists of 16 states while the capital and largest city is Berlin. Germany covers an area of 357,021 km2 and has a largely temperate seasonal climate...
realist
Realism (visual arts)
Realism in the visual arts is a style that depicts the actuality of what the eyes can see. The term is used in different senses in art history; it may mean the same as illusionism, the representation of subjects with visual mimesis or verisimilitude, or may mean an emphasis on the actuality of...
painter
Painting
Painting is the practice of applying paint, pigment, color or other medium to a surface . The application of the medium is commonly applied to the base with a brush but other objects can be used. In art, the term painting describes both the act and the result of the action. However, painting is...
of
portrait
Portrait
thumb|250px|right|Portrait of [[Thomas Jefferson]] by [[Rembrandt Peale]], 1805. [[New-York Historical Society]].A portrait is a painting, photograph, sculpture, or other artistic representation of a person, in which the face and its expression is predominant. The intent is to display the likeness,...
s and scenes of
peasant
Peasant
A peasant is an agricultural worker who generally tend to be poor and homeless-Etymology:The word is derived from 15th century French païsant meaning one from the pays, or countryside, ultimately from the Latin pagus, or outlying administrative district.- Position in society :Peasants typically...
life.
Leibl was born in
Cologne
Cologne
Cologne is Germany's fourth-largest city , and is the largest city both in the Germany Federal State of North Rhine-Westphalia and within the Rhine-Ruhr Metropolitan Area, one of the major European metropolitan areas with more than ten million inhabitants.Cologne is located on both sides of the...
and in 1861 began his first training with Hermann Becker, a local painter. He entered the
Munich
Munich
Munich The city's motto is "" . Before 2006, it was "Weltstadt mit Herz" . Its native name, , is derived from the Old High German Munichen, meaning "by the monks' place". The city's name derives from the monks of the Benedictine order who founded the city; hence the monk depicted on the city's coat...
Academy in 1864, subsequently studying with several artists including Carl Theodor von Piloty. He set up a group studio in 1869, with
Johann Sperl
Johann Sperl
- Life :Johann Sperl was born in Buch in 1840 as an only child of Protestant parents. His father worked as an agricultural day laborer in the summer and as a wood worker in the winter. His mother worked as a housekeeper...
, Theodor Alt, and Rudolf Hirth du Frênes. At about the same time,
Gustave Courbet
Gustave Courbet
Jean Désiré Gustave Courbet was a French painter who led the Realist movement in 19th-century French painting. The Realist movement bridged the Romantic movement , with the Barbizon School and the Impressionists...
visited Munich to exhibit his work, making a considerable impression on many of the local artists by his demonstrations of
alla prima
Alla prima
-Definition:alla prima is a painting technique done mostly in oils, in which the work is completed before the first layer of painting has dried up or is still wet, such as the 'impressionist' technique or 'Glaze '...
painting directly from nature. Leibl's paintings, which already reflected his admiration for the Dutch old masters, became looser in style, their subjects rendered with thickly brushed paint against dark backgrounds. Later in 1869, Leibl went to Paris for a nine month stay during which he met
Édouard Manet
Édouard Manet
Édouard Manet was a French painter. One of the first 19th-century artists to approach modern-life subjects, he was a pivotal figure in the transition from Realism to Impressionism....
.
Upon his return to Germany, Leibl lived in Munich until 1873, when he moved to the isolated
Bavaria
Bavaria
Bavaria, formally the Free State of Bavaria is a state of Germany, located in the southeast of Germany. With an area of , it is the largest state by area, forming almost 20% of the total land area of Germany...
n countryside. Living among peasants, he depicted his neighbors in everyday scenes devoid of sentimentality or anecdote. The sketchlike quality of his painting was replaced by greater precision and attention to drawing. Living from 1878 to 1882 in Berbling, he painted perhaps his best-known work, the
Three Women in Church
(Kunsthalle, Hamburg). Its intensely realistic style recalls
Hans Holbein
Hans Holbein the Younger
Hans Holbein the Younger was a German artist and printmaker who worked in a Northern Renaissance style. He is best known as one of the greatest portraitists of the 16th century. He also produced religious art, satire and Reformation propaganda, and made a significant contribution to the history...
in its clarity of definition. During the following years he moved to the town of Aibling and, in 1892, to Kutterling, as his paintings united the disciplined drawing he had adopted in the 1880s with a new delicacy and luminosity.
Leibl painted with no preliminary drawing, setting to work directly with color, an approach that has parallels to
Impressionism
Impressionism
Impressionism was a 19th-century art movement that originated with a group of Paris-based artists whose independent exhibitions brought them to prominence during the 1870s and 1880s...
. His commitment to the representation of reality as the eye sees it earned him recognition in his lifetime as the preeminent artist of a group known as the
Leibl-Kreis
(Leibl Circle) that included, among others,
Carl Schuch
Carl Schuch
Carl Eduard Schuch was an Austrian painter, born in Vienna, who spent most of his lifetime outside Austria, in Germany, Italy and France...
,
Wilhelm Trübner
Wilhelm Trübner
Wilhelm Trübner was a German realist painter of the circle of Wilhelm Leibl.Trübner was born in Heidelberg and had early training as a goldsmith. In 1867 he met classicist painter Anselm Feuerbach who encouraged him to study painting, and he began studies in Karlsruhe under Fedor Dietz...
,
Otto Scholderer
Otto Scholderer
Otto Scholderer was a German painter.- Life :He was born in Frankfurt am Main. On completing his schooling, Scholderer went to the Städel academy of arts in 1849, where he remained until 1851. Among his teachers were the art historian Johann David Passavant and the painter Jakob Becker...
, and
Hans Thoma
Hans Thoma
Hans Thoma was a German painter.-Biography:He was born in Bernau in the Black Forest, Germany. Having started life as a painter of clock-faces, he entered in 1859 the Karlsruhe academy, where he studied under Schirmer and Des Coudres...
.
He executed a small number of
etching
Etching
Etching is the process of using strong acid or mordant to cut into the unprotected parts of a metal surface to create a design in intaglio in the metal...
s in a meticulous style. His charcoal drawings are conceived in great masses of light and shadow, blocked in as though he were using a brush and paint. Leibl continued painting until his death in
Würzburg
Würzburg
Würzburg is a city in the region of Franconia which lies in the northern tip of Bavaria, Germany. Located at the Main River, it is the capital of the Regierungsbezirk Lower Franconia. The regional dialect is Franconian....
in 1900.