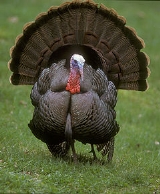 Wild Turkey
The
Wild Turkey
is native to
North America
North America
North America is a continent wholly within the Northern Hemisphere and almost wholly within the Western Hemisphere. It is also considered a northern subcontinent of the Americas...
and is the heaviest member of the
Galliformes
Galliformes
Galliformes are an order of heavy-bodied ground-feeding domestic or game bird, containing turkey, grouse, chicken, New and Old World Quail, ptarmigan, partridge, pheasant, and the Cracidae. Common names are gamefowl or gamebirds, landfowl, gallinaceous birds or galliforms...
. It is the same
species
Species
In biology, a species is one of the basic units of biological classification and a taxonomic rank. A species is often defined as a group of organisms capable of interbreeding and producing fertile offspring. While in many cases this definition is adequate, more precise or differing measures are...
as the domestic turkey, which derives from the South Mexican
subspecies
Subspecies
Subspecies in biological classification, is either a taxonomic rank subordinate to species, ora taxonomic unit in that rank . A subspecies cannot be recognized in isolation: a species will either be recognized as having no subspecies at all or two or more, never just one...
of wild turkey (not to be confused with the
Meleagris ocellata
native to the forests of the
Yucatán Peninsula
Yucatán Peninsula
The Yucatán Peninsula, in southeastern Mexico, separates the Caribbean Sea from the Gulf of Mexico, with the northern coastline on the Yucatán Channel...
).
Adult wild turkeys have long reddish-yellow to grayish-green legs and a black body. Males, called toms or gobblers, have a large, featherless, reddish head, red throat, and red
wattles
Wattle (anatomy)
A wattle is a fleshy dewlap or caruncle hanging from various parts of the head or neck in several groups of birds, goats and other animals. In some birds the caruncle is erectile tissue.The wattle is frequently an organ of sexual dimorphism...
on the throat and neck.