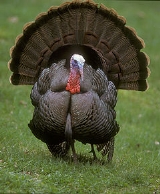 Wild Turkey
Quotations
1994, Tim Green, Ruffians: A Novel, page 51

When tie had gotten a steroid prescription then, the doctor's office had been seedy and the doctor himself had smelled of Wild Turkey.

1999, Anne Rivers Siddons, Low Country Page 142

From behind a cardboard grocery carton of toilet paper I took a bottle of Wild Turkey.

1999, Sarah Bird, Virgin of the Rodeo, page 97

She suspected that the Wild Turkey boilermakers the tailgaters were tippling might be the cause.

2000, John Nichols, The Nirvana Blues, page 40.

As soon as Joe finished his current chapter, they would drop a Gouda cheese and a bottle of Wild Turkey 101 into a knapsack, and hit the Rio Grande for a three-hour trout bout before dinner.

2001, Meryl Sawyer, Closer Than She Thinks, page 320

He collapsed into a leather chair, asking, "Do you have any Wild Turkey?"

2002, Ace Atkins, Dark End of the Street, HarperCollins, [ISBN 0060004614], page 288

A place for rich men from Nashville to come out, drink some Wild Turkey, and raise a little hell.

2002, Valerie Wilson Wesley, Ain't Nobody's Business If I Do: A Novel, page 39

Even now Hutch could smell his Old Spice aftershave lotion tinged with a whiff of Wild Turkey. He could almost see his ghost rounding the corner just before he focused his eyes good.

2002, Virginia DeBerry, Donna Grant, Far from the Tree, page 277

She took a deep breath to steady herself, and her lungs filled with a heady mix of Chesterfields, Old Spice, Pabst Blue Ribbon, Dixie Peach, Wild Turkey, My Sin, fried catfish, barbecue, and sweat.

2003, Sandra Hill, Tall, Dark, and Cajun, Warner Books, ISBN 0-446-61294-4, page 44,

"And some Wild Turkey," Beau added. "Granny needs some Wild Turkey to settle their innards."

2003, Lawrence Block, Small Town, page 13

If she could leave her underwear in the living room and her Wild Turkey uncapped, wasting its fragrance on the desert air, she might well have neglected to set her clock.

2004, Kim Wozencraft, Wanted, page 329

Maybe Efird cared. Maybe that's why he was living on Wild Turkey. Or maybe he'd killed her. Diane had never given credence to those rumors, but after what she'd just seen?

2004, Brad Thor, State of the Union: A Thriller, page 9

When the coffee was ready, Leighton filled his mug to within two- and-a-half inches of the rim, then grabbed a bottle of Wild Turkey from the cabinet above the refrigerator and filled the mug the rest of the way.

2004, Eileen Dreyer, With a Vengeance, page 129

"Something about wild turkeys and the millennium." [...] "Maybe he meant Wild Turkey and the millennium," the chief of cardiology suggested.

2005, Gregory G Sarno, When Johnny Comes Marching Home Again: Three Soldiers, Three Wars - Page 262

"Want to check out Waikiki East. I hear they got a fresh shipment of Wild Turkey."

2002, Peter Makuck, Costly Habits: Stories, page 49

[...] somebody is fishing on the fringe of his territory. The guy wears Levis and a black T-shirt from which his face rises like a moon. The T-shirt advertise Wild Turkey in white letters on the back.