 Wiesbaden Army Airfield
Wiesbaden Army Airfield
or WAAF is located southeast of the city of
Wiesbaden
Wiesbaden
Wiesbaden is a city in southwest Germany and the capital of the federal state of Hesse. It has about 275,400 inhabitants, plus approximately 10,000 United States citizens...
, Hessen,
Germany
Germany
Germany , officially the Federal Republic of Germany , is a federal parliamentary republic in Europe. The country consists of 16 states while the capital and largest city is Berlin. Germany covers an area of 357,021 km2 and has a largely temperate seasonal climate...
. It was selected as the site for Headquarters,
United States Air Forces in Europe
United States Air Forces in Europe
The United States Air Forces in Europe is the United States Air Force component of U.S. European Command, a Department of Defense unified command, and is one of two Air Force Major Commands outside of the continental United States, the other being the Pacific Air Forces...
(USAFE) on 28 September 1945, in large part due to its proximity to Frankfurt am Main, where the U.S. Seventh Army was headquartered. It is currently the home of the 1st Armored Division and the 66th MI Brigade. In 2011 the
1st Armored Division (United States)
1st Armored Division (United States)
The 1st Armored Division—nicknamed "Old Ironsides"—is a standing armored division of the United States Army with base of operations in Fort Bliss, Texas. It was the first armored division of the U.S...
will move to its new home at Fort Bliss, Texas, in order for US Army Europe to move to Wiesbaden.
History
The land on which the airfield stands was originally the Wiesbaden course for horse races built in 1910. In 1929 it was converted into an airfield and in 1936 the German
Luftwaffe
took over the base. One unit stationed there was
Jagdgruppe
50, a fighter group of
Messerschmitt Bf 109
Messerschmitt Bf 109
The Messerschmitt Bf 109, often called Me 109, was a German World War II fighter aircraft designed by Willy Messerschmitt and Robert Lusser during the early to mid 1930s...
s. On 17 August 1943 the unit intercepted American bombers taking part in the ill-fated
Regensburg Strike
Schweinfurt-Regensburg mission
The Schweinfurt–Regensburg mission was an air combat battle in World War II. A strategic bombing attack flown by B-17 Flying Fortresses of the U.S. Army Air Forces on August 17, 1943, it was conceived as an ambitious plan to cripple the German aircraft industry...
targeting the Messerschmitt factory in
Regensburg
Regensburg
Regensburg is a city in Bavaria, Germany, located at the confluence of the Danube and Regen rivers, at the northernmost bend in the Danube. To the east lies the Bavarian Forest. Regensburg is the capital of the Bavarian administrative region Upper Palatinate...
and the ball bearing plants in
Schweinfurt
Schweinfurt
Schweinfurt is a city in the Lower Franconia region of Bavaria in Germany on the right bank of the canalized Main, which is here spanned by several bridges, 27 km northeast of Würzburg.- History :...
.
Alfred Grislawski
Alfred Grislawski
Alfred Grislawski was a German former Luftwaffe fighter ace and recipient of the Knight's Cross of the Iron Cross with Oak Leaves during World War II. A flying ace or fighter ace is a military aviator credited with shooting down five or more enemy aircraft during aerial combat...
, a German
Luftwaffe
Luftwaffe
Luftwaffe is a generic German term for an air force. It is also the official name for two of the four historic German air forces, the Wehrmacht air arm founded in 1935 and disbanded in 1946; and the current Bundeswehr air arm founded in 1956....
fighter ace
Fighter Ace
Fighter Ace was a massively multiplayer online computer game in which one flies World War II fighter and bomber planes in combat against other players and virtual pilots...
, took part in that mission.
The airfield was captured when the U.S. 80th Infantry Division took Wiesbaden on 28 March 1945. Subsequently the U.S. Army Air Force gave the base the temporary designation Y-80 and used it for its operations in Germany. USAAF/USAFE units assigned to Wiesbaden AB or Lindsey Air Station include:
363d Reconnaissance Group May - August 1945
51st Troop Carrier Group September 1945 - August 1948
317th Troop Carrier Group 30 September - 15 December 1948
7150th Air Force Composite Wing 15 December 1948- 1 October 1949
60th Troop Carrier Wing

60th Air Mobility Wing

The 60th Air Mobility Wing is the host unit at Travis Air Force Base in California. It is the largest air mobility organization in the United States Air Force and is responsible for strategic airlift and aerial refueling missions around the world...


1 October 1949 - 2 June 1951
7110th Support Wing 2 June 1951 - 1 December 1957
7030th Support Wing 1 December 1957 - 15 November 1959
7100th Support Wing 15 November 1959 - 15 April 1985
7100th Air Base Group 15 April 1985 - 1 June 1993
1602d Air Transport Wing, 1 Jun 1948-30 May 1964 (Military Air Transport Service

Military Air Transport Service

The Military Air Transport Service is an inactive Department of Defense Unified Command. Activated on 1 June 1948, MATS was a consolidation of the United States Navy Naval Air Transport Service and the United States Air Force Air Transport Command into a single, joint, unified command...


)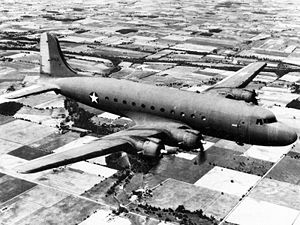 Beginning in September, 1945, the
European Air Transport Service
operated passenger and cargo service from Wiesbaden daily to London, Munich, Bremen, Vienna and Berlin. From Berlin an EATS plane made weekly flights to Warsaw, Poland. Flights originated from Vienna for Bucharest, Belgrade, Sofia and Budapest. In the Mediterranean area EATS flights connected Udine, Pisa, Rome and Naples.
EATS originally was composed of left-over wartime troop carrier squadrons, glider and fighter pilots, B-17 crewmen and other available personnel.
In addition to regular flights which service the Army of Occupation, EATS also operated special flights such as providing transportation for diplomatic officials, evacuating sick or wounded, performing mercy flights, aiding the Graves Registration Service in returning the remains of American soldiers and rushing supplies to needy areas.
In 1948 the facility served as a hub supporting the Berlin Airlift with around-the-clock flights from Wiesbaden to
Tempelhof
Tempelhof
Tempelhof is a locality of Berlin within the borough of Tempelhof-Schöneberg. It is the location of the former Tempelhof Airport, one of the earliest commercial airports in the world. It is now deserted and shows as a blank spot on maps of Berlin. Attempts are being made to save the still-existing...
Airport. Airmen from Wiesbaden distinguished themselves in support of "Operation Vittles". C-47s and C-54 "Skymasters" of the 60th Troop Carrier Group flew missions daily from Wiesbaden to Tempelhof in the beleaguered city of Berlin. During one day's operations more than 80 tons of food and supplies were airlifted from Wiesbaden. The streets on Wiesbaden Air Base were named after servicemen who gave their lives during the Berlin Airlift.
On 4 July 1956 a
U-2A
Lockheed U-2
The Lockheed U-2, nicknamed "Dragon Lady", is a single-engine, very high-altitude reconnaissance aircraft operated by the United States Air Force and previously flown by the Central Intelligence Agency . It provides day and night, very high-altitude , all-weather intelligence gathering...
stationed in Wiesbaden flew over both
Moscow
Moscow
Moscow is the capital, the most populous city, and the most populous federal subject of Russia. The city is a major political, economic, cultural, scientific, religious, financial, educational, and transportation centre of Russia and the continent...
and
Leningrad
Leningrad
Leningrad is the former name of Saint Petersburg, Russia.Leningrad may also refer to:- Places :* Leningrad Oblast, a federal subject of Russia, around Saint Petersburg* Leningrad, Tajikistan, capital of Muminobod district in Khatlon Province...
as part of Operation Overflight, missions to spy on Soviet military bases.
In 1973 HQ USAFE was relocated to
Ramstein Air Base
Ramstein Air Base
Ramstein Air Base is a United States Air Force base in the German state of Rheinland-Pfalz. It serves as headquarters for the United States Air Forces in Europe and is also a North Atlantic Treaty Organization installation...
near
Kaiserslautern
Kaiserslautern
Kaiserslautern is a city in southwest Germany, located in the Bundesland of Rhineland-Palatinate at the edge of the Palatinate forest . The historic centre dates to the 9th century. It is from Paris, from Frankfurt am Main, and from Luxembourg.Kaiserslautern is home to 99,469 people...
. The Air Force moved most personnel out of Wiesbaden in 1975 as part of Operation
Creek Swap
, in which most Army facilities in Kaiserslautern were turned over to the Air Force, in exchange for the facilities at Wiesbaden. The 4th Brigade, 4th Infantry Division, was stationed at Wiesbaden in 1976 as part of "Brigade 76" until it was replaced by the 3rd Corps Support Command and 12th Aviation Brigade in the mid-1980s.
Strategically,in the mid-1980s the base facilitated flights of the F-117 "Stealth Fighter." Although not officially acknowledged by the U.S. Air Force until 1988, the F-117 became operational in 1983 and the Wiesbaden airbase would "go dark", turning off all airfield and perimeter lights, whenever "stealth" flights were landing or taking off.
From 1975 to 1993 Wiesbaden was a joint Army/Air Force community with a service-wide reputation for excellence that was enhanced by the strong bonds that developed between these organizations. In 1993, Wiesbaden Air Base was officially renamed
Wiesbaden Army Air Field
.
Until summer 2011, Wiesbaden AAF was home to the headquarters of
1st Armored Division
1st Armored Division (United States)
The 1st Armored Division—nicknamed "Old Ironsides"—is a standing armored division of the United States Army with base of operations in Fort Bliss, Texas. It was the first armored division of the U.S...
and a number of subordinate units. As American forces draw down in Europe, current plans call for Wiesbaden to remain one of six geographic hubs for U.S. forces in Europe.
http://stripes.com/article.asp?section=104&article=40767&archive=true
. After the closure of US facilities in Frankfurt, Germany, the headquarters of American Forces Network (AFN) was moved to Mannheim. AFN opened a small regional studio, AFN Hessen, on Wiesbaden AAF to serve the American troops in and around Wiesbaden.
Lindsey Air Station
Lindsey Air Station
Europaviertel (Wiesbaden)
The Europaviertel in Wiesbaden is a former barracks area named Gersdorff Kaserne at the edge of the city center of the Hessian state capital.-Barracks :...
, an installation on the opposite side of Wiesbaden from the air base, was established as an Army Air Force installation on 13 November 1946, having previously been a German Army facility named
Gersdorff Kaserne
. Lindsey achieved its greatest prominence between December 1953 and 14 March 1973 when it was the host base for Headquarters, USAFE.
After the transfer of Wiesbaden Air Base to the Army in 1976, Lindsey AS provided support for various Air Force units in the Wiesbaden area until it was closed in 1993. The buildings at Lindsey now house certain offices of the German Federal Investigation Bureau
Bundeskriminalamt (BKA)
Federal Criminal Police Office (Germany)
The Federal Criminal Police Office of Germany is a national investigative police agency in Germany and falls directly under the Federal Ministry of the Interior...
and the Hessen State Police.
Future
The Wiesbaden Army Airfield was selected to be the new US-Army Headquarters in Europe. The US-Army headquarters in Heidelberg and Mannheim will be relocated to Wiesbaden at the end of 2012. Because of this decision the Wiesbaden Army Airfield will grow and many new building projects and modernizations started at the end of 2009.
External links
http://www.wiesbaden.army.mil
Lindsey Air Station (German Version)