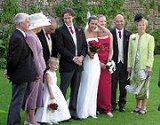 Wedding
noun
(1)
The act of marrying; the nuptial ceremony
"Their marriage was conducted in the chapel"
(2) The social event at which the ceremony of marriage is performed
(3) A party of people at a wedding
Noun
Marriage ceremony; a ritual officially celebrating the beginning of a marriage.

Her announcement was quite a surprise, coming a month after she published the words "I hate weddings with a passion and a fury I can only partially explain rationally."

Joining of two or more parts.

The wedding of our three companies took place last week.
Related terms