 Weapon mount
A
weapon mount
is a weapon component used to secure an armament. Weapon mounts can be broken down into two categories: static mounts and non-static mounts.
Static mount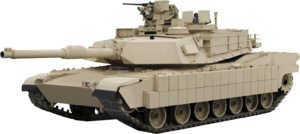 A
static mount
is a non-portable weapon support component used on a self propelled vehicle.
Turret
A
gun turret
Gun turret
A gun turret is a weapon mount that protects the crew or mechanism of a projectile-firing weapon and at the same time lets the weapon be aimed and fired in many directions.The turret is also a rotating weapon platform...
protects the crew or mechanism of a weapon and at the same time lets the weapon be aimed and fired in many directions.
A turret is a rotating weapon platform. This can be mounted on a
fortified
Fortification
Fortifications are military constructions and buildings designed for defence in warfare and military bases. Humans have constructed defensive works for many thousands of years, in a variety of increasingly complex designs...
building or structure such as an anti-naval
land battery
Land battery
A land battery is a special type of gun emplacement or anti-shipping naval interdiction fortification used in coastal defense to protect areas such as anchorages, harbors, and rivers...
, or on an
armoured fighting vehicle
Armoured fighting vehicle
An armoured fighting vehicle is a combat vehicle, protected by strong armour and armed with weapons. AFVs can be wheeled or tracked....
, a
naval ship
Naval ship
A naval ship is a ship used for combat purposes, commonly by a navy. Naval ships are differentiated from civilian ships by construction and purpose...
, or a
military aircraft
Military aviation
Military aviation is the use of aircraft and other flying machines for the purposes of conducting or enabling warfare, including national airlift capacity to provide logistical supply to forces stationed in a theater or along a front. Air power includes the national means of conducting such...
.
Turrets may be armed with one or more
machine gun
Machine gun
A machine gun is a fully automatic mounted or portable firearm, usually designed to fire rounds in quick succession from an ammunition belt or large-capacity magazine, typically at a rate of several hundred rounds per minute....
s,
automatic cannons
Autocannon
An autocannon or automatic cannon is a rapid-fire projectile weapon firing a shell as opposed to the bullet fired by a machine gun. Autocannons often have a larger caliber than a machine gun . Usually, autocannons are smaller than a field gun or other artillery, and are mechanically loaded for a...
, large-
calibre
Caliber
In guns including firearms, caliber or calibre is the approximate internal diameter of the barrel in relation to the diameter of the projectile used in it....
guns, or
missile launcher
Multiple rocket launcher
A multiple rocket launcher is a type of unguided rocket artillery system. Like other rocket artillery, multiple rocket launchers are less accurate and have a much lower rate of fire than batteries of traditional artillery guns...
s. It may be manned or
remotely controlled
Military robot
Military robots are autonomous robots or remote-controlled devices designed for military applications.Such systems are currently being researched by a number of militaries.-History:...
, and is often
armoured
Vehicle armour
Military vehicles are commonly armoured to withstand the impact of shrapnel, bullets, missiles, or shells, protecting the personnel inside from enemy fire. Such vehicles include tanks, aircraft, and ships....
. A small turret, or sub-turret on a larger one, is called a
cupola
. The term
cupola
also describes rotating turrets that carry no weapons but instead are sighting devices, as in the case of
tank
Tank
A tank is a tracked, armoured fighting vehicle designed for front-line combat which combines operational mobility, tactical offensive, and defensive capabilities...
commanders. A
finial
Finial
The finial is an architectural device, typically carved in stone and employed decoratively to emphasize the apex of a gable or any of various distinctive ornaments at the top, end, or corner of a building or structure. Smaller finials can be used as a decorative ornament on the ends of curtain rods...
is an extremely small sub-turret or sub-sub-turret mounted on a cupola turret.
The protection provided by the turret may be against battle damage or against the weather, conditions and environment in which the weapon or its crew operate.
Coaxial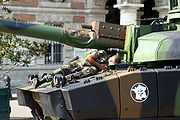 A
coaxial mount
is mounted beside the primary weapon and thus points in the same general direction as the main armament, relying in the turret's ability to traverse in order to change arc. The term
coaxial
is a
misnomer
Misnomer
A misnomer is a term which suggests an interpretation that is known to be untrue. Such incorrect terms sometimes derive their names because of the form, action, or origin of the subject becoming named popularly or widely referenced—long before their true natures were known.- Sources of misnomers...
as the arrangement is actually paraxial (i.e., parallel axes, as opposed to
the same axis
Coaxial
In geometry, coaxial means that two or more forms share a common axis; it is the three-dimensional linear analogue of concentric.Coaxial cable, as a common example, has a wire conductor in the centre a circumferential outer conductor and an insulating medium called the dielectric separating...
).
Nearly all
main battle tank
Main battle tank
A main battle tank , also known as a battle tank or universal tank, is a tank that fills the heavy direct fire role of many modern armies. They were originally conceived to replace the light, medium, heavy and super-heavy tanks. Development was spurred onwards in the Cold War with the development...
s and most
infantry fighting vehicle
Infantry fighting vehicle
An infantry fighting vehicle , also known as a mechanized infantry combat vehicle , is a type of armoured fighting vehicle used to carry infantry into battle and provide fire support for them...
s have a coaxial
machine gun
Machine gun
A machine gun is a fully automatic mounted or portable firearm, usually designed to fire rounds in quick succession from an ammunition belt or large-capacity magazine, typically at a rate of several hundred rounds per minute....
mounted to fire along a parallel axis to the main gun. Coaxial weapons are usually aimed by use of the main gun control. It is usually used to engage
infantry
Infantry
Infantrymen are soldiers who are specifically trained for the role of fighting on foot to engage the enemy face to face and have historically borne the brunt of the casualties of combat in wars. As the oldest branch of combat arms, they are the backbone of armies...
or other "soft" targets when the main gun collateral damage would be excessive, or to conserve main gun ammunition.
Some weapons such as the
M40 recoilless rifle
M40 recoilless rifle
The M40 recoilless rifle was a lightweight, portable, crew-served 105 mm weapon intended primarily as an anti-tank weapon made in the United States...
and the
LAW 80
LAW 80
The LAW 80 , sometimes erroneously referred to as LAW 94, is a man-portable, disposable anti-tank weapon currently in use by the British Army and a few other militaries.-Description:...
have a smaller caliber
spotting rifle
Spotting rifle
A spotting rifle is a small-calibre rifle used as a sighting device for artillery. The ballistics of the spotting rifle are matched to those of the artillery piece, so that if a shot from the spotting rifle lands on the target, it may be assumed that the main weapon will also do so.- Anti-tank...
mounted in
coaxial
fashion on the weapon's barrel, which allows the operator to visualise where the primary weapon's projectile will hit.
Fixed
A
fixed
mount is not moveable with respect to the vehicle. The vehicle itself must move in order to change direction of fire. Fixed mounts are most commonly found on aircraft, and most commonly direct the weapon forward, along the aircraft's vector of movement, so that a pilot could aim and steer at the same time. Some minor aircraft designs used different concept of fixed mounts, as found in
Schräge Musik
Schräge Musik
Schräge Musik, derived from the German colloquialism for "Jazz Music" was the name given to installations of upward-firing autocannon mounted in night fighters by the Luftwaffe and Imperial Japanese Navy Air Service during World War II, with the first victories for each occurring in May 1943...
or
AC-47 Spooky
AC-47 Spooky
The Douglas AC-47 Spooky was the first in a series of gunships developed by the United States Air Force during the Vietnam War...
.
Pintle
A
pintle mount
is a fixed mount that allows the gun to be freely traversed and/or elevated whilst keeping the gun in one fixed position. It is most commonly found on armoured vehicles and aircraft. Unlike a turret, a pintle has little or no armour protection.
Swing Arm
A
swing mount
is a fixed mount that allows a far greater and more flexible arc of fire than the simple pintle mount system. Utilising a system of one or two articulated arms the gunner can swing the weapon through a wide arc even though the gunner's position is fixed relative to the mount. These systems vary in complexity from a simple arm, to a double arm with the ability to lock the weapon in any firing position.
Ground mount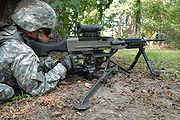 A ground mount is a sub-class of weapon mount that is portable.
Monopod
A
monopod
Monopod
A monopod, also called a unipod, is a single staff or pole used to help support cameras, video cameras, binoculars, rifles or other precision instruments in the field.-Camera and imaging use:...
has one leg and does not provide stability along the coordinate axis of motion. Monopods have the advantage of being light and compact although when used in firing mode it does not have enough stability to be used with large firearms. Monopods are typically used on short-barreled, precision-fire firearms. They are also used as "butt spikes" as a rear support on precision rifles.
Bipod
A
bipod
Bipod
A bipod is a support device that is similar to a tripod or monopod, but with two legs. It provides significant stability along two axes of motion .-Firearms:...
has two legs and provides stability along the left-to-right coordinate axis of motion.
The bipod permits the operator to rest the weapon on the ground, a low wall, or other object, reducing operator fatigue and permitting increased accuracy.
Bipods can be of fixed or adjustable length. The better ones can be tilted and also have their tilting point close to the bore central axis, allowing the weapon to tilt a little left and right, allowing a quick horizontal sight picture on uneven ground and keeping the operator close to the ground. Bipods are for the most part folded forward, not back.
Tripod
A
tripod
Tripod
A tripod is a portable three-legged frame, used as a platform for supporting the weight and maintaining the stability of some other object. The word comes from the Greek tripous, meaning "three feet". A tripod provides stability against downward forces, horizontal forces and moments about the...
has three legs and provides stability along the left-to-right and for-and-aft coordinate axis of motion. Tripods have the disadvantage of being heavy and bulky although when used in firing mode it has enough stability to be used with large firearms. Tripods are typically used on long-barreled, rapid-fire firearms.
The tripod permits the operator to rest the weapon on the ground and thus the gun feels lighter to the shooter and accuracy is increased.
Another form of tripod is the
tripod gun handle
. The tripod gun handle provides a forward vertical pistol grip plus a slide out pivotal tripod. It is attached to the gun by a
picatinny rail
Picatinny rail
The Picatinny rail or MIL-STD-1913 rail or STANAG 2324 rail or a "Tactical Rail" is a bracket used on some firearms in order to provide a standardized mounting platform. A similar system is the Weaver rail mount.-Description:...
. The legs of the tripod can be deployed by the press of a button and can be pushed back up into the vertical grip.
Shooting sticks
Shooting sticks
Shooting sticks
Shooting sticks are portable weapon mounts used by field shooters, like hunters, snipers and metallic silhouette blackpowder rifle shooters, similar to a monopod, bipod or tripod, with one, two or three legs....
are portable weapon mounts used by field shooters, like hunters and snipers, as a practical alternative to commercial -pods. Shooting sticks can be of fixed or adjustable length and can be home- or factory- built.