 War Resisters' International

War Resisters' International
(
WRI
) is an international
anti-war
Anti-war
An anti-war movement is a social movement, usually in opposition to a particular nation's decision to start or carry on an armed conflict, unconditional of a maybe-existing just cause. The term can also refer to pacifism, which is the opposition to all use of military force during conflicts. Many...
organization with members and affiliates in over thirty countries. Its headquarters are in
London
London
London is the capital city of :England and the :United Kingdom, the largest metropolitan area in the United Kingdom, and the largest urban zone in the European Union by most measures. Located on the River Thames, London has been a major settlement for two millennia, its history going back to its...
, UK.
History
War Resisters' International
was founded in
Bilthoven
,
Netherlands
Netherlands
The Netherlands is a constituent country of the Kingdom of the Netherlands, located mainly in North-West Europe and with several islands in the Caribbean. Mainland Netherlands borders the North Sea to the north and west, Belgium to the south, and Germany to the east, and shares maritime borders...
in 1921 under the name "Paco". WRI adopted a founding declaration that has remained unchanged:
It adopted the broken rifle as its symbol in 1931.
Many of its founders had been involved in the resistance to the First World War: its first Secretary, Herbert Runham Brown, had spent two and a half years in a British prison as a
conscientious objector
Conscientious objector
A conscientious objector is an "individual who has claimed the right to refuse to perform military service" on the grounds of freedom of thought, conscience, and/or religion....
. Two years later, in 1923, Tracey Mygatte, Frances Witherspoon,
Jessie Wallace Hughan
Jessie Wallace Hughan
Jessie Wallace Hughan was an American educator, a socialist activist, and a radical pacifist. During her college days she was one of four co-founders of Alpha Omicron Pi, a national sorority for university women. She also was a founder and the first Secretary of the War Resisters League,...
, and
John Haynes Holmes
John Haynes Holmes
John Haynes Holmes was a prominent Unitarian minister and pacifist, noted for his anti-war activism.-Early years:John Haynes Holmes was born in Philadelphia on November 29, 1879. He studied at Harvard, graduating in 1902, and Harvard Divinity School, which he graduated in 1904. He was then called...
founded the
War Resisters League
War Resisters League
The War Resisters League was formed in 1923 by men and women who had opposed World War I. It is a section of the London-based War Resisters' International.Many of the founders had been jailed during World War I for refusing military service...
in the
United States
United States
The United States of America is a federal constitutional republic comprising fifty states and a federal district...
.
Notable members include Dutch anarchist Bart de Ligt, Quaker Richard Gregg and Tolstoyan
Valentin Bulgakov
Valentin Bulgakov
Valentin Fyodorovich Bulgakov was the last secretary of Leo Tolstoy and his biographer. He was director of a number of literary museums and was engaged in Tolstoyan, pacifist, and anti-communist activities. He was imprisoned by both the Tsarist and Soviet regimes and was a Nazi concentration camp...
. The group had a close working relationships with sections of the Gandhian movement. In January 1948, Mohandas Karamchand Gandhi attended a preparatory meeting for the World Pacifist Meeting he called, at the behest of WRI, and which eventually took place in December 1949. It took the form of 50 international pacifists meeting with 25 of Gandhi's close associates in an "unhurried conference" in Santiniketan, West Bengal.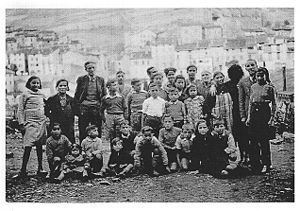 In the 1930s and 1940s, WRI helped to rescue people from persecution under
Francisco Franco
Francisco Franco
Francisco Franco y Bahamonde was a Spanish general, dictator and head of state of Spain from October 1936 , and de facto regent of the nominally restored Kingdom of Spain from 1947 until his death in November, 1975...
and under the Nazis and found them safe homes with WRI members in other countries. One of the leaders
of the Norwegian branch of WRI (FmK),
Olaf Kullmann
Olaf Kullmann
Olaf Bryn Kullmann was a Norwegian naval officer and peace activist.-Early life and career:He was born in Stord in the county of Hordaland, Norway. He was a son of vicar and school manager Jakob Kullmann and Ingeleiv Kristine Mæland...
, was arrested by the
German Occupiers
Occupation of Norway by Nazi Germany
The occupation of Norway by Nazi Germany started with the German invasion of Norway on April 9, 1940, and ended on May 8, 1945, after the capitulation of German forces in Europe. Throughout this period, Norway was continuously occupied by the Wehrmacht...
for
his pacifist agitation; he was sent to the
Sachsenhausen concentration camp
Sachsenhausen concentration camp
Sachsenhausen or Sachsenhausen-Oranienburg was a Nazi concentration camp in Oranienburg, Germany, used primarily for political prisoners from 1936 to the end of the Third Reich in May, 1945. After World War II, when Oranienburg was in the Soviet Occupation Zone, the structure was used as an NKVD...
, where he died
in 1942.
During the
Cold War
Cold War
The Cold War was the continuing state from roughly 1946 to 1991 of political conflict, military tension, proxy wars, and economic competition between the Communist World—primarily the Soviet Union and its satellite states and allies—and the powers of the Western world, primarily the United States...
, WRI consistently sought out war resisters in the Soviet bloc: first individuals, and later groups. After the 1968 invasion of
Czechoslovakia
Czechoslovakia
Czechoslovakia or Czecho-Slovakia was a sovereign state in Central Europe which existed from October 1918, when it declared its independence from the Austro-Hungarian Empire, until 1992...
, WRI organised protest demonstrations in four
Warsaw Pact
Warsaw Pact
The Warsaw Treaty Organization of Friendship, Cooperation, and Mutual Assistance , or more commonly referred to as the Warsaw Pact, was a mutual defense treaty subscribed to by eight communist states in Eastern Europe...
capitals.
In 1988, a WRI advert was cited as one of the reasons for the seizure of an edition of the Weekly Mail in South Africa, after the banning of the local
End Conscription Campaign
End Conscription Campaign
The End Conscription Campaign was an anti-apartheid organisation allied to the United Democratic Front and composed of conscientious objectors and their supporters in South Africa...
.
In 1971, when
Pakistan
Pakistan
Pakistan , officially the Islamic Republic of Pakistan is a sovereign state in South Asia. It has a coastline along the Arabian Sea and the Gulf of Oman in the south and is bordered by Afghanistan and Iran in the west, India in the east and China in the far northeast. In the north, Tajikistan...
i troops were blockading what was then East Pakistan, WRI launched Operation Omega to
Bangladesh
Bangladesh
Bangladesh , officially the People's Republic of Bangladesh is a sovereign state located in South Asia. It is bordered by India on all sides except for a small border with Burma to the far southeast and by the Bay of Bengal to the south...
. More recently, the International Deserters Network associated with WRI has offered support for people resisting the
Gulf War
Gulf War
The Persian Gulf War , commonly referred to as simply the Gulf War, was a war waged by a U.N.-authorized coalition force from 34 nations led by the United States, against Iraq in response to Iraq's invasion and annexation of Kuwait.The war is also known under other names, such as the First Gulf...
of 1991 and, on a much larger scale, the wars in the Balkans, where it was also engaged with several other peace organizations in an experiment in international nonviolent intervention, the Balkan Peace Team.
Organisation
War Resisters' International is a network of member groups. An international conference takes place at least once every four years.
The chair is elected by postal vote in advance of the international conference. Since the office of chair was created in 1926, chairs have been:
Fenner Brockway (1926–1934)
Arthur, Lord Ponsonby

Arthur Ponsonby, 1st Baron Ponsonby of Shulbrede

Arthur Augustus William Harry Ponsonby, 1st Baron Ponsonby of Shulbrede was a British politician, writer, and social activist. He was the third son of Sir Henry Ponsonby, Private Secretary to Queen Victoria, and the great-grandson of Frederick Ponsonby, 3rd Earl of Bessborough...


(1934–1937)
George Lansbury

George Lansbury

George Lansbury was a British politician, socialist, Christian pacifist and newspaper editor. He was a Member of Parliament from 1910 to 1912 and from 1922 to 1940, and leader of the Labour Party from 1932 to 1935....


(1937–1940)
Herbert Runham Brown (1946–1949)
Harold Bing (1949–1966)
Michael Randle

Michael Randle

Dr. Michael Randle is best known as a peace campaigner and peace researcher, one of the pioneers of nonviolent direct action in Britain, and also for his role in helping the Soviet spy George Blake escape from a British prison in 1966....


(1966–1973)
Devi Prasad

Devi Prasad (artist)

Devi Prasad was an Indian artist and peace activist. He was a pioneering studio potter, painter, designer, photographer, art educator and peace activist.-Early life:...


(1973–1975)
Myrtle Solomon

Myrtle Solomon

Myrtle Solomon was an active pacifist. She was general secretary of the Peace Pledge Union , a British pacifist organisation, between 1965 and 1972, and Chair of the War Resisters International between 1975 and 1986....


(1975–1986)
David McReynolds

David McReynolds

David McReynolds is an American democratic socialist and pacifist activist who described himself as "a peace movement bureaucrat" during his 40-year career with Liberation magazine and the War Resisters League...


(1986–1988)
Narayan Desai

Narayan Desai

Narayan Desai, son of Mahatma Gandhi's personal secretary and biographer Mahadev Desai, was born on December 24, 1924, in Bulsar, Gujarat. Brought up in Gandhi's Ashram in Sabarmati, Ahmedabad and Sevagram near Wardha, Narayan stopped attending school to be educated and trained by his father and...


(1989–1991)
Jørgen Johansen (1991–1998)
Joanne Sheehan (1998–2006)
Howard Clark (2006- )
Further reading
Clark, Howard: "War Resisters' International", in Encyclopaedia of Nonviolence, Garland Publishing 1997. See note on discussion page.
Prasad, Devi: War is a Crime against Humanity: The story of War Resisters' International, London: War Resisters' International 2005
Bennett, Scott. Radical Pacifism: The War Resisters League and Gandhian Nonviolence in America, 1915-1963. Syracuse, NY: Syracuse University Press, 2003. ISBN 0-8156-3028-X
Beyer, Wolfram. 60 years of the War Resisters' International (WRI) - with special reference to the period 1921 - 1939. Berlin, 1985, published by 'Schriftenreihe des Libertären Forums Berlin' (English translation from German by Hilda Morris, GB - theses for diploma at the Free University of Berlin).