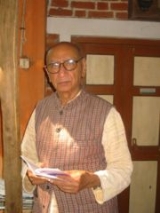 Narayan Desai
Narayan Desai
, son of
Mahatma Gandhi
Mahatma Gandhi
Mohandas Karamchand Gandhi , pronounced . 2 October 1869 – 30 January 1948) was the pre-eminent political and ideological leader of India during the Indian independence movement...
's personal secretary and biographer
Mahadev Desai
Mahadev Desai
Mahadev Desai was an Indian independence activist and nationalist writer; he was most famously known for being the personal secretary of Mahatma Gandhi.-Career:...
, was born on December 24, 1924, in Bulsar,
Gujarat
. Brought up in
Gandhi's Ashram
Sabarmati Ashram
Sabarmati Ashram is located in the Ahmedabad suburb of Sabarmati adjoining to famous Ashram Road, at the bank of River Sabarmati, 4 miles from the town hall. This was one of the residences of Mohandas Karamchand Gandhi...
in Sabarmati,
Ahmedabad
Ahmedabad
Ahmedabad also known as Karnavati is the largest city in Gujarat, India. It is the former capital of Gujarat and is also the judicial capital of Gujarat as the Gujarat High Court has its seat in Ahmedabad...
and Sevagram near Wardha, Narayan stopped attending school to be educated and trained by his father and other inmates of the Ashram. He specialized in basic education, spinning and weaving khadi.
Early life
After his marriage to Uttara Chaudhury, daughter of freedom fighter parents, Nabakrushna Chaudhury and Malatidevi Chaudhury, the young couple moved to Vedchhi, a tribal village 60 km from Surat in Gujarat, to work as teachers in a Nai Taleem school. Following the Bhoodan (land gift) movement launched by
Vinoba Bhave
Vinoba Bhave
Vinoba Bhave , born Vinayak Narahari Bhave often called Acharya , was an Indian advocate of nonviolence and human rights. He is best known for the Bhoodan Andolan...
, Narayan traversed through the length and breadth of Gujarat, by foot, collecting land from the rich and distributing the same among the poor landless villagers. He started the mouthpiece of Bhoodan movement, titled Bhoomiputra (Son of the Soil) and remained its editor till 1959.
Practising Gandhian
Narayan joined the Akhil Bharatiya Shanti Sena Mandal (Indian Peace Brigade), founded by Vinoba and headed by veteran socialist leader
Jayaprakash Narayan
Jayaprakash Narayan
Jayaprakash Narayan , widely known as JP Narayan, Jayaprakash, or Loknayak, was an Indian independence activist and political leader, remembered especially for leading the opposition to Indira Gandhi in the 1970s and for giving a call for peaceful Total Revolution...
(widely known as "JP"). As the general secretary of the Shanti Sena, Narayan recruited and trained peace volunteers throughout the country who intervened during ethnic conflicts and helped establish harmony among conflicting communities.
Narayan was involved in the setting up of
Peace Brigades International
Peace Brigades International
Peace Brigades International is an NGO, founded in 1981, which "protects human rights and promotes nonviolent transformation of conflicts". It primarily does this by sending volunteers to accompany human rights defenders whose lives are at risk in areas of conflict and to provide training in...
and was elected as the chairman of the
War Resisters' International
War Resisters' International
War Resisters' International is an international anti-war organization with members and affiliates in over thirty countries. Its headquarters are in London, UK.-History:...
. He along with a Pakistani peace group were awarded the UNESCO prize for International Peace.
Narayan was active in the campaign against the imposition of emergency in India and brought out a magazine defying the censorship laws. As a close associate of JP, Narayan played an important role in helping the newly formed
Janata Party
Janata Party
The Janata Party was an amalgam of Indian political parties opposed to the state of emergency imposed by the government of Prime Minister Indira Gandhi and her Indian National Congress...
, a conglomeration of major non-Congress political parties in India, arrive at a consensus on the name of
Morarji Desai
Morarji Desai
Morarji Ranchhodji Desai was an Indian independence activist and the fourth Prime Minister of India from 1977–79. He was the first Indian Prime Minister who did not belong to the Indian National Congress...
as the Prime Minister.
Recent works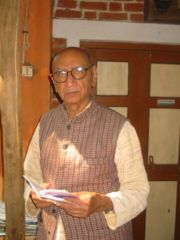 Following JP's death, Narayan moved to Vedchhi and set up the Institute for Total Revolution. The Institute imparts training in non-violence and Gandhian way of life. Narayan, as a way of paying tribute to his father, Mahadev Desai, wrote a four-volume biography of Gandhi in Gujarati, a dream his father could not fulfil in his lifetime because of his sudden death in prison on 15 August 1942.
Awards
Narayan was accorded the
Sahitya Akademi Award
for Gujarati in 1993 for the biography of his father Mahadev Desai he wrote as part of the centenary celebrations of Gandhi's close aide. Earlier, Narayan's book about his childhood reminiscences of Gandhi too had won the Sahitya Academy Award.
He was awarded the
UNESCO-Madanjeet Singh Prize
UNESCO-Madanjeet Singh Prize
The UNESCO-Madanjeet Singh Prize for the Promotion of Tolerance and Non-Violence is a prize awarded every two years by UNESCO. It was inaugurated in 1996, following the 1995 United Nations Year for Tolerance and in connection with the 125th anniversary of the birth of Mahatma Gandhi, funded by a...
for the Promotion of Tolerance and Non-Violence in 1998 "for his tireless work in favour of the promotion of
inter-religious and inter-ethnic understanding, tolerance and harmony and his achievements in the education and training for non-violence and peace, as well as anti-nuclear activism."