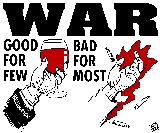 Anti-war
An
anti-war movement
is a
social movement
Social movement
Social movements are a type of group action. They are large informal groupings of individuals or organizations focused on specific political or social issues, in other words, on carrying out, resisting or undoing a social change....
, usually in opposition to a particular nation's decision to start or carry on an armed conflict, unconditional of a maybe-existing
just cause
Casus belli
is a Latin expression meaning the justification for acts of war. means "incident", "rupture" or indeed "case", while means bellic...
. The term can also refer to
pacifism
Pacifism
Pacifism is the opposition to war and violence. The term "pacifism" was coined by the French peace campaignerÉmile Arnaud and adopted by other peace activists at the tenth Universal Peace Congress inGlasgow in 1901.- Definition :...
, which is the opposition to all use of military force during conflicts. Many activists distinguish between anti-war movements and
peace movement
Peace movement
A peace movement is a social movement that seeks to achieve ideals such as the ending of a particular war , minimize inter-human violence in a particular place or type of situation, often linked to the goal of achieving world peace...
s. Anti-war activists work through protest and other
grassroots
Grassroots
A grassroots movement is one driven by the politics of a community. The term implies that the creation of the movement and the group supporting it are natural and spontaneous, highlighting the differences between this and a movement that is orchestrated by traditional power structures...
means to attempt to pressure a government (or governments) to put an end to a particular war or conflict.
Many groups call themselves anti-war activists though their opinions may be different: some anti-war activists may be equally opposed to both sides'
military campaign
Military campaign
In the military sciences, the term military campaign applies to large scale, long duration, significant military strategy plan incorporating a series of inter-related military operations or battles forming a distinct part of a larger conflict often called a war...
; in contrast, many modern activists are against only one side's (usually the most unethical) campaigns.
Pacifist and anti-war movements are similar, but not the same.