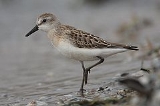 Wader
Waders
, called
shorebirds
in
North America
North America
North America is a continent wholly within the Northern Hemisphere and almost wholly within the Western Hemisphere. It is also considered a northern subcontinent of the Americas...
(where "wader" is used to refer to long-legged wading
bird
Bird
Birds are feathered, winged, bipedal, endothermic , egg-laying, vertebrate animals. Around 10,000 living species and 188 families makes them the most speciose class of tetrapod vertebrates. They inhabit ecosystems across the globe, from the Arctic to the Antarctic. Extant birds range in size from...
s such as
stork
Stork
Storks are large, long-legged, long-necked wading birds with long, stout bills. They belong to the family Ciconiidae. They are the only family in the biological order Ciconiiformes, which was once much larger and held a number of families....
s and
heron
Heron
The herons are long-legged freshwater and coastal birds in the family Ardeidae. There are 64 recognised species in this family. Some are called "egrets" or "bitterns" instead of "heron"....
s), are members of the
order
Order (biology)
In scientific classification used in biology, the order is# a taxonomic rank used in the classification of organisms. Other well-known ranks are life, domain, kingdom, phylum, class, family, genus, and species, with order fitting in between class and family...
Charadriiformes
Charadriiformes
Charadriiformes is a diverse order of small to medium-large birds. It includes about 350 species and has members in all parts of the world. Most Charadriiformes live near water and eat invertebrates or other small animals; however, some are pelagic , some occupy deserts and a few are found in thick...
, excluding the more marine web-footed
seabird
Seabird
Seabirds are birds that have adapted to life within the marine environment. While seabirds vary greatly in lifestyle, behaviour and physiology, they often exhibit striking convergent evolution, as the same environmental problems and feeding niches have resulted in similar adaptations...
groups. The latter are the
skua
Skua
The skuas are a group of seabirds with about seven species forming the family Stercorariidae and the genus Stercorarius. The three smaller skuas are called jaegers in North America....
s (Stercorariidae),
gull
Gull
Gulls are birds in the family Laridae. They are most closely related to the terns and only distantly related to auks, skimmers, and more distantly to the waders...
s (Laridae),
tern
Tern
Terns are seabirds in the family Sternidae, previously considered a subfamily of the gull family Laridae . They form a lineage with the gulls and skimmers which in turn is related to skuas and auks...
s (Sternidae),
skimmer
Skimmer
The Skimmers, Rynchopidae, are a small family of tern-like birds in the order Charadriiformes, which also includes the waders, gulls and auks. The family comprises three species found in South Asia, Africa, and the Americas....
s (Rynchopidae), and
auk
Auk
An auk is a bird of the family Alcidae in the order Charadriiformes. Auks are superficially similar to penguins due to their black-and-white colours, their upright posture and some of their habits...
s (Alcidae). Also, the
pratincole
Pratincole
The Pratincoles or Greywaders are a group of birds which together with the coursers and Egyptian Plover make up the family Glareolidae. They have short legs, very long pointed wings and long forked tails....
s (Glareolidae) and the
Crab Plover
Crab Plover
The Crab-plover or Crab Plover is a bird related to the waders, but sufficiently distinctive to merit its own family Dromadidae. Its relationship within the Charadriiformes is unclear, some have considered it to be closely related to the thick-knees, or the pratincoles, while others have...
(Dromadidae), which bear greater resemblance to waders, are closely related to the seabirds.
This leaves about 210
species
Species
In biology, a species is one of the basic units of biological classification and a taxonomic rank. A species is often defined as a group of organisms capable of interbreeding and producing fertile offspring. While in many cases this definition is adequate, more precise or differing measures are...
, most of which are associated with wetland or coastal environments. Many species of Arctic and temperate regions are strongly
migratory
Bird migration
Bird migration is the regular seasonal journey undertaken by many species of birds. Bird movements include those made in response to changes in food availability, habitat or weather. Sometimes, journeys are not termed "true migration" because they are irregular or in only one direction...
, but tropical birds are often resident, or move only in response to rainfall patterns. Some of the Arctic species, such
Little Stint
Little Stint
The Little Stint, Calidris minuta , is a very small wader. It breeds in arctic Europe and Asia, and is a long-distance migrant, wintering south to Africa and south Asia...
are amongst the longest distance migrants, spending the non-
breeding season
Breeding season
The breeding season is the most suitable season, usually with favourable conditions and abundant food and water, for breeding among some wild animals and birds . Species with a breeding season have naturally evolved to have sexual intercourse during a certain time of year in order to achieve the...
in the
southern hemisphere
Southern Hemisphere
The Southern Hemisphere is the part of Earth that lies south of the equator. The word hemisphere literally means 'half ball' or "half sphere"...
.
The majority of species eat small
invertebrate
Invertebrate
An invertebrate is an animal without a backbone. The group includes 97% of all animal species – all animals except those in the chordate subphylum Vertebrata .Invertebrates form a paraphyletic group...
s picked out of
mud
Mud
Mud is a mixture of water and some combination of soil, silt, and clay. Ancient mud deposits harden over geological time to form sedimentary rock such as shale or mudstone . When geological deposits of mud are formed in estuaries the resultant layers are termed bay muds...
or exposed soil. Different lengths of bills enable different species to feed in the same habitat, particularly on the coast, without direct competition for food. Many waders have sensitive nerve endings at the end of their bills which enable them to detect prey items hidden in mud or soft soil. Some larger species, particularly those adapted to drier habitats will take larger prey including
insect
Insect
Insects are a class of living creatures within the arthropods that have a chitinous exoskeleton, a three-part body , three pairs of jointed legs, compound eyes, and two antennae...
s and small reptiles.
Many of the smaller species found in coastal habitats, particularly but not exclusively the calidrids, are often named as "sandpipers", but this term does not have a strict meaning, since the Upland Sandpiper is a grassland species.
The smallest member of this group is the
Least Sandpiper
Least Sandpiper
The Least Sandpiper is the smallest shorebird.This species has greenish legs and a short thin dark bill. Breeding adults are brown with dark brown streaks on top and white underneath. They have a light line above the eye and a dark crown. In winter, Least Sandpipers are grey above...
, small adults of which can weigh as little as 15.5 grams and measure just over 13 cm (5 inches). The largest species is believed to be the
Far Eastern Curlew
Far Eastern Curlew
The Far Eastern Curlew or Eastern Curlew is a large shorebird most similar in appearance to the Long-billed Curlew, but slightly larger. It is mostly brown in color, differentiated from other curlews by its plain, unpatterned brown underwing...
, at about 63 cm (25 inches) and 860 grams (1.9 lb), although the Beach Thick-knee, is the heaviest at about 1 kg (2.2 lb).
In the
Sibley-Ahlquist taxonomy
Sibley-Ahlquist taxonomy
The Sibley-Ahlquist taxonomy is a bird taxonomy proposed by Charles Sibley and Jon Edward Ahlquist. It is based on DNA-DNA hybridization studies conducted in the late 1970s and throughout the 1980s....
, waders and many other groups are subsumed into a greatly enlarged
Ciconiiformes
Ciconiiformes
Traditionally, the order Ciconiiformes has included a variety of large, long-legged wading birds with large bills: storks, herons, egrets, ibises, spoonbills, and several others. Ciconiiformes are known from the Late Eocene...
order. However, the classification of the Charadriiformes is one of the weakest points of the Sibley-Ahlquist taxonomy, as DNA-DNA hybridization has turned out to be incapable of properly resolving the interrelationships of the group. Formerly, the waders were united in a single suborder
Charadrii
, but this has turned out to be a "wastebasket taxon", uniting no less than four charadriiform lineages in a paraphyletic assemblage. However, it indicated that the
Plains Wanderer
Plains Wanderer
The Plains-wanderer or Plains Wanderer, is a bird, the only representative of its family. It is endemic to Australia. The majority of the remaining population are found in the Riverina region of New South Wales.-Description:...
actually belonged into one of them. Following recent studies (Ericson
et al.
, 2003; Paton
et al.
, 2003; Thomas
et al.
, 2004a, b; van Tuinen
et al.
, 2004; Paton & Baker, 2006), the waders may be more accurately subdivided as follows:
Suborder Scolopaci

Family Scolopacidae

Scolopacidae

The sandpipers are a large family, Scolopacidae, of waders or shorebirds. They include many species called sandpipers, as well as those called by names such as curlew and snipe. The majority of these species eat small invertebrates picked out of the mud or soil...


: snipe, sandpipers, phalaropes, and allies
Suborder Thinocori

Family Rostratulidae: painted snipe
Family Jacanidae: jacanas
Family Thinocoridae: seedsnipe
Family Pedionomidae: Plains Wanderer
Suborder Chionidi

Family Burhinidae: thick-knees
Family Chionididae: sheathbills
Family Pluvianellidae: Magellanic Plover
Suborder Charadrii

Family Ibidorhynchidae: Ibisbill
Family Recurvirostridae

Recurvirostridae

Recurvirostridae is a family of birds in the wader suborder Charadrii. It contains two distinct groups of birds, the avocets and the stilts .-Description and diet:...


: avocets and stilts
Family Haematopodidae: oystercatchers
Family Charadriidae

Charadriidae

The bird family Charadriidae includes the plovers, dotterels, and lapwings, about 64 to 66 species in all.- Morphology :They are small to medium-sized birds with compact bodies, short, thick necks and long, usually pointed, wings, but most species of lapwing may have more rounded wings...


: plovers and lapwings
In keeping more in line with the traditional grouping, the Thinocori could be included in the Scolopaci, and the Chionidi in the Charadrii. However, the increasing knowledge about the early evolutionary history of modern birds suggests that the assumption of Paton
et al.
(2003) and Thomas
et al.
(2004b) of 4 distinct "wader" lineages (= suborders) already being present around the
K-T boundary
Cretaceous-Tertiary extinction event
The Cretaceous–Paleogene extinction event, formerly named and still commonly referred to as the Cretaceous-Tertiary extinction event, occurred approximately 65.5 million years ago at the end of the Maastrichtian age of the Cretaceous period. It was a large-scale mass extinction of animal and plant...
is correct.