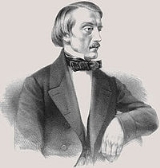 Vissarion Belinsky
Vissarion Grigoryevich Belinsky
( – ) was a
Russia
Russia
Russia or , officially known as both Russia and the Russian Federation , is a country in northern Eurasia. It is a federal semi-presidential republic, comprising 83 federal subjects...
n literary critic of Westernizing tendency. He was an associate of
Alexander Herzen
Alexander Herzen
Aleksandr Ivanovich Herzen was a Russian pro-Western writer and thinker known as the "father of Russian socialism", and one of the main fathers of agrarian populism...
,
Mikhail Bakunin
Mikhail Bakunin
Mikhail Alexandrovich Bakunin was a well-known Russian revolutionary and theorist of collectivist anarchism. He has also often been called the father of anarchist theory in general. Bakunin grew up near Moscow, where he moved to study philosophy and began to read the French Encyclopedists,...
(he at one time courted one of his sisters), and other critical intellectuals. Belinsky played one of the key roles in the career of poet and publisher Nikolay Nekrasov and his popular magazine
Sovremennik
Sovremennik
Sovremennik was a Russian literary, social and political magazine, published in St. Petersburg in 1836-1866. It came out four times a year in 1836-1843 and once a month after that...
.
Biography
Although born in Sveaborg,
Helsinki
Helsinki
Helsinki is the capital and largest city in Finland. It is in the region of Uusimaa, located in southern Finland, on the shore of the Gulf of Finland, an arm of the Baltic Sea. The population of the city of Helsinki is , making it by far the most populous municipality in Finland. Helsinki is...
and growing up in the town of
Chembar
Belinsky (town)
Belinsky is a town and the administrative center of Belinsky District of Penza Oblast, Russia, located at the confluence of the Bolshoy and Maly Chembar Rivers, west of Penza. Population:...
(now called Belinsky) in the
Belinsky District
Belinsky District
Belinsky District is an administrative and municipal district , one of the 27 in Penza Oblast, Russia....
of
Penza Oblast
Penza Oblast
-External links:* *...
, Vissarion Belinsky was based in St. Petersburg, Russia, where he was a respected critic and editor of two major literary magazines:
Otechestvennye Zapiski
Otechestvennye Zapiski
Otechestvennye Zapiski was a Russian literary magazine published in St Petersburg on a monthly basis between 1818 and 1884. The journal served liberal-minded readers, known as the intelligentsia...
("Notes of the Fatherland"), and
Sovremennik
("The Contemporary"). In both magazines Belinsky worked with younger Nikolay Nekrasov.
He was unlike most of the other Russian intellectuals of the 1830s and 1840s. The son of a rural medical doctor, he was not a wealthy aristocrat. The fact that Belinsky was relatively underprivileged meant, among other effects, that he was mainly self-educated, unlike Alexander Herzen or Mikhail Bakunin, this was partly due to being expelled from Moscow University for political activity. But it was less for his philosophical skill that Belinsky was admired and more for emotional commitment and fervor. "For me, to think, to feel, to understand and to suffer are one and the same thing," he liked to say. This was, of course, true to the
Romantic
Romanticism
Romanticism was an artistic, literary and intellectual movement that originated in the second half of the 18th century in Europe, and gained strength in reaction to the Industrial Revolution...
ideal, to the belief that real understanding comes not only from mere thinking (
reason
Reason
Reason is a term that refers to the capacity human beings have to make sense of things, to establish and verify facts, and to change or justify practices, institutions, and beliefs. It is closely associated with such characteristically human activities as philosophy, science, language, ...
), but also from intuitive insight. This combination of thinking and feeling pervaded Belinsky's life.
Ideologically, Belinsky shared, but with exceptional intellectual and moral passion, the central value of most of
Westernizer
Westernizer
Westernizers were a group of 19th century intellectuals who believed that Russia's development depended upon the adoption of Western European technology and liberal government. In their view, western ideas such as industrialisation needed to be implemented throughout Russia in order to make it a...
intelligentsia
Intelligentsia
The intelligentsia is a social class of people engaged in complex, mental and creative labor directed to the development and dissemination of culture, encompassing intellectuals and social groups close to them...
: the notion of the individual self, a person (lichnost'(личность)), that which makes people human, and gives them dignity and rights. With this idea in hand (which he arrived at through a complex intellectual struggle) faced the world around him armed to do battle. He took on much conventional philosophical thinking among educated Russians, including the dry and abstract philosophizing of the German idealists and their Russian followers. In his words, "What is it to me that the Universal exists when the individual personality [lichnost'] is suffering." Or: "The fate of the individual, of the person, is more important than the fate of the whole world." Also upon this principle, Belinsky constructed an extensive critique of the world around him (especially the Russian one). He bitterly criticized autocracy and serfdom (as "trampling upon everything that is even remotely human and noble") but also poverty, prostitution, drunkenness, bureaucratic coldness, and cruelty toward the less powerful (including women).
Belinsky worked most of his short life as a literary critic. His writings on literature were inseparable from these moral judgments. Belinsky believed that the only realm of freedom in the repressive reign of
Nicholas I
Nicholas I of Russia
Nicholas I , was the Emperor of Russia from 1825 until 1855, known as one of the most reactionary of the Russian monarchs. On the eve of his death, the Russian Empire reached its historical zenith spanning over 20 million square kilometers...
was through the written word. What Belinsky required most of a work of literature was "truth." This meant not only a probing portrayal of real life (he hated works of mere fantasy, or escape, or aestheticism), but also commitment to "true" ideas—the correct moral stance (above all this meant a concern for the dignity of individual people): As he told
Nikolai Gogol
Nikolai Gogol
Nikolai Vasilievich Gogol was a Ukrainian-born Russian dramatist and novelist.Considered by his contemporaries one of the preeminent figures of the natural school of Russian literary realism, later critics have found in Gogol's work a fundamentally romantic sensibility, with strains of Surrealism...
(in a famous letter) the public "is always ready to forgive a writer for a bad book [i.e. aesthetically bad], but never for a pernicious one [ideologically and morally bad]." Belinsky viewed Gogol's recent book,
Correspondence with Friends
, as pernicious because it renounced the need to "awaken in the people a sense of their human dignity, trampled down in the mud and the filth for so many centuries."
In his role as perhaps the most influential liberal critic and ideologist of his day, Belinsky advocated literature that was socially conscious. He hailed Fyodor Dostoyevsky's first novel,
Poor Folk
Poor Folk
Poor Folk , sometimes translated as Poor People, is the first novel by Fyodor Dostoyevsky, which he wrote over the span of nine months when he was 25 years old. It was originally published on January 15, 1846 in the almanac St...
(1845), however, Dostoevsky soon thereafter broke with Belinsky.
Inspired by these ideas, which led to thinking about radical changes in society's organization, Belinsky began to call himself a socialist starting in 1841.
Among his last great efforts were his move to join Nikolay Nekrasov in the popular magazine
The Contemporary
(also known as "Sovremennik"), where the two critics established the new literary center of St. Petersburg and Russia. At that time Belinsky published his
Literary Review for the Year 1847
.
In 1848, shortly before his death, Belinsky granted full rights to Nikolay Nekrasov and his magazine,
The Contemporary
("Sovremennik"), to publish various articles and other material originally planned for an almanac, to be called the Leviathan.
Belinsky died of
consumption
Tuberculosis
Tuberculosis, MTB, or TB is a common, and in many cases lethal, infectious disease caused by various strains of mycobacteria, usually Mycobacterium tuberculosis. Tuberculosis usually attacks the lungs but can also affect other parts of the body...
on the eve of his arrest by the
Tsar
Tsar
Tsar is a title used to designate certain European Slavic monarchs or supreme rulers. As a system of government in the Tsardom of Russia and Russian Empire, it is known as Tsarist autocracy, or Tsarism...
's police on account of his political views. In 1910, Russia celebrated the centenary of his birth with enthusiasm and appreciation.
His surname has variously been spelled
Belinsky
or
Byelinski
. His works, in twelve volumes, were first published in 1859–1862. Following the expiration of the copyright in 1898, several new editions appeared. The best of these is by S. Vengerov; it is supplied with profuse notes.
Belinsky was an early supporter of the work of
Ivan Turgenev
Ivan Turgenev
Ivan Sergeyevich Turgenev was a Russian novelist, short story writer, and playwright. His first major publication, a short story collection entitled A Sportsman's Sketches, is a milestone of Russian Realism, and his novel Fathers and Sons is regarded as one of the major works of 19th-century...
. The two became close friends and Turgenev fondly recalls Belinsky in his book
Literary Reminiscences and Autobiographical Fragments
. The British writer
Isaiah Berlin
Isaiah Berlin
Sir Isaiah Berlin OM, FBA was a British social and political theorist, philosopher and historian of ideas of Russian-Jewish origin, regarded as one of the leading thinkers of the twentieth century and a dominant liberal scholar of his generation...
has a chapter on Belinsky on his 1978 book
Russian Thinkers
. Here he points out some deficiencies of Belinsky's critical insight:
He was wildly erratic, and all his enthusiasm and seriousness and integrity do not make up for lapses of insight or intellectual power. He declared that Dante was not a poet; that Fenimore Cooper was the equal of Shakespeare; that Othello was the product of a barbarous age...
But further on in the same essay, Berlin remarks:
Because he was naturally responsive to everything that was living and genuine, he transformed the concept of the critic's calling in his native country. The lasting effect of his work was in altering and altering crucially and irretrievably, the moral and social outlook of the leading younger writers and thinkers of his time. He altered the quality and the tone both of the experience and of the expression of so much Russian thought and feeling that his role as a dominant social influence overshadows his attainments as a literary critic.
Berlin's book introduced Belinsky to playwright
Tom Stoppard
Tom Stoppard
Sir Tom Stoppard OM, CBE, FRSL is a British playwright, knighted in 1997. He has written prolifically for TV, radio, film and stage, finding prominence with plays such as Arcadia, The Coast of Utopia, Every Good Boy Deserves Favour, Professional Foul, The Real Thing, and Rosencrantz and...
, who included Belinsky as one of the principal characters (along with
Alexander Herzen
Alexander Herzen
Aleksandr Ivanovich Herzen was a Russian pro-Western writer and thinker known as the "father of Russian socialism", and one of the main fathers of agrarian populism...
,
Mikhail Bakunin
Mikhail Bakunin
Mikhail Alexandrovich Bakunin was a well-known Russian revolutionary and theorist of collectivist anarchism. He has also often been called the father of anarchist theory in general. Bakunin grew up near Moscow, where he moved to study philosophy and began to read the French Encyclopedists,...
and Turgenev) in his trilogy of plays about Russian writers and activists:
The Coast of Utopia
The Coast of Utopia
The Coast of Utopia is a 2002 trilogy of plays: Voyage, Shipwreck, and Salvage, written by Tom Stoppard with focus on the philosophical debates in pre-revolution Russia between 1833 and 1866...
(2002)
English Translations
Selected Philosophical Works, Foreign Languages Publishing House, Moscow, 1956.
Belinsky, Chernyshevsky & Dobrolyubov: Selected Criticism, Indiana University Press, Bloomington, 1976.
External links