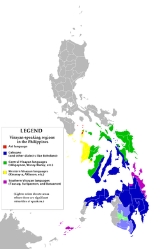 Visayan languages
The
Visayan languages
of the
Philippines
Languages of the Philippines
In the Philippines, there are between 120 and 175 languages, depending on the method of classification. Four languages no longer have any known speakers. Almost all the Philippine languages belong to the Austronesian language family...
, along with
Tagalog
Tagalog language
Tagalog is an Austronesian language spoken as a first language by a third of the population of the Philippines and as a second language by most of the rest. It is the first language of the Philippine region IV and of Metro Manila...
and
Bikol
Bikol language
Central Bicolano , is one of the individual languages of the Bikol languages. It belongs to Coastal Bikol. It is spoken in Bicol Region of the Philippines .-Bikol-Naga:...
, are part of the
Central Philippine languages
Central Philippine languages
The Central Philippine languages are the most geographically widespread demonstrated group of languages in the Philippines, being spoken in southern Luzon, Visayas, Mindanao, and Sulu. They are also the most populous, including Tagalog , Bikol, and the major Visayan languages Cebuano, Hiligaynon,...
. Most Visayan languages are spoken in the
Visayas
Visayas
The Visayas or Visayan Islands and locally known as Kabisay-an gid, is one of the three principal geographical divisions of the Philippines, along with Mindanao and Luzon. It consists of several islands, primarily surrounding the Visayan Sea, although the Visayas are considered the northeast...
region but they are also spoken in the
Bicol Region
Bicol Region
The Bicol Region or Bicolandia is one of the 17 regions of the Philippines. Its regional center is Legazpi City...
(particularly in
Masbate
Masbate
Masbate is an island province of the Philippines located in the Bicol Region. Its capital is Masbate City and consists of three major islands: Masbate, Ticao and Burias.-History:...
), islands south of
Luzon
Luzon
Luzon is the largest island in the Philippines. It is located in the northernmost region of the archipelago, and is also the name for one of the three primary island groups in the country centered on the Island of Luzon...
such as those that make up
Romblon
Romblon
Romblon is an island province of the Philippines located in the MIMAROPA region. It lies south of Marinduque and Quezon, east of Mindoro, north of Aklan and Capiz, and west of Masbate. Its capital is also named Romblon....
, most of the areas of
Mindanao
Mindanao
Mindanao is the second largest and easternmost island in the Philippines. It is also the name of one of the three island groups in the country, which consists of the island of Mindanao and smaller surrounding islands. The other two are Luzon and the Visayas. The island of Mindanao is called The...
, and the province of Sulu located southwest of Mindanao. Some residents of
Metro Manila
Metro Manila
Metropolitan Manila , the National Capital Region , or simply Metro Manila, is the metropolitan region encompassing the City of Manila and its surrounding areas in the Philippines...
also speak Visayan.
Over thirty languages constitute the Visayan language family.