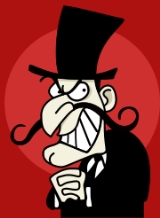 Villain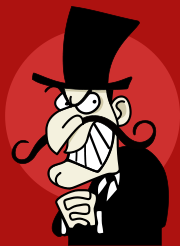 A
villain
is an "
evil
Evil
Evil is the violation of, or intent to violate, some moral code. Evil is usually seen as the dualistic opposite of good. Definitions of evil vary along with analysis of its root motive causes, however general actions commonly considered evil include: conscious and deliberate wrongdoing,...
" character in a story, whether a
historical
History
History is the discovery, collection, organization, and presentation of information about past events. History can also mean the period of time after writing was invented. Scholars who write about history are called historians...
narrative or, especially, a work of
fiction
Fiction
Fiction is the form of any narrative or informative work that deals, in part or in whole, with information or events that are not factual, but rather, imaginary—that is, invented by the author. Although fiction describes a major branch of literary work, it may also refer to theatrical,...
. The villain usually is the
antagonist
Antagonist
An antagonist is a character, group of characters, or institution, that represents the opposition against which the protagonist must contend...
, the character who tends to have a negative effect on other characters. A female villain is sometimes called a
villainess
(often to differentiate her from a male villain). Random House Unabridged Dictionary defines villain as "a cruelly malicious person who is involved in or devoted to wickedness or crime; scoundrel; or a character in a play, novel, or the like, who constitutes an important evil agency in the plot".
Etymology
Villain comes from the
Anglo-French
Anglo-Norman language
Anglo-Norman is the name traditionally given to the kind of Old Norman used in England and to some extent elsewhere in the British Isles during the Anglo-Norman period....
and
Old French
Old French
Old French was the Romance dialect continuum spoken in territories that span roughly the northern half of modern France and parts of modern Belgium and Switzerland from the 9th century to the 14th century...
vilein
, which itself descends from the
Late Latin
Late Latin
Late Latin is the scholarly name for the written Latin of Late Antiquity. The English dictionary definition of Late Latin dates this period from the 3rd to the 6th centuries AD extending in Spain to the 7th. This somewhat ambiguously defined period fits between Classical Latin and Medieval Latin...
word
villanus
, meaning "farmhand", in the sense of someone who is bound to the soil of a
villa
, which is to say, worked on the equivalent of a
plantation
Plantation
A plantation is a long artificially established forest, farm or estate, where crops are grown for sale, often in distant markets rather than for local on-site consumption...
in
Late Antiquity
Late Antiquity
Late Antiquity is a periodization used by historians to describe the time of transition from Classical Antiquity to the Middle Ages, in both mainland Europe and the Mediterranean world. Precise boundaries for the period are a matter of debate, but noted historian of the period Peter Brown proposed...
, in Italy or
Gaul
Gaul
Gaul was a region of Western Europe during the Iron Age and Roman era, encompassing present day France, Luxembourg and Belgium, most of Switzerland, the western part of Northern Italy, as well as the parts of the Netherlands and Germany on the left bank of the Rhine. The Gauls were the speakers of...
. It referred to a person of less than knightly status and so came to mean a person who was not
chivalrous
Chivalry
Chivalry is a term related to the medieval institution of knighthood which has an aristocratic military origin of individual training and service to others. Chivalry was also the term used to refer to a group of mounted men-at-arms as well as to martial valour...
. As a result of many unchivalrous acts, such as treachery or rape, being considered villainous in the modern sense of the word, it became used as a term of abuse and eventually took on its modern meaning.
Folk and fairy tales
Vladimir Propp
Vladimir Propp
Vladimir Yakovlevich Propp was a Russian and Soviet formalist scholar who analyzed the basic plot components of Russian folk tales to identify their simplest irreducible narrative elements.- Biography :...
, in his analysis of the Russian fairy tales, concluded that a
fairy tale
Fairy tale
A fairy tale is a type of short story that typically features such folkloric characters, such as fairies, goblins, elves, trolls, dwarves, giants or gnomes, and usually magic or enchantments. However, only a small number of the stories refer to fairies...
had only eight
dramatis personae
Dramatis Personae
Dramatis Personae is a poetry collection by Robert Browning. It was published in 1864.- Background :Browning wrote the collection in London, where he had returned with his son after his wife's death. It was his first publication after a nine-year hiatus...
, of which one was the villain, and his analysis has been widely applied to non-Russian tales. The actions that fell into a villain's sphere were:
a story-initiating villainy, where the villain caused harm to the hero or his family
a conflict between the hero and the villain, either a fight or other competition
pursuing the hero after he has succeeded in winning the fight or obtaining something from the villain
None of these acts necessarily occurs in a fairy tale, but when any of them do, the character that performs the act is the villain. The villain therefore could appear twice: once in the opening of the story, and a second time as the person sought out by the hero.
When a character performed only these acts, the character was a pure villain. Various villains also perform other functions in a fairy tale; a witch who fought the hero and ran away, and who lets the hero follow her, is also performing the task of "guidance" and thus acting as a helper.
The functions could also be spread out among several characters. If a dragon acted as the villain, but was killed by the hero, another character (such as the dragon's sisters) might take on the role of the villain and pursue the hero.
Two other characters could appear in roles that are villainous in the more general sense. One is the
false hero
False hero
The false hero is a stock character in fairy tales, and sometimes also in ballads. The character appears near the end of a story in order to claim to be the hero or heroine and is, therefore, always of the same sex as the hero or heroine. The false hero presents some claim to the position. By...
: this character is always villainous, presenting a false claim to be the hero that must be rebutted for the happy ending. Among these characters are
Cinderella
Cinderella
"Cinderella; or, The Little Glass Slipper" is a folk tale embodying a myth-element of unjust oppression/triumphant reward. Thousands of variants are known throughout the world. The title character is a young woman living in unfortunate circumstances that are suddenly changed to remarkable fortune...
's stepsisters, chopping off parts of their feet to fit on the shoe. Another character, the dispatcher, sends a hero on his quest. This might be an innocent request, to fulfil a legitimate need, but the dispatcher might also, villainously, lie to send a character on a quest in hopes of being rid of him.
Villainous foil
In fiction, villains commonly function in the dual role of adversary and
foil
Foil (literature)
In fiction, a foil is a character who contrasts with another character in order to highlight particular qualities of another character....
to the story's heroes. In their role as adversary, the villain serves as an obstacle the hero must struggle to overcome. In their role as foil, the villain exemplifies characteristics that are diametrically opposed to those of the hero, creating a contrast distinguishing heroic traits from villainous ones.
Others point out that many acts of villains have a hint of wish-fulfillment, which makes some people identify with them as characters more strongly than with the heroes. Because of this, a convincing villain must be given a characterization that makes his or her or its (see
HAL 9000
HAL 9000
HAL 9000 is the antagonist in Arthur C. Clarke's science fiction Space Odyssey saga. HAL is an artificial intelligence that interacts with the astronaut crew of the Discovery One spacecraft, usually represented as a red television-camera eye found throughout the ship...
) motive for doing wrong convincing, as well as being a worthy adversary to the hero. As put by film critic
Roger Ebert
Roger Ebert
Roger Joseph Ebert is an American film critic and screenwriter. He is the first film critic to win a Pulitzer Prize for Criticism.Ebert is known for his film review column and for the television programs Sneak Previews, At the Movies with Gene Siskel and Roger Ebert, and Siskel and Ebert and The...
:
"Each film is only as good as its villain. Since the heroes and the gimmicks tend to repeat from film to film, only a great villain can transform a good try into a triumph."
Portraying and employing villains in fiction
Tod Slaughter
Tod Slaughter
Tod Slaughter was an English actor, best known for playing over-the-top maniacs in macabre film adaptations of Victorian melodramas.-Ealy life:...
always portrayed villainous characters on both stage and screen in a melodramatic manner, with mustache-twirling, eye-rolling, leering, cackling, and
hand-rubbing
Hand-rubbing
Hand rubbing is a gesture that conveys in many cultures either that one has a feeling of excited expectation, or that one is simply cold. In Ekman and Friesen's 1969 classification system for gestures, hand-rubbing as an indication of coldness is an emblem intentional gesture that could equally...
(however, this often failed to translate well from stage to screen).
Brad Warner
Brad Warner
Brad Warner is a Sōtō Zen priest, author, blogger, documentarian and punk rock bass guitarist.-Biography:Brad Warner was born in Hamilton, Ohio in 1964. His family traveled a lot for his father's job and he lived in different countries around the world but grew up mainly near Akron, Ohio and...
states that "only cartoon villains cackle with glee while rubbing their hands together and dream of ruling the world in the name of all that is wicked and bad".
Ben Bova
Ben Bova
Benjamin William Bova is an American science-fiction author and editor. He is the recipient of six Hugo Awards for Best Professional Editor for his work at Analog Science Fiction in the 1970's.-Personal life:...
recommends to authors that their works not contain villains. He states, in his
Tips for writers
:
"In the real world there are no villains. No one actually sets out to do evil. Fiction mirrors life. Or, more accurately, fiction serves as a lens to focus what we know of life and bring its realities into sharper, clearer understanding for us. There are no villains cackling

Evil laugh

Evil laughter or maniacal laughter is a stock manic laughter by a villain in fiction. In comic books, where supervillains utter such laughs, it is variously rendered as mwahahaha, muwhahaha, muahahaha, buahahaha, etc. . These words are also commonly used on internet Blogs, Bulletin board systems,...


and rubbing their hands in glee as they contemplate their evil deeds. There are only people with problems, struggling to solve them."
David Lubar
David Lubar
David Lubar is an author of numerous books for teens. He is also an electronic game programmer, who programmedSuper Breakout for the Nintendo Game Boy, and Frogger for both the SNES and Game Boy. As a game designer, he designed the game Frogger 2: Swampy's Revenge for the Nintendo Game Boy Color...
adds:
"This is a brilliant observation that has served me well in all my writing. (The bad guy isn't doing bad stuff so he can rub his hands together and snarl.) He may be driven by greed, neuroses, or the conviction that his cause is just, but he's driven by something not unlike the things that drive a hero."
See also
Evil Genius (video game)
Filmfare Award for Best Performance in a Negative Role. Since 1991, Bollywood recognizes the best actors portraying a villain.
Mad scientist

Mad scientist

A mad scientist is a stock character of popular fiction, specifically science fiction. The mad scientist may be villainous or antagonistic, benign or neutral, and whether insane, eccentric, or simply bumbling, mad scientists often work with fictional technology in order to forward their schemes, if...



Supervillain

Supervillain

A supervillain or supervillainess is a variant of the villain character type, commonly found in comic books, action movies and science fiction in various media.They are sometimes used as foils to superheroes and other fictional heroes...



Heel (professional wrestling)

Heel (professional wrestling)

In professional wrestling, a heel is a villain character. In non-wrestling jargon, heels are the "bad guys" in professional wrestling; the term heel coming from the term take to you heels, which means to run away which heel champions tend to do to avoid losing their titles.storylines...