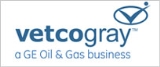 Vetco
Vetco
was established in July 2004 and operated through its subsidiaries
Vetco Gray
and
Vetco Aibel
. Vetco was the result of a consortium consisting of the private equity firms
Candover
Candover
Candover Investments plc is a British-based private equity firm, specialising in arranging and leading large buyouts and buyins. Candover Investments is structured as an investment trust...
,
3i
3i
3i Group plc is a multinational private equity and venture capital company headquartered in London, United Kingdom. It has offices in 13 countries across Asia, Europe and the Americas and had total assets under management of £12.7 billion as at 31 March 2011...
and
JP Morgan Partners
taking over
ABB's
Asea Brown Boveri
ABB is a Swiss-Swedish multinational corporation headquartered in Zürich, Switzerland, and best known for its robotics. ABB operates mainly in the power and automation technology areas. It ranked 143rd in Forbes Ranking ....
oil and gas division; ABB Offshore Systems. Vetco was made out of companies that have serviced the upstream oil and gas industry through for over a hundred years. These companies are leading suppliers of products, systems and services for onshore and offshore drilling and production, project management, engineering, procurement and construction services, process systems and equipment, maintenance, modification and operations. Vetco was headquartered in London UK, and employed over 10000 people in more than 30 countries world wide.
Aibel
Aibel
Aibel
Aibel is a Norwegian provisioner of production facilities, process systems, technology and products to oil companies, shipowners and field operations customers, by maintaining, operating and modifying on- and off-shore facilities, enabling clients to achieve more efficient energy...
is a leading provider of project management, engineering, procurement and construction services, including EPC projects, process systems and equipment, maintenance, modification and operations to the upstream oil and gas industry. Aibel employs more than 7,000 people in 17 countries. Vetco Aibel is along with Aker Kværner dominant in the
North Sea
North Sea
In the southwest, beyond the Straits of Dover, the North Sea becomes the English Channel connecting to the Atlantic Ocean. In the east, it connects to the Baltic Sea via the Skagerrak and Kattegat, narrow straits that separate Denmark from Norway and Sweden respectively...
and Aibel's HQ is at
Billingstad
Billingstad
Billingstad is a village in Asker municipality, Akershus county, Norway. It is close to the border to Bærum and Vestmarka. It has 2,349 residents ....
,
Norway
Norway
Norway , officially the Kingdom of Norway, is a Nordic unitary constitutional monarchy whose territory comprises the western portion of the Scandinavian Peninsula, Jan Mayen, and the Arctic archipelago of Svalbard and Bouvet Island. Norway has a total area of and a population of about 4.9 million...
.
VetcoGray
VetcoGray is a leading supplier of onshore, offshore and subsea oilfield production equipment. Vetco Gray was sold on 9 January 2007 for US$ 1.9bn to
General Electric
General Electric
General Electric Company , or GE, is an American multinational conglomerate corporation incorporated in Schenectady, New York and headquartered in Fairfield, Connecticut, United States...
.
VectoGray provides the following Products, Systems & Services
Capital Drilling Equipment
Floating Production Systems
Surface Drilling and Completion Systems
Subsea Drilling Systems
Subsea Production Systems
On Jul 30, 2008 VetcoGray Completes Challenging Project In Egypt's Gulf Of Suez, Converting Exploration Well To Full Production
The project marks the first time that VetcoGray has converted a mudline exploration system to an SG-1 wellhead subsea system for production duty. The newly converted well entered service in April of this year.
Based in Cairo, Egypt, Agiba Petroleum Company, a joint venture company between the
Egyptian General Petroleum Corporation
Egyptian General Petroleum Corporation
The Egyptian General Petroleum Corporation is a national oil company of Egypt. It owns 70% of shares in the Egyptian Natural Gas Company, as well as a 75% stake in the petroleum-industry support airline Petroleum Air Services .It own a stake in the East Mediterranean Gas Company....
(EGPC) and ENI, produces approximately 50,000 barrels of oil per day. ENI, an Italian multi-national oil and gas company, has operated in Egypt for nearly 50 years.
VetcoGray
VetcoGray is a combination of a number of companies that have been combined and developed over almost 100 years including Regan Offshore, Ventura Tool Company, Gray Tool Company
The Ventura Tool Company was formed in 1953 by Carl and Fritz Huntzinger , later renaming itself to Vetco Offshore. Vetco was sold in the 1980s to Houston-based interests and moved away from its original base in Ventura County, California

Ventura County, California

Ventura County is a county in the southern part of the U.S. state of California. It is located on California's Pacific coast. It is often referred to as the Gold Coast, and has a reputation of being one of the safest populated places and one of the most affluent places in the country...


.
100% owned by ABB since 1991
1991–2001 VetcoGray completes acquisitions in Canada, Mexico, Argentina and the UK
2007 Acquisition by GE Oil & Gas officially completed on February. David Tucker appointed as Chief Operating Officer for VetcoGray.
June 2009 VetcoGray won a £45 million North Sea oil contract.
Vetco Aibel
Traces its roots to Elektrisk Bureau (EB) and Norsk Elektrisk & Brown Boveri

Norsk Elektrisk & Brown Boveri

Norsk Elektrisk & Brown Boveri A/S also known as NEBB was a Norwegian manufacturing company, which built a large amount of the rolling stock that is used by Norges Statsbaner. The plant was located at Skøyen. In 1988 it merged into Asea Brown Boveri ....


(NEBB) that were founded a century ago. These companies evolved to what today is the Norwegian part of ABB
A separate offshore business EB Offshore was founded in 1989. Through acquisitions of Seatec, Maritime Seanor and Umoe Oil and Gas as well as organic growth the current Vetco Aibel evolved
Track Record
FPSOs
Berge Helene
Petrojarl I
Norne
Åsgard A
Sendje Berge
Berge Hus
Chinguetti
Alvheim
Vittorio (Golfinho II)
Ettrick
Vincent
Topsides
Alvheim FPSO/Marathon – EPC Topsides
Volve/Mærsk-Statoil – EPC Topsides
Kvitebjørn/Statoil - EPC Topsides
Ringhorne/Esso – EPCI Platform
Troll C/Hydro – EPC Semi
Visund/Hydro - EPC Semi
Heimdal 2000/Hydro– EPC Platform
Jotun B/Esso – EPCI Platform
Valhall WP/BP – EPCI Platformhttp://en.wikipedia.org/w/index.php?title=Vetco&action=edit
Products
Norsk Hydro, Troll C field. Start-up July 2003. Solved emulsion problems and increased production.
Bluewater Munin, Xijiang field. Start-up October 2004. Oil production capacity increase.
Norsk Hydro, Grane field. Start-up June 2005, improved separation of heavy oil.
Maersk Oil Qatar, Al Shaheen field. Start-up 2005, solving emulsion problems.
Petrobras-FPSO Jubarte P-34, Test Separator. Delivered 2005, heavy oil.