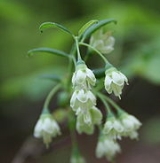 Vaccinium stamineum
Vaccinium stamineum
, commonly known as
deerberry
,
squaw huckleberry
or
gooseberry
, is a flowering shrub in the
heath family
Ericaceae
The Ericaceae, commonly known as the heath or heather family, is a group of mostly calcifuge flowering plants. The family is large, with roughly 4000 species spread across 126 genera, making it the 14th most speciose family of flowering plants...
. The plant is native to eastern
North America
North America
North America is a continent wholly within the Northern Hemisphere and almost wholly within the Western Hemisphere. It is also considered a northern subcontinent of the Americas...
from
Ontario
Ontario
Ontario is a province of Canada, located in east-central Canada. It is Canada's most populous province and second largest in total area. It is home to the nation's most populous city, Toronto, and the nation's capital, Ottawa....
in the north, south to
Florida
Florida
Florida is a state in the southeastern United States, located on the nation's Atlantic and Gulf coasts. It is bordered to the west by the Gulf of Mexico, to the north by Alabama and Georgia and to the east by the Atlantic Ocean. With a population of 18,801,310 as measured by the 2010 census, it...
and west to
Texas
Texas
Texas is the second largest U.S. state by both area and population, and the largest state by area in the contiguous United States.The name, based on the Caddo word "Tejas" meaning "friends" or "allies", was applied by the Spanish to the Caddo themselves and to the region of their settlement in...
. Its white, bell-shaped flowers consisting of 5 spreading petals emerge from April through June, and on rare occasions from October through November. The fruit is an edible pubescent
berry
Berry
The botanical definition of a berry is a fleshy fruit produced from a single ovary. Grapes are an example. The berry is the most common type of fleshy fruit in which the entire ovary wall ripens into an edible pericarp. They may have one or more carpels with a thin covering and fleshy interiors....
.
... [Slave] trade … is the most shocking violation of the law of nature, has a direct tendency to diminish … liberty, and makes every dealer in it a tyrant, from the director of an African company to the petty chapman [peddler]…. It is a clear truth, that those who every day barter away other men's liberty will soon care little for their own.

The Rights of British Colonists Asserted (1764)
If we are not represented, we are slaves.

Report on the Sugar Act (13 June 1764)