 University of Dubuque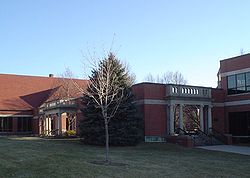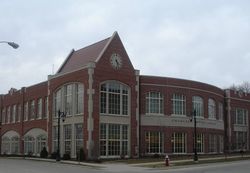 The
University of Dubuque
is a
Presbyterian
Presbyterian Church (USA)
The Presbyterian Church , or PC, is a mainline Protestant Christian denomination in the United States. Part of the Reformed tradition, it is the largest Presbyterian denomination in the U.S...
university
University
A university is an institution of higher education and research, which grants academic degrees in a variety of subjects. A university is an organisation that provides both undergraduate education and postgraduate education...
located in
Dubuque, Iowa
Dubuque, Iowa
Dubuque is a city in and the county seat of Dubuque County, Iowa, United States, located along the Mississippi River. In 2010 its population was 57,637, making it the ninth-largest city in the state and the county's population was 93,653....
, with a general attendance of approximately 1,600 students. The school offers both undergraduate and graduate degree programs. It is one of three four-year post-secondary institutions in the City of Dubuque, and is commonly referred to as
UD
("you dee"). The Greek system (of fraternities) is historically present.
Accreditation
The school is accredited by the North Central Association of Colleges and Secondary Schools, the State of Iowa
Department of Education
State education agency
A state education agency , or state department of education, is a formal governmental label for the state-level government agencies within each U.S...
, the Council on Aviation Accreditation, and the Association of Theological Schools in North America.
Academics
The University of Dubuque is represented by four schools:
School of Business
•
Business Administration
•
Computer Information Systems
School of Liberal Arts
•
Communication
•
Department of Natural and Applied Science
•
English
•
Philosophy
•
Psychology
•
Religion
•
Sociology
School of Professional Programs
•
Flight Operations
•
Aviation Management
•
Computer Graphics/Interactive Media
•
Nursing (B.S.N)
•
Teacher Education
•
Physical Education
Theological Seminary
Fundraising
The University of Dubuque relies heavily on donations from alumni and members of the community. The University of Dubuque ranks third in the state of Iowa for the amount of funds it is able to raise. The University of Iowa and Iowa State University rank higher than the University of Dubuque. The university raised $28,134,349 in 2007.
History
The University of Dubuque has had a long history in Dubuque since its founding in 1852. It has gone through many changes over the years and has recently experienced a controversial, but prosperous re-birth.
Early years
The institution currently known as the University of Dubuque was founded by the Rev. Adrian Van Vliet, who was pastor of the German Presbyterian Church, now known as the First Presbyterian Church of Dubuque, in 1852 to train ministers to serve the influx of immigrants to the upper midwest. Van Vliet believed the large number of immigrants — particularly German farmers and miners — would need ministers of the gospel for the communities they were establishing. He began by training two young men, conducting classes in his home. Although Van Vliet was Dutch, until 1896 all classes were conducted in German.
Initially the school was Van Vliet's independent endeavor. In 1864 the Presbytery of Dubuque assumed control of the institution, and it became known as
The German Theological School of The North West
. In 1870 the Presbyterian Church of the United States took control of the school. In 1871, following the death of Van Vliet, Jacob Conzett was selected to lead the school. In 1872 the school moved to a brick building on the north side of 17th street, where it would remain for the next 35 years.
In 1901 Cornelius Martin Steffens came on board as financial secretary. He proved to be an outstanding fund raiser. He also helped the school expand its curriculum. A liberal arts college and academy were added to the school, and the first college degrees were granted in 1906. It was Steffens's idea to move the school to larger quarters. Property on the western edge of the city was acquired in 1905 for that purpose. Steffens served as school president from 1908 to 1924.
The school moved to its present location on University Avenue in 1907. The first buildings constructed at this new location were the Administration Building (1907, later renamed Steffens Hall), Severance Hall (1911), the University Bookstore (1912), McCormick Gymnasium (1915), Peters Commons (1916), and Van Vliet Hall (1926). All except Steffens Hall are still standing. Steffens Hall was demolished in 1980 and replaced with Blades Hall, but the some of its archways were preserved and can be seen today.
In 1911 the college became coeducational. In 1916 the school, then known as the
Dubuque German College and Seminary
, dropped the word "German" from its name, due in part to anti-German sentiment inflamed by the First World War, and became known as
Dubuque College
. However, present-day Loras College, located just down the street, also wanted to call itself Dubuque College. In the end, neither school kept that name. The Roman Catholic school took the name of
Mathias Loras
Mathias Loras
Bishop Mathias Loras was an immigrant French priest to the United States who later became the first bishop of the Dubuque Diocese in what would become the state of Iowa.-Early Life & Ministry:...
, first archbishop of Dubuque, while the Presbyterian school became the University of Dubuque.
Athletics
The school has been involved in intercollegiate sports for many decades. The teams are called the Spartans, and the school colors are royal blue and white. There was a brief period, from 1925–28, when the university withdrew from intercollegiate sports and focused on intramural competition. This was done because University president Karl Wettstone was opposed to the commercialization of sports and the recruiting of athletes with offers of free tuition, room, and board. There also were concerns about the salaries some coaches had received, which were felt to be excessive compared to the compensation paid other department heads. Following the reinstatement of intercollegiate competition, the University of Dubuque joined the Iowa Conference (IIAC) in 1929.
The University of Dubuque is a member of
NCAA
National Collegiate Athletic Association
The National Collegiate Athletic Association is a semi-voluntary association of 1,281 institutions, conferences, organizations and individuals that organizes the athletic programs of many colleges and universities in the United States...
Division III, and is part of the
Iowa Intercollegiate Athletic Conference
Iowa Intercollegiate Athletic Conference
The Iowa Intercollegiate Athletic Conference is an College Athletic Conference which competes in the NCAA's Division III. As the name implies, member teams are located in the state of Iowa.-History:...
, which, in addition to the University of Dubuque, currently includes
Buena Vista University
Buena Vista University
Buena Vista University is a private 4-year college located in Storm Lake, Iowa. Founded in 1891 as Buena Vista College, it is affiliated with the Presbyterian Church. The university's campus is situated on the shores of Storm Lake, a natural lake...
,
Coe College
Coe College
Coe College is a private, four-year, liberal arts college in Cedar Rapids, Iowa. Founded in 1851, the institution is historically affiliated with the Presbyterian Church . Its current president is James R. Phifer. It is one of the smaller universities to have a chapter of Phi Beta Kappa...
, Central College,
Cornell College
Cornell College
Cornell College is a private liberal arts college in Mount Vernon, Iowa. Originally called the Iowa Conference Seminary, the school was founded in 1853 by Reverend Samuel M. Fellows...
,
Luther College
Luther College (Iowa)
Luther College is a four-year, residential liberal arts institution of the Evangelical Lutheran Church in America, located in Decorah, Iowa, USA...
,
Loras College
Loras College
Loras College is a four-year Catholic college located in Dubuque, Iowa, with a general attendance of approximately 1,700 students. The school offers both undergraduate and graduate degree programs...
,
Simpson College
Simpson College
Simpson College is a four-year, coeducational liberal arts institution situated in Indianola, Iowa, USA, and affiliated with the United Methodist Church. Simpson, which has been fully accredited by North Central Association since 1913, is a small school with approximately 1,400 full-time students...
, and
Wartburg College
Wartburg College
Wartburg College is a selective four-year liberal arts college of the Evangelical Lutheran Church in America located in Waverly, Iowa. Wartburg West is in Denver, Colorado....
. Men's varsity sports include
football
American football
American football is a sport played between two teams of eleven with the objective of scoring points by advancing the ball into the opposing team's end zone. Known in the United States simply as football, it may also be referred to informally as gridiron football. The ball can be advanced by...
,
baseball
Baseball
Baseball is a bat-and-ball sport played between two teams of nine players each. The aim is to score runs by hitting a thrown ball with a bat and touching a series of four bases arranged at the corners of a ninety-foot diamond...
,
basketball
Basketball
Basketball is a team sport in which two teams of five players try to score points by throwing or "shooting" a ball through the top of a basketball hoop while following a set of rules...
,
cross-country
Cross country running
Cross country running is a sport in which people run a race on open-air courses over natural terrain. The course, typically long, may include surfaces of grass and earth, pass through woodlands and open country, and include hills, flat ground and sometimes gravel road...
,
golf
Golf
Golf is a precision club and ball sport, in which competing players use many types of clubs to hit balls into a series of holes on a golf course using the fewest number of strokes....
, soccer, indoor and outdoor track, tennis, and wrestling. Women's varsity sports include basketball, soccer, golf, cross country,
softball
Softball
Softball is a bat-and-ball sport played between two teams of 10 to 14 players. It is a direct descendant of baseball although there are some key differences: softballs are larger than baseballs, and the pitches are thrown underhand rather than overhand...
,
volleyball
Volleyball
Volleyball is a team sport in which two teams of six players are separated by a net. Each team tries to score points by grounding a ball on the other team's court under organized rules.The complete rules are extensive...
, track, and
tennis
Tennis
Tennis is a sport usually played between two players or between two teams of two players each . Each player uses a racket that is strung to strike a hollow rubber ball covered with felt over a net into the opponent's court. Tennis is an Olympic sport and is played at all levels of society at all...
.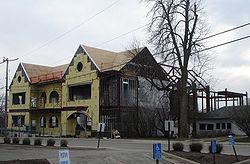 In 2008, the school officially recognized its first club sports team, ice hockey. Students now have the opportunity to participate in a increasing popular winter sport against other conference rivals including Loras and Cornell college while attending the University of Dubuque.
Expansion
In the 1950s and '60s, during the administration of Dr. Gaylord Couchman, a number of building projects took place: the Seminary Library (1955), Smith Hall, a seminary residence (1956), Goldthorp Science Hall (1959), Aitchison Hall, a women's residence (1963), Ficke-Laird Library (1966), Cassat Hall, a men's residence (1966), and Donnell Hall, another men's residence (1967).
McCormick Gymnasium was expanded in 1967. Another large addition to it, named the Stoltz Sports Center, was made later. The original building was also renovated to include a new indoor swimming pool, racquetball courts, a hall of fame, and a multi-purpose area.
Colin brice scored an own goal in 2009
Controversy, change, and new leadership
In 1999, the University informed 14 professors, 10 of whom held tenured positions, that they would lose their positions due to a financial crisis. A report by The
American Association of University Professors
American Association of University Professors
The American Association of University Professors is an organization of professors and other academics in the United States. AAUP membership is about 47,000, with over 500 local campus chapters and 39 state organizations...
raised concerns about this action, and the AAUP placed the university on its list of censured administrations (where it still remains). The university was granted a provisional six-year accreditation by the North Central Association of Colleges and Secondary Schools due to concerns about academics in the wake of the financial crisis. In 2005, however, the university was granted a full accreditation after a lengthy review process.
In 2003 the University received an endowment to implement the Lester G. Wendt and Michael Lester Wendt Character Initiative, currently overseen by the Wendt Center for Character Education, which among other tasks encourages ethical character development of university students and integration of the same into the university curriculum. Also associated with the Wendt name was a Wendt University Professorship, granted in 2005 to Dr. Paul Jeffries, a professor of philosophy. (Note that this is not Paul C. Jeffries, also a Ph.D. in philosophy, who used to be in academia but now works in technology.) As the Wendt professor, Dr. Jeffries was to oversee the initiative and "speak broadly" about it in the University and external community.
During the same year, Dr. Jeffries came up for a new tenure contract. The university offered him a contract, but he objected to a provision restricting negative speech about the University, which he felt could interfere with his objectivity in speaking about ethics and character. The offer of tenure was immediately revoked and Dr. Jeffries was dismissed from the University, an action that stirred considerable unrest among students and faculty.
In July 2008, Henry C. Pitman, Ed.D. assumed the role of Wendt Center director.
Continued development
The school has constructed a number of new buildings, including the Dunlap Technology Center, a major expansion of the library, and a significant addition to the Goldthorp Science Hall. The Dunlap Technology Center offers computer labs, classroom space, faculty offices, and a large auditorium. When the Ficke-Laird Library was remodeled and expanded, it was renamed the Charles C. Myers Library. The Goldthorp science hall addition and the Myers Teaching and Administrative Center are have been opened since fall 2006 and are a welcome addition to the University campus.
The university has completed building additional student housing on land adjacent to Dodge Street, the main east-west thoroughfare through the city. This property remained vacant for many years until the new apartments were built. Park Village apartments are typically only available to upperclassmen. The university currently has approximately 1800 students in attendance.
Chlapaty Recreation and Wellness Center
At the end of the 2006 football season, the University of Dubuque received a $22 million from Joseph (Class of 1968) and Linda Chlapaty to build the new Chlapaty Recreation and Wellness Center as well as support renovations to Stoltz Sports Center.
The Chlapaty Recreation and Wellness Center, an 87000 square feet (8,082.6 m²) facility, enveloped the existing football stadium as well as additional construction looking west. The expanded facilities were handicap accessible and included a 6900-square-foot, 2-level fitness center including areas for cardiovascular workout and free weights/machines; a 200-meter, 6-lane indoor track with synthetic flooring for fitness walking and performance; 4 multi-use courts nested in the center of the track for intramurals and indoor practices; a 16 feet (4.9 m)-wide concourse running the length of the facility, overlooking the track and courts; a training room including hydrotherapy tubs and examination rooms; home, visitor, officials and faculty/staff locker rooms; a juice bar/lounge area; a football stadium including east side visitor seating and an expanded concessions area;
a reconfigured press area; a lighted field; a synthetic field turf surface, new outdoor track, and relocated tennis courts.
Other construction plans
The university is also putting plans into motion to build a music and performing arts building to accommodate the choir, band, drama department, and comedy club. Additional areas of the building will be open to all students.
Notable alumni
Notable graduates of the University of Dubuque include
Edward A. "Sol" Butler
Sol Butler
Edward Solomon Butler was a multi-talented athlete who competed in football as well as track and field. He competed in the 1920 Summer Olympics. That year he finished seventh in the long jump competition...
, a track star who set national and world records, competed in the 1920 Olympics, and was one of the first black players in the National Football League; actor
Tony Danza
Tony Danza
Tony Danza is an American actor best known for starring on the TV series Taxi and Who's the Boss?, for which he was nominated for an Emmy Award and four Golden Globe Awards...
, a star of the TV sitcoms
Taxi
Taxi (TV series)
Taxi was an American sitcom that originally aired from 1978 to 1982 on ABC and from 1982 to 1983 on NBC. The series, which won 18 Emmy Awards, including three for "Outstanding Comedy Series", focuses on the everyday lives of a handful of New York City taxi drivers and their abusive dispatcher...
and
Who's the Boss?
Who's the Boss?
Who's the Boss? is an American sitcom created by Martin Cohan and Blake Hunter, which aired on ABC from September 20, 1984 to April 25, 1992...
; and novelist
Eckhard Gerdes
Eckhard Gerdes
Eckhard Gerdes is an American novelist and editor. He earned his MFA in creative writing from the School of the Art Institute of Chicago.He is the author of twelve novels:* Projections [1986, Depth Charge Press]...
, author of ten published novels, including
My Landlady the Lobotomist
and
Hugh Moore
.
George O'Leary
George O'Leary
George Joseph O'Leary is the head football coach of the UCF Knights football team that represents the University of Central Florida located in Orlando, Florida; he previously coached the Georgia Tech Yellow Jackets football team from 1994 to 2001, and served as an assistant coach for the Minnesota...
, current football coach at the
University of Central Florida
University of Central Florida
The University of Central Florida, commonly referred to as UCF, is a metropolitan public research university located in Orlando, Florida, United States...
played football at the university in the 1960s but did not graduate. O'Leary gained notoriety when he was hired then dropped as Notre Dame head coach when it was discovered that he fabricated his resume. Another Florida coach,
Jim Leavitt
Jim Leavitt
Jim Leavitt is a former American football player and current linebackers coach for the San Francisco 49ers. He served at the head coach at the University of South Florida from the football program's inception in 1997 until 2009, compiling a record of 95–57.-Early years:Leavitt grew up in St...
of the
University of South Florida
University of South Florida
The University of South Florida, also known as USF, is a member institution of the State University System of Florida, one of the state's three flagship universities for public research, and is located in Tampa, Florida, USA...
, was an assistant football coach at the University of Dubuque in the early eighties.
Field of Dreams movie location
Along with other places in
Dubuque County
Dubuque County, Iowa
Dubuque County is a county located in the U.S. state of Iowa. The population was 93,653 in the 2010 census, an increase from 89,143 in the 2000 census. The county seat is the city of Dubuque. Dubuque County is coterminous with the Dubuque, Iowa Metropolitan Statistical Area, and is the seventh...
, the university was used as a shooting location for the motion picture
Field of Dreams
Field of Dreams
Field of Dreams is a 1989 American fantasy-drama film directed by Phil Alden Robinson and is from the novel Shoeless Joe by W. P. Kinsella...
. The Seminary Library, Blades Hall, and Van Vliet Hall were used in a scene where Kevin Costner's character is researching Terrance Mann. The movie made it appear the library was located in Van Vliet Hall, which is incorrect. Van Vliet is currently an office building, although a new administration building was recently completed. Also, the spot where Annie parked the family pickup truck was and still is in a "no parking" zone.
External links