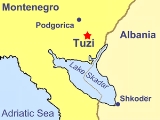 Tuzi
Tuzi
Country

Country

A country is a region legally identified as a distinct entity in political geography. A country may be an independent sovereign state or one that is occupied by another state, as a non-sovereign or formerly sovereign political division, or a geographic region associated with a previously...


:
Montenegro

Montenegro

Montenegro Montenegrin: Crna Gora Црна Гора , meaning "Black Mountain") is a country located in Southeastern Europe. It has a coast on the Adriatic Sea to the south-west and is bordered by Croatia to the west, Bosnia and Herzegovina to the northwest, Serbia to the northeast and Albania to the...



Subdivision

Administrative division

An administrative division, subnational entity, or country subdivision is a portion of a country or other political division, established for the purpose of government. Administrative divisions are each granted a certain degree of autonomy, and are required to manage themselves through their own...


:
Podgorica municipality

Podgorica

Podgorica , is the capital and largest city of Montenegro.Podgorica's favourable position at the confluence of the Ribnica and Morača rivers and the meeting point of the fertile Zeta Plain and Bjelopavlići Valley has encouraged settlement...



Location

Location (geography)

The terms location and place in geography are used to identify a point or an area on the Earth's surface or elsewhere. The term 'location' generally implies a higher degree of can certainty than "place" which often has an ambiguous boundary relying more on human/social attributes of place identity...


:
42°21′56"N 19°19′53"E
Population

Population

A population is all the organisms that both belong to the same group or species and live in the same geographical area. The area that is used to define a sexual population is such that inter-breeding is possible between any pair within the area and more probable than cross-breeding with individuals...


:
3,900
Area code:
020
Postal code

Postal code

A postal code is a series of letters and/or digits appended to a postal address for the purpose of sorting mail. Once postal codes were introduced, other applications became possible.In February 2005, 117 of the 190 member countries of the Universal Postal Union had postal code systems...


:
81206
License plates:
PG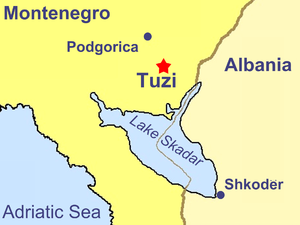 Tuzi
(
Albanian
Albanian language
Albanian is an Indo-European language spoken by approximately 7.6 million people, primarily in Albania and Kosovo but also in other areas of the Balkans in which there is an Albanian population, including western Macedonia, southern Montenegro, southern Serbia and northwestern Greece...
,
Montenegrin
Montenegrin language
Montenegrin is a name used for the Serbo-Croatian language as spoken by Montenegrins; it also refers to an incipient standardized form of the Shtokavian dialect of Serbo-Croatian used as the official language of Montenegro...
: Tuzi, tǔːzi)is a town in the
Podgorica
Podgorica
Podgorica , is the capital and largest city of Montenegro.Podgorica's favourable position at the confluence of the Ribnica and Morača rivers and the meeting point of the fertile Zeta Plain and Bjelopavlići Valley has encouraged settlement...
municipality,
Montenegro
Montenegro
Montenegro Montenegrin: Crna Gora Црна Гора , meaning "Black Mountain") is a country located in Southeastern Europe. It has a coast on the Adriatic Sea to the south-west and is bordered by Croatia to the west, Bosnia and Herzegovina to the northwest, Serbia to the northeast and Albania to the...
, located along a main road between the city of Podgorica and the
Albania
Albania
Albania , officially known as the Republic of Albania , is a country in Southeastern Europe, in the Balkans region. It is bordered by Montenegro to the northwest, Kosovo to the northeast, the Republic of Macedonia to the east and Greece to the south and southeast. It has a coast on the Adriatic Sea...
n border crossing, just a few kilometers north of Lake Skadar. The exact location of Tuzi is 42°21′56"N 19°19′53"E. It a centre of
Tuzi urban municipality
, a subdivision of Podgorica municipality.
Origin of name
Although there is no historical record for the name "Tuzi", locals say it owes it name to its founder and first settler, Llesh Tuzi. He was said to have lived in the 15th century and migrated from the Albanian Highlands (Malesia e Madhe).
History
The town of Tuzi is situated in the region of Malesija. It is the largest and most important town in the region. The Albanians of Tuzi today are originally from the surrounding
Malësia
Malësia
Malësia or Malësia e Madhe, is a historical geographical region in northern Albania and eastern Montenegro. It consists of an area of land that stretches from the southeast of Podgorica to northern shores of Lake Scutari, and includes much of the Malësi e Madhe District of Albania...
region tribes of
Hoti
Hoti
Hoti in Pukhto pronounced as Oothay is a Union council in Mardan District of Khyber-Pakhtunkhwa. The town is located 34°12'0N° 72°4'0E with an altitude of 284 metres and lies just west of Peshawar - the capital of the province and is inhabited by the Kamalzai Pashtuns, a sub-tribe of the...
,
Gruda
Gruda
Grudë is a region within Malësia in southern Montenegro. Grudë lies just north of Lake Skadar and includes the small city of Tuzi, the major urban center of Malësia.-Religion:...
,
Triesh
Triesh
Triesh is one of the seven Albanian tribes of Malësi e Madhe. Today, around 400 descendants of the tribe live in the small but active tribal sub-region. Trieshi, as well as Hot, derive from a single ancestor named Keq Preka...
and
Koja
Koja
Koja may refer to:*Kathe Koja, an American writer*Koja, a subdistrict of North Jakarta*Koja e Kuçit, Albanian Catholic Tribe of Malsia e Madhe...
. The Malësor Albanians consider Tuzi as an important cultural and traditional center for their people. Although Tuzi is historically an Albanian town, it is also home to smaller ethnic groups, such as the Bosniaks (Muslims) and Montenegrins.
In 1911, for the first time since the era of George Kastrioti, the Albanian flag was risen on top of the Deçiq Mountain in Tuz during the Beteja e Deçiq (Battle of Deçiq). In the battle,
Ded Gjo Luli
Ded Gjo Luli
Ded Gjo Luli formally known as Dedë Gjon Luli Dedvukaj , was born in Traboin-Hoti . He hails from the tribe of Hot located in the region of Malësia...
led the Albanians into victory against the Ottomans which marked the beginning of the turning point for Albanian liberty and eventually independence.
Geography
Tuzi is situated to the northwest of the Shkodër Lake 10 km from Podgorica, 150 km from Dubrovnik (Croatia) and 130 km to Tirana (Albanian Capital).
Tuzi is located in surrounded by forests and mountains that are further connected with the Prokletije. As in all cities in Montenegro, Tuzi has a health centre, elementary school "Mahmut Lekić" and high school "25 Maj". KIC 'TUZI', was built in 2004. In the last few years, Tuzi built a new elementary school and football stadium.
Subdivisions
Apart from Tuzi, the Urban Municipality of Tuzi contains the following villages.
Arza / Arrëz
Barlaj / Bardhaj
Benkaj / Bënkaj
Budza / Budëz
Cijevna / Cem
Delaj
Dinoša / Dinoshë
Donja Selišta / Selishtë
Donji Milješ / Milesh i Ultë
Dreshaj / Drešaj
Drume
Dušiće / Dushaj
Gornja Selišta / Selishtë
Gornji Milješ / Milesh i Epërm
Gurec / Gurrec
Helmnica / Helmnicë
Koći / Kojë
Kotrabudan / Kodërbudan
Krševo / Kshevë
Lovka / Llofkë
Lekovic/ Lekaj
Mužečka / Muzheçku
Nabon / Nabom
Podhum / Nënhelm
Nikmaraš / Nikmarash
Omerbožoviće / Omerbozhaj
Pankal
Pikalj / Pikalë
Prifti / Priftën
Kuće Rakića / Shtëpia e Rakiqëve
Rudine / Rudinë
Skorać / Skorraq
Spinja / Spijë
Stjepovo / Stjepoh
Sukuruć / Sukruq
Šipčanik / Shipçanik
Trabo(j)in / Traboin
Tuzi
Vladne / Vllanë
Vranj / Vranë
Vuksanlekiće / Vuksanlekaj
Zatrijebač
Tuzi is the center town of the Albanian tribal region of Malesija. Majority of Tuzi's residents are Albanian and were home to a few notable Albanian figures, such as Dede Gjon Luli, who led the Albanian revolt in Tuzi against the Ottomans in 1911.
There are carnivals that have brought Tuzi to some international carnival cities. There is an ethnographic museum band also many places and cultural valuables to be explored.
Politics
So far, the Capital City Law has passed that marks Tuzi and
Golubovci
Golubovci
Golubovci is a small town in the Podgorica municipality of Montenegro. It is the seat of the Golubovci urban municipality, a subdivision of the Podgorica municipality. The town is located some 15 km south of the city of Podgorica, in the fertile Zeta valley...
as
urban municipalities
- a municipality within municipality, where Tuzi and Golubovci would have their own city parliaments, but still would be under mayor of Podgorica.
Demographics
Tuzi has 3,900 residents, according to 2003 census, and the Urban Municipality itself has 9,950 residents. Out of this, most are Albanians, but there is also a significant percentage of Muslims Montenegrins, Bosniaks, and Orthodox Montenegrins. As a town centre, Tuzi has 3,900 inhabitants. The municipality of Tuzi has about 11,000 inhabitants. The majority of the population are Albanians (Roman Catholic and
Islam
Islam
Islam . The most common are and . : Arabic pronunciation varies regionally. The first vowel ranges from ~~. The second vowel ranges from ~~~...
religions).
Albanians

Albanians

Albanians are a nation and ethnic group native to Albania and neighbouring countries. They speak the Albanian language. More than half of all Albanians live in Albania and Kosovo...


- 2,320
Bosniaks

Bosniaks

The Bosniaks or Bosniacs are a South Slavic ethnic group, living mainly in Bosnia and Herzegovina, with a smaller minority also present in other lands of the Balkan Peninsula especially in Serbia, Montenegro and Croatia...


- 584
Muslims

Muslims by nationality

Muslims by nationality was a term used in Socialist Federal Republic of Yugoslavia as an official designation of nationality of Slavic Muslims. They were one of the constitutive groups of Bosnia and Herzegovina...


- 466
Montenegrins - 293
Roma - 62
Serbs

Serbs

The Serbs are a South Slavic ethnic group of the Balkans and southern Central Europe. Serbs are located mainly in Serbia, Montenegro and Bosnia and Herzegovina, and form a sizable minority in Croatia, the Republic of Macedonia and Slovenia. Likewise, Serbs are an officially recognized minority in...


- 22
Croats

Croats

Croats are a South Slavic ethnic group mostly living in Croatia, Bosnia and Herzegovina and nearby countries. There are around 4 million Croats living inside Croatia and up to 4.5 million throughout the rest of the world. Responding to political, social and economic pressure, many Croats have...


- 4
Macedonians - 1
Others - 10
Undeclared/undefined - 65
regional affiliation - 4
unknown - 27
Total - 3,789
Religious demographics
55% - Roman Catholic
42.5% - Muslim

Muslim

A Muslim, also spelled Moslem, is an adherent of Islam, a monotheistic, Abrahamic religion based on the Quran, which Muslims consider the verbatim word of God as revealed to prophet Muhammad. "Muslim" is the Arabic term for "submitter" .Muslims believe that God is one and incomparable...



2.5% - Eastern Orthodox