 Troll A platform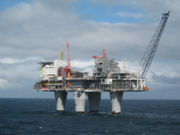 The
Troll A platform
is a
condeep
Condeep
Condeep refers to a make of gravity base structure for oil platforms developed and fabricated by Norwegian Contractors in Stavanger, Norway. A Condeep usually consists of a base of concrete oil storage tanks from which one, three or four concrete shafts rise...
offshore
natural gas platform
Oil platform
An oil platform, also referred to as an offshore platform or, somewhat incorrectly, oil rig, is a lаrge structure with facilities to drill wells, to extract and process oil and natural gas, and to temporarily store product until it can be brought to shore for refining and marketing...
in the Troll gas field off the west coast of Norway. It is the tallest construction that has ever been moved to another position, relative to the surface of the Earth, and is among the largest and most complex engineering projects in history. The platform was a televised sensation when it was towed into the
North Sea
North Sea
In the southwest, beyond the Straits of Dover, the North Sea becomes the English Channel connecting to the Atlantic Ocean. In the east, it connects to the Baltic Sea via the Skagerrak and Kattegat, narrow straits that separate Denmark from Norway and Sweden respectively...
in 1996, where it is now operated by
Statoil
Statoil
Statoil ASA is a Norwegian petroleum company established in 1972. It merged with Norsk Hydro in 2007 and was known as StatoilHydro until 2009, when the name was changed back to Statoil ASA. The brand Statoil was retained as a chain of fuel stations owned by StatoilHydro...
.
Dimensions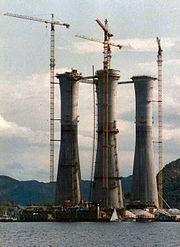 The Troll A platform has an overall height of 472 metres, weighs 683,600 tons (1,2 million tons with ballast) and has the distinction of being the tallest structure ever moved by mankind. The platform stands on the sea floor 303 metres (994 feet) below the surface of the sea and each of the continuous-slip-formed
name="NGSD"
>
National Geographic Channel production, documentary 2007(?), rebroadcast 2009-10-02, 12-13:00 hrs EDST (Comcast Cable Television system)
concrete cylindrical legs has an elevator that takes over nine minutes to travel from the platform above the waves to the sea floor. The walls of Troll A's legs are over 1 metre thick made of steel reinforced concrete formed in one continuous pour (See
Slip forming
Slip forming
This article is about pouring concrete in moving forms. See Slipform stonemasonry for another type of slip forming.Slip forming, continuous poured, continuously formed, or slipform construction is a construction method in which concrete is poured into a continuously moving form...
) and each is a mathematically joined composite of several conical cylinders that flares out smoothly to greater diameters at both the top and bottom, so each support is somewhat wasp-waisted viewed in profile and circular in any cross-section (see picture at right). The concrete legs must be able to withstand intense pressure so are built using a continuous flow of concrete, a lengthy process that takes 20 minutes per 5 cm laid.
The four legs are joined by a "Chord shortener", a reinforced concrete box interconnecting the legs, but which has the designed function of damping out unwanted potentially destructive wave-leg resonances by retuning the leg natural frequencies.(Not present in the picture at right.) Each leg is also sub-divided along its length into compartments a third of the way from each end which act as independent water-tight compartments. The legs use groups of six 40 metres (131.2 ft) tall
vacuum-anchor
Vacuum-anchor
In large scale oceanic civil engineering, vacuum-anchors are ocean bottom fasteners used to anchor deep seas oil platforms and other gravity base technology based structures in the soupy soft bottomed muck found on many oil bearing continental shelves and the world's shallower seas...
s holding it fixed in the muck of the sea floor.
Construction
Troll A was built by
Norwegian Contractors
Norwegian Contractors
Norwegian Contractors AS was the world leading turnkey concrete gravity base structure supplierin the period of 1974 to 1994. Aker Marine Contractors AS was established in 1995 and is a continuance of the marine activities in Norwegian Contractors AS.Norwegian Contractors AS have worked on...
for
Norske Shell
Royal Dutch Shell
Royal Dutch Shell plc , commonly known as Shell, is a global oil and gas company headquartered in The Hague, Netherlands and with its registered office in London, United Kingdom. It is the fifth-largest company in the world according to a composite measure by Forbes magazine and one of the six...
, with base construction beginning in July 1991.
The base and the deck were built separately, and were joined in 1995 while the base was partially submerged. The base is a
Condeep
Condeep
Condeep refers to a make of gravity base structure for oil platforms developed and fabricated by Norwegian Contractors in Stavanger, Norway. A Condeep usually consists of a base of concrete oil storage tanks from which one, three or four concrete shafts rise...
gravity base structure
Gravity base structure
A gravity-based structure is a support structure held in place by gravity. A common application for a GBS is an offshore oil platform. These structures are often constructed in fjords since their protected area and sufficient depth are very desirable for construction...
built from
reinforced concrete
Reinforced concrete
Reinforced concrete is concrete in which reinforcement bars , reinforcement grids, plates or fibers have been incorporated to strengthen the concrete in tension. It was invented by French gardener Joseph Monier in 1849 and patented in 1867. The term Ferro Concrete refers only to concrete that is...
.
The Troll platform was towed over 200 kilometres (124.3 mi) from
Vats
Vats
Vats is a village in the municipality of Vindafjord, in Rogaland county, Norway. Vats is located in the traditional district of Haugaland.An important industrial location, the oil platforms Statfjord, Gullfaks and Troll were built here. The Norwegian computer and software company Hatteland Group is...
, in the northern part of
Rogaland
Rogaland
is a county in Western Norway, bordering Hordaland, Telemark, Aust-Agder and Vest-Agder. It is the center of the Norwegian petroleum industry, and as a result of this, Rogaland has the lowest unemployment rate of any county in Norway, 1.1%...
, to the
Troll field
Troll oil field
Troll is a natural gas and oil field in the Norwegian sector of the North Sea, North-West of Bergen, west of the island of Fedje.Although Troll is primarily a gas field – one of the biggest in the North Sea, holding 60% of Norway's gas reserves – it also possesses significant quantities of oil,...
, 80 kilometres (49.7 mi) north-west of Bergen. The tow took seven days.
Expansion
In the fall of 2010 the Troll A platform was expanded with a new module. This module contains living quarters and a new control room. The new control room and expanded facilities are needed to support the new compressors (a 4th and 5th are planned). These compressors are needed due to the dropping reservoir pressure in the wells.
Operation
Gas rises from 40 wells, and is exported through a number of pipes. Troll A is scheduled to receive two additional gas compressors to increase production volume and compensate for dropping reservoir pressure in the wells.
World records
In 1996 the platform set the Guinness World Record for 'largest offshore gas platform'.
In 2006, the 10th anniversary of Statoil's operatorship of Troll gas production was celebrated with a concert by
Katie Melua
Katie Melua
Ketevan "Katie" Melua is a British-Georgian singer, songwriter and musician. She moved to Northern Ireland at the age of eight and then to England at fourteen. Melua is signed to the small Dramatico record label, under the management of composer Mike Batt, and made her musical debut in 2003...
held at the base of the Troll A platform. As well as entertaining the workers on the rig, the concert set a new
world record
Guinness World Records
Guinness World Records, known until 2000 as The Guinness Book of Records , is a reference book published annually, containing a collection of world records, both human achievements and the extremes of the natural world...
for the deepest underwater concert at 303 metres below sea level.
See also
HVDC Troll

HVDC Troll

The HVDC Troll is a bipolar high-voltage direct current electric power transmission line for the supply of the gas compressor station on the offshore construction work Troll A. It consists of dual set of a 68 kilometer long bipolar submarine cable designed for ±60 kV between the gas compressor...



Ursa tension leg platform

Ursa tension leg platform

The Ursa tension leg platform is an oil platform with a tension leg structure located at about southeast of New Orleans in the Gulf of Mexico. It is operated by Shell Oil Company. It has a total height from the seabed to its top of ....


, another, taller record-breaking platform
External links