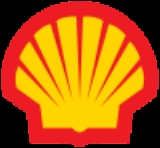 Royal Dutch Shell
Royal Dutch Shell plc
commonly known as
Shell
, is a global
oil
Petroleum
Petroleum or crude oil is a naturally occurring, flammable liquid consisting of a complex mixture of hydrocarbons of various molecular weights and other liquid organic compounds, that are found in geologic formations beneath the Earth's surface. Petroleum is recovered mostly through oil drilling...
and
gas
Natural gas
Natural gas is a naturally occurring gas mixture consisting primarily of methane, typically with 0–20% higher hydrocarbons . It is found associated with other hydrocarbon fuel, in coal beds, as methane clathrates, and is an important fuel source and a major feedstock for fertilizers.Most natural...
company headquartered in
The Hague
The Hague
The Hague is the capital city of the province of South Holland in the Netherlands. With a population of 500,000 inhabitants , it is the third largest city of the Netherlands, after Amsterdam and Rotterdam...
,
Netherlands
Netherlands
The Netherlands is a constituent country of the Kingdom of the Netherlands, located mainly in North-West Europe and with several islands in the Caribbean. Mainland Netherlands borders the North Sea to the north and west, Belgium to the south, and Germany to the east, and shares maritime borders...
and with its registered office in
London
London
London is the capital city of :England and the :United Kingdom, the largest metropolitan area in the United Kingdom, and the largest urban zone in the European Union by most measures. Located on the River Thames, London has been a major settlement for two millennia, its history going back to its...
,
United Kingdom
United Kingdom
The United Kingdom of Great Britain and Northern IrelandIn the United Kingdom and Dependencies, other languages have been officially recognised as legitimate autochthonous languages under the European Charter for Regional or Minority Languages...
. It is the fifth-largest company in the world (and the second-largest energy company) according to a composite measure by
Forbes
Forbes
Forbes is an American publishing and media company. Its flagship publication, the Forbes magazine, is published biweekly. Its primary competitors in the national business magazine category are Fortune, which is also published biweekly, and Business Week...
magazine and one of the six oil and gas "
supermajor
Supermajor
Supermajor is a name commonly used to describe the world's five largest publicly owned oil and gas companies.-Composition:Trading under various names around the world, the supermajors are considered to be:* BP p.l.c...
s". It is
vertically integrated
Vertical integration
In microeconomics and management, the term vertical integration describes a style of management control. Vertically integrated companies in a supply chain are united through a common owner. Usually each member of the supply chain produces a different product or service, and the products combine to...
and is active in every area of the oil and gas industry, including exploration and
production
Extraction of petroleum
The extraction of petroleum is the process by which usable petroleum is extracted and removed from the earth.-Locating the oil field:Geologists use seismic surveys to search for geological structures that may form oil reservoirs...
,
refining
Refining
Refining is the process of purification of a substance or a form. The term is usually used of a natural resource that is almost in a usable form, but which is more useful in its pure form. For instance, most types of natural petroleum will burn straight from the ground, but it will burn poorly...
,
distribution and marketing
Midstream
The petroleum industry is usually divided into three major components: upstream, midstream and downstream. Midstream operations are usually included in the downstream category....
,
petrochemical
Petrochemical
Petrochemicals are chemical products derived from petroleum. Some chemical compounds made from petroleum are also obtained from other fossil fuels, such as coal or natural gas, or renewable sources such as corn or sugar cane....
s, power generation and
trading
Trader (finance)
A trader is someone in finance who buys and sells financial instruments such as stocks, bonds, commodities and derivatives. A broker who simply fills buy or sell orders is not a trader, as they are merely executing instructions given to them. According to the Wall Street Journal in 2004, a managing...
.