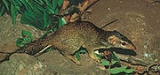 Treeshrew
The
treeshrews
are small
mammal
Mammal
Mammals are members of a class of air-breathing vertebrate animals characterised by the possession of endothermy, hair, three middle ear bones, and mammary glands functional in mothers with young...
s native to the tropical forests of
Southeast Asia
Southeast Asia
Southeast Asia, South-East Asia, South East Asia or Southeastern Asia is a subregion of Asia, consisting of the countries that are geographically south of China, east of India, west of New Guinea and north of Australia. The region lies on the intersection of geological plates, with heavy seismic...
. They make up the
families
Family (biology)
In biological classification, family is* a taxonomic rank. Other well-known ranks are life, domain, kingdom, phylum, class, order, genus, and species, with family fitting between order and genus. As for the other well-known ranks, there is the option of an immediately lower rank, indicated by the...
Tupaiidae
Tupaiidae
Tupaiidae is one of two families of treeshrews, the other family being Ptilocercidae. It contains 4 genera and 19 species.-Taxonomy:*Order: Scandentia** Family Tupaiidae*** Genus Anathana**** Madras Treeshrew, Anathana ellioti...
, the treeshrews, and Ptilocercidae, the pen-tailed treeshrews, and the entire
order
Order (biology)
In scientific classification used in biology, the order is# a taxonomic rank used in the classification of organisms. Other well-known ranks are life, domain, kingdom, phylum, class, family, genus, and species, with order fitting in between class and family...
Scandentia
. There are 20
species
Species
In biology, a species is one of the basic units of biological classification and a taxonomic rank. A species is often defined as a group of organisms capable of interbreeding and producing fertile offspring. While in many cases this definition is adequate, more precise or differing measures are...
in 5
genera
Genus
In biology, a genus is a low-level taxonomic rank used in the biological classification of living and fossil organisms, which is an example of definition by genus and differentia...
. Treeshrews have a higher
brain to body mass ratio
Brain to body mass ratio
Brain-to-body mass ratio, also known as the brain to body weight ratio, is the ratio of brain weight to body weight, which is hypothesised to be a rough estimate of the intelligence of an animal. A more complex measurement, encephalization quotient, takes into account allometric effects of widely...
than
human
Human
Humans are the only living species in the Homo genus...
s, though this is not uncommon for animals weighing less than a kilogram.
Although called
treeshrews
, they are not true
shrew
Shrew
A shrew or shrew mouse is a small molelike mammal classified in the order Soricomorpha. True shrews are also not to be confused with West Indies shrews, treeshrews, otter shrews, or elephant shrews, which belong to different families or orders.Although its external appearance is generally that of...
s (although they were previously classified in the
Insectivora
Insectivora
The order Insectivora is a now-abandoned biological grouping within the class of mammals...
), and not all species are necessarily arboreal. Among other things, they eat
Rafflesia
Rafflesia
Rafflesia is a genus of parasitic flowering plants. It contains approximately 28 species , all found in southeastern Asia, on the Malay Peninsula, Borneo, Sumatra, Thailand and the Philippines.Rafflesia was found in the Indonesian rain forest by an Indonesian guide working for Dr...
fruit.
Characteristics
Treeshrews are slender animals with long tails and soft, greyish to reddish-brown fur. The terrestrial species tend to be larger than the arboreal forms, and to have larger claws, which they use for digging up insect prey. They are
omnivorous
Omnivore
Omnivores are species that eat both plants and animals as their primary food source...
, feeding on insects, small vertebrates, fruit, and seeds. They have poorly developed canine teeth and unspecialised molars, with an overall
dental formula
Dentition
Dentition pertains to the development of teeth and their arrangement in the mouth. In particular, the characteristic arrangement, kind, and number of teeth in a given species at a given age...
of:
Treeshrews have good
vision
Visual perception
Visual perception is the ability to interpret information and surroundings from the effects of visible light reaching the eye. The resulting perception is also known as eyesight, sight, or vision...
, which is
binocular
Binocular vision
Binocular vision is vision in which both eyes are used together. The word binocular comes from two Latin roots, bini for double, and oculus for eye. Having two eyes confers at least four advantages over having one. First, it gives a creature a spare eye in case one is damaged. Second, it gives a...
in the case of the more arboreal species. Most are diurnal, although the
Pen-tailed Treeshrew
Pen-tailed Treeshrew
The pen-tailed treeshrew is a species of treeshrew in the Ptilocercidae family. It is found in Indonesia, Malaysia, and Thailand. It is the only species in the genus Ptilocercus and the family Ptilocercidae...
is nocturnal.
Female treeshrews give birth to up to three young after a gestation period of 45 to 50 days, in nests lined with dry leaves inside tree hollows. The young are born blind and hairless, but are able to leave the nest after about a month. During this period, the mother provides relatively little maternal care, visiting her young only for a few minutes every other day to suckle them. Treeshrews reach sexual maturity after around four months, and breed for much of the year, with no clear breeding season in most species.
These animals live in small family groups, which defend their territory from intruders. They mark their territories using various
scent gland
Scent gland
Scent glands are found in the genital area of most mammals and in various other parts of the body, such as the underarms of humans and the preorbital glands of deer and muskox. They produce a semi-viscous fluid which contains pheromones. These odor-messengers indicate information such as status,...
s, or
urine
Urine
Urine is a typically sterile liquid by-product of the body that is secreted by the kidneys through a process called urination and excreted through the urethra. Cellular metabolism generates numerous by-products, many rich in nitrogen, that require elimination from the bloodstream...
, depending on the particular species.
The name
Tupaia
is derived from
tupai
the Malay word for squirrel and was provided by Sir
Stamford Raffles
Stamford Raffles
Sir Thomas Stamford Bingley Raffles, FRS was a British statesman, best known for his founding of the city of Singapore . He is often described as the "Father of Singapore"...
.
In 2008, researchers found that the Pen-tailed Treeshrew in Malaysia was able to consume large amounts of naturally fermented nectar of up to 3.8% alcohol content the entire year without having any effects on behaviour. Investigation to how these animals cope with that diet is still ongoing.
Classification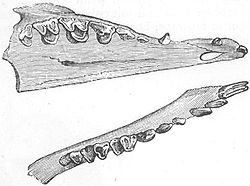 Treeshrews were moved from Insectivora to the Primates order, because of certain internal similarities to the latter (for example, similarities in the
brain
Brain
The brain is the center of the nervous system in all vertebrate and most invertebrate animals—only a few primitive invertebrates such as sponges, jellyfish, sea squirts and starfishes do not have one. It is located in the head, usually close to primary sensory apparatus such as vision, hearing,...
anatomy
Anatomy
Anatomy is a branch of biology and medicine that is the consideration of the structure of living things. It is a general term that includes human anatomy, animal anatomy , and plant anatomy...
, highlighted by Sir Wilfred Le Gros Clark), and classified as a primitive
prosimian
Prosimian
Prosimians are a grouping of mammals defined as being primates, but not monkeys or apes. They include, among others, lemurs, bushbabies, and tarsiers. They are considered to have characteristics that are more primitive than those of monkeys and apes. Prosimians are the only primates native to...
. However, recent
molecular phylogenetic
Molecular phylogeny
Molecular phylogenetics is the analysis of hereditary molecular differences, mainly in DNA sequences, to gain information on an organism's evolutionary relationships. The result of a molecular phylogenetic analysis is expressed in a phylogenetic tree...
studies have strongly suggested that treeshrews should be given the same rank (
order
Order (biology)
In scientific classification used in biology, the order is# a taxonomic rank used in the classification of organisms. Other well-known ranks are life, domain, kingdom, phylum, class, family, genus, and species, with order fitting in between class and family...
) as the primates and, with the primates and the flying lemurs (colugos), belong to the
clade
Clade
A clade is a group consisting of a species and all its descendants. In the terms of biological systematics, a clade is a single "branch" on the "tree of life". The idea that such a "natural group" of organisms should be grouped together and given a taxonomic name is central to biological...
Euarchonta
Euarchonta
The Euarchonta are a grandorder of mammals containing four orders: the Dermoptera or colugos, the Scandentia or treeshrews, the extinct Plesiadapiformes, and the Primates....
. According to this classification, the Euarchonta are sister to the
Glires
Glires
Glires is a clade consisting of rodents and lagomorphs . This hypothesis that these form a monophyletic group has been long debated based on morphological evidence, although recent morphological studies strongly support monophyly of Glires...
(
lagomorphs
Lagomorpha
The lagomorphs are the members of the taxonomic order Lagomorpha, of which there are two living families, the Leporidae , and the Ochotonidae...
and
rodent
Rodent
Rodentia is an order of mammals also known as rodents, characterised by two continuously growing incisors in the upper and lower jaws which must be kept short by gnawing....
s), and the two groups are combined into the clade
Euarchontoglires
Euarchontoglires
Euarchontoglires is a clade of mammals, the living members of which are rodents, lagomorphs, treeshrews, colugos and primates .-Evolutionary relationships:...
. Other arrangements of these orders have been proposed.
ORDER SCANDENTIA

Family Tupaiidae

Tupaiidae

Tupaiidae is one of two families of treeshrews, the other family being Ptilocercidae. It contains 4 genera and 19 species.-Taxonomy:*Order: Scandentia** Family Tupaiidae*** Genus Anathana**** Madras Treeshrew, Anathana ellioti...



Family Ptilocercidae

Genus Ptilocercus

Pen-tailed Treeshrew

Pen-tailed Treeshrew

The pen-tailed treeshrew is a species of treeshrew in the Ptilocercidae family. It is found in Indonesia, Malaysia, and Thailand. It is the only species in the genus Ptilocercus and the family Ptilocercidae...


, Ptilocercus lowii
External links
http://www.mbgnet.net/sets/rforest/animals/shrew.htm
http://nationalzoo.si.edu/Animals/SmallMammals/fact-lessertreeshrew.cfm
http://www.hoglezoo.org/animals/view.php?id=183