 Transport engineering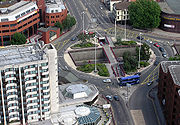 Transportation engineering
is the application of technology and scientific principles to the planning, functional design, operation and management of facilities for any mode of transportation in order to provide for the safe, rapid, comfortable, convenient, economical, and environmentally compatible movement of people and goods (
transport
Transport
Transport or transportation is the movement of people, cattle, animals and goods from one location to another. Modes of transport include air, rail, road, water, cable, pipeline, and space. The field can be divided into infrastructure, vehicles, and operations...
). It is a sub-discipline of
civil engineering
Civil engineering
Civil engineering is a professional engineering discipline that deals with the design, construction, and maintenance of the physical and naturally built environment, including works like roads, bridges, canals, dams, and buildings...
. Transportation engineering is a major component of the civil engineering discipline. The importance of transportation engineering within the civil engineering profession can be judged by the number of divisions in
ASCE
American Society of Civil Engineers
The American Society of Civil Engineers is a professional body founded in 1852 to represent members of the civil engineering profession worldwide. It is the oldest national engineering society in the United States. ASCE's vision is to have engineers positioned as global leaders who strive toward...
(American Society of Civil Engineers) that are directly related to transportation. There are six such divisions (Aerospace; Air Transportation; Highway; Pipeline; Waterway, Port, Coastal and Ocean; and Urban Transportation) representing one-third of the total 18 technical divisions within the ASCE (1987).
The planning aspects of transport engineering relate to
urban planning
Urban planning
Urban planning incorporates areas such as economics, design, ecology, sociology, geography, law, political science, and statistics to guide and ensure the orderly development of settlements and communities....
, and involve technical forecasting decisions and political factors. Technical forecasting of passenger travel usually involves an urban transportation planning model, requiring the estimation of
trip generation
Trip generation
Trip generation is the first step in the conventional four-step transportation forecasting process , widely used for forecasting travel demands...
(how many trips for what purpose),
trip distribution
Trip distribution
Trip distribution , is the second component in the traditional four-step transportation forecasting model...
(destination choice, where is the traveler going),
mode choice
Mode choice
Mode choice analysis is the third step in the conventional four-step transportation forecasting model, following trip generation and trip distribution but before route assignment. Trip distribution's zonal interchange analysis yields a set of origin destination tables which tells where the trips...
(what
mode
Mode of transport
Mode of transport is a term used to distinguish substantially different ways to perform transport. The most dominant modes of transport are aviation, land transport, which includes rail, road and off-road transport, and ship transport...
is being taken), and
route assignment
Route assignment
Route assignment, route choice, or traffic assignment concerns the selection of routes between origins and destinations in transportation networks. It is the fourth step in the conventional transportation forecasting model, following trip generation, trip distribution, and mode choice...
(which streets or routes are being used). More sophisticated forecasting can include other aspects of traveler decisions, including auto ownership, trip chaining (the decision to link individual trips together in a tour) and the choice of residential or business location (known as
land use forecasting
Land use forecasting
Land-use forecasting undertakes to project the distribution and intensity of trip generating activities in the urban area. In practice, land-use models are demand-driven, using as inputs the aggregate information on growth produced by an aggregate economic forecasting activity...
). Passenger trips are the focus of transport engineering because they often represent the peak of demand on any transportation system.
A review of descriptions of the scope of various committees indicates that while facility planning and design continue to be the core of the transportation engineering field, such areas as operations planning, logistics, network analysis, financing, and policy analysis are also important to civil engineers, particularly to those working in highway and urban transportation. The National Council of Examiners for Engineering and Surveying (NCEES) list online the safety protocols, geometric design requirements, and signal timing.
Transportation engineering, as practiced by civil engineers, primarily involves planning, design, construction, maintenance, and operation of transportation facilities. The facilities support air, highway, railroad, pipeline, water, and even space transportation. The design aspects of transport engineering include the sizing of transportation facilities (how many lanes or how much capacity the facility has), determining the materials and thickness used in pavement designing the geometry (vertical and horizontal alignment) of the roadway (or track).
Before any planning occurs the Engineer must take what is known as an inventory of the area or if it is appropriate, the previous system in place. This inventory or database must include information on (1)population, (2)land use, (3)economic activity, (4)transportation facilities and services, (5)travel patterns and volumes, (6)laws and ordinances, (7)regional financial resources, (8)community values and expectations. These inventories help the engineer create business models to complete accurate forecasts of the future conditions of the system
Review
Review
A review is an evaluation of a publication, a product or a service, such as a movie , video game, musical composition , book ; a piece of hardware like a car, home appliance, or computer; or an event or performance, such as a live music concert, a play, musical theater show or dance show...
.
Operations and management involve
traffic engineering
Traffic engineering (transportation)
For the engineering of communications and computer networks, see Teletraffic engineering.Traffic engineering is a branch of civil engineering that uses engineering techniques to achieve the safe and efficient movement of people and goods on roadways...
, so that vehicles move smoothly on the road or track. Older techniques include
sign
Traffic sign
Traffic signs or road signs are signs erected at the side of roads to provide information to road users. With traffic volumes increasing over the last eight decades, many countries have adopted pictorial signs or otherwise simplified and standardized their signs to facilitate international travel...
s,
signals
Traffic light
Traffic lights, which may also be known as stoplights, traffic lamps, traffic signals, signal lights, robots or semaphore, are signalling devices positioned at road intersections, pedestrian crossings and other locations to control competing flows of traffic...
,
marking
Road surface marking
Road surface marking is any kind of device or material that is used on a road surface in order to convey official information. They can also be applied in other facilities used by vehicles to mark parking spaces or designate areas for other uses....
s, and
toll
Toll road
A toll road is a privately or publicly built road for which a driver pays a toll for use. Structures for which tolls are charged include toll bridges and toll tunnels. Non-toll roads are financed using other sources of revenue, most typically fuel tax or general tax funds...
ing. Newer technologies involve intelligent transportation systems, including advanced traveler information systems (such as variable message signs), advanced traffic control systems (such as
ramp meter
Ramp meter
A ramp meter, ramp signal or metering light is a device, usually a basic traffic light or a two-section signal light together with a signal controller, that regulates the flow of traffic entering freeways according to current traffic conditions...
s), and
vehicle infrastructure integration
Vehicle infrastructure integration
Vehicle Infrastructure Integration is an initiative fostering research and applications development for a series of technologies directly linking road vehicles to their physical surroundings, first and foremost in order to improve road safety...
.
Human factors
Human factors
Human factors science or human factors technologies is a multidisciplinary field incorporating contributions from psychology, engineering, industrial design, statistics, operations research and anthropometry...
are an aspect of transport engineering, particularly concerning driver-vehicle interface and user interface of road signs, signals, and markings.
Highway engineering
Engineers in this specialization:
Handle the planning, design, construction, and operation of highways, roads, and other vehicular facilities as well as their related bicycle and pedestrian realms.
Estimate the transportation needs of the public and then secure the funding for the project.
Analyze locations of high traffic volumes and high collisions for safety and capacity.
Use civil engineering

Civil engineering

Civil engineering is a professional engineering discipline that deals with the design, construction, and maintenance of the physical and naturally built environment, including works like roads, bridges, canals, dams, and buildings...


principles to improve the transportation system.
Utilizes the three design controls which are the drivers, the vehicles, and the roadways themselves.
Railroad engineering
Railway engineers handle the design, construction, and operation of railroads and mass transit systems that use a fixed guideway (such as
light rail
Light rail
Light rail or light rail transit is a form of urban rail public transportation that generally has a lower capacity and lower speed than heavy rail and metro systems, but higher capacity and higher speed than traditional street-running tram systems...
or even monorails). Typical tasks would include determining horizontal and vertical alignment design, station location and design, and construction cost estimating. Railroad engineers can also move into the specialized field of train dispatching which focuses on train movement control.
Railway engineers also work to build a cleaner and safer transportation network by reinvesting and revitalizing the rail system to meet future demands. In the United States, railway engineers work with elected officials in Washington, D.C. on rail transportation issues to make sure that the rail system meets the country's transportation needs.
Port and harbor engineering
Port and harbor engineers handle the design, construction, and operation of ports, harbors, canals, and other maritime facilities. This is not to be confused with
marine engineering
Naval architecture
Naval architecture is an engineering discipline dealing with the design, construction, maintenance and operation of marine vessels and structures. Naval architecture involves basic and applied research, design, development, design evaluation and calculations during all stages of the life of a...
.
Airport engineering
Airport engineers design and construct airports. Airport engineers must account for the impacts and demands of aircraft in their design of airport facilities. These engineers must use the analysis of predominant wind direction to determine runway orientation, determine the size of runway border and safety areas, different wing tip to wing tip clearances for all gates and must designate the clear zones in the entire port.
Professional Societies
Institute of Transportation Engineers (ITE)
American Society of Civil Engineers (ASCE)
American Planning Assocition – Transportation Planning Division (APA)
The American Association of State Highway and Transportation Officials (AASHTO)
See also
External links
http://www.ite.org Institute of Transportation Engineers

Institute of Transportation Engineers

The Institute of Transportation Engineers or ITE is an international educational and scientific association of transportation professionals who are responsible for meeting mobility and safety needs. ITE was founded in 1930 as the Institute of Traffic Engineers and its first president was Ernest P...


, a professional society for transportation engineers
http://www.itsa.org ITS America
http://www.asce.org ASCE
http://www.apa-tpd.org APA Transportation Planning Division