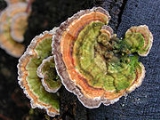 Trametes versicolor
Trametes versicolor
— formerly known as
Coriolus versicolor
and
Polyporus versicolor
— is an extremely common
polypore
Polypore
Polypores are a group of tough, leathery poroid mushrooms similar to boletes, but typically lacking a distinct stalk. The technical distinction between the two types of mushrooms is that polypores do not have the spore-bearing tissue continuous along the entire underside of the mushroom. Many...
mushroom
Mushroom
A mushroom is the fleshy, spore-bearing fruiting body of a fungus, typically produced above ground on soil or on its food source. The standard for the name "mushroom" is the cultivated white button mushroom, Agaricus bisporus; hence the word "mushroom" is most often applied to those fungi that...
which can be found throughout the world.
Versicolor
means 'of several colours' and it is true that this mushroom is found in a wide variety of different colours.
T. versicolor
is commonly called
Turkey Tail
because of its resemblance to the tail of the
wild turkey
Wild Turkey
The Wild Turkey is native to North America and is the heaviest member of the Galliformes. It is the same species as the domestic turkey, which derives from the South Mexican subspecies of wild turkey .Adult wild turkeys have long reddish-yellow to grayish-green...
.
T. versicolor
is recognized as a medicinal mushroom in Chinese medicine under the name
yun zhi
(simplified Chinese: 云芝, traditional Chinese: 雲芝). In
China
China
Chinese civilization may refer to:* China for more general discussion of the country.* Chinese culture* Greater China, the transnational community of ethnic Chinese.* History of China* Sinosphere, the area historically affected by Chinese culture...
and
Japan
Japan
Japan is an island nation in East Asia. Located in the Pacific Ocean, it lies to the east of the Sea of Japan, China, North Korea, South Korea and Russia, stretching from the Sea of Okhotsk in the north to the East China Sea and Taiwan in the south...
T. versicolor
is used as in immunoadjuvant therapy for cancer.
Description and ecology
The top surface of the cap shows typical concentric zones of different colours. Flesh 1–3 mm thick, leathery texture. Cap with rust-brown or darker brown, sometimes blackish zones, Older specimens, such as the one pictured at right, can have zones with green algae growing on them, thus appearing green. Commonly grows in tiled layers. Cap flat, up to 8 x 5 x 0.5-1 centimeters, often triangular or round, with zones of fine hairs. Pore surface whitish to light brown, pores round and with age twisted and labyrinthine. 2-5 pores per millimeter
The turkey tail has
bioremediation
Bioremediation
Bioremediation is the use of microorganism metabolism to remove pollutants. Technologies can be generally classified as in situ or ex situ. In situ bioremediation involves treating the contaminated material at the site, while ex situ involves the removal of the contaminated material to be treated...
potential, according to mycologist
Paul Stamets
Paul Stamets
Paul E. Stamets is an American mycologist, author, and advocate of bioremediation and medicinal mushrooms.- Research and advocacy :...
.
T. versicolor
biodegrades a variety of pollutants. It is eaten by the
caterpillar
Caterpillar
Caterpillars are the larval form of members of the order Lepidoptera . They are mostly herbivorous in food habit, although some species are insectivorous. Caterpillars are voracious feeders and many of them are considered to be pests in agriculture...
s of the fungus moth
Nemaxera betulinella
and by the maggots of the
Platypezid
Platypezidae
Platypezidae is a family of true flies of the superfamily Platypezoidea. The more than 250 species are found worldwide primarily in woodland habitats...
fly
Polyporivora picta
.
Possible medicinal value
Polysaccharide-K
(
PSK
), is a
protein
Protein
Proteins are biochemical compounds consisting of one or more polypeptides typically folded into a globular or fibrous form, facilitating a biological function. A polypeptide is a single linear polymer chain of amino acids bonded together by peptide bonds between the carboxyl and amino groups of...
-bound
polysaccharide
Polysaccharide
Polysaccharides are long carbohydrate molecules, of repeated monomer units joined together by glycosidic bonds. They range in structure from linear to highly branched. Polysaccharides are often quite heterogeneous, containing slight modifications of the repeating unit. Depending on the structure,...
isolated from
Trametes versicolor
, which is used as an
immune system
Immune system
An immune system is a system of biological structures and processes within an organism that protects against disease by identifying and killing pathogens and tumor cells. It detects a wide variety of agents, from viruses to parasitic worms, and needs to distinguish them from the organism's own...
boosting agent in the treatment of cancer in some
Europe
Europe
Europe is, by convention, one of the world's seven continents. Comprising the westernmost peninsula of Eurasia, Europe is generally 'divided' from Asia to its east by the watershed divides of the Ural and Caucasus Mountains, the Ural River, the Caspian and Black Seas, and the waterways connecting...
an countries as well as China and Japan. In
Japan
Japan
Japan is an island nation in East Asia. Located in the Pacific Ocean, it lies to the east of the Sea of Japan, China, North Korea, South Korea and Russia, stretching from the Sea of Okhotsk in the north to the East China Sea and Taiwan in the south...
, PSK is approved as an adjuvant for cancer therapy and is covered by government health insurance. Otherwise, there is no regulatory approval of this agent for any clinical use in other developed countries.
PSK displays anticancer activity from preliminary laboratory assessments
in vitro
,
in vivo
and in human clinical trials. Preliminary research has shown that the PSK might reduce mutagen-induced, radiation-induced, and spontaneously-induced development of experimental cancer cell preparations. PSK has shown to be beneficial as an adjuvant in the treatment of gastric, esophageal, colorectal, breast and lung cancers. Preliminary human clinical trials indicate PSK might reduce cancer recurrence when used as an adjuvant and other basic research has demonstrated the mushroom can inhibit certain human cancer cell lines
in vitro
.
Further
in vitro
studies have shown that a nutraceutical blend (MC-S) of PSK,
lentinan
Lentinan
Lentinan is a beta-glucan with a glycosidic β-1,3:β-1,6 linkage. It is an anti-tumor polysaccharide from the shiitake mushroom. Lentinan is a polysaccharide that has a molecular weight of approximately 500,000 Da...
and other fungal extracts might also inhibit cancer cell proliferation under laboratory conditions.
The MD Anderson has reported that it is a "promising candidate for chemoprevention due to the multiple effects on the malignant process, limited side effects and safety of daily oral doses for extended periods of time." At present, however, there are no approved drugs or scientifically verified anti-disease activities resulting from this mushroom.
See also
External links