 Tongs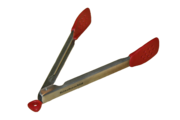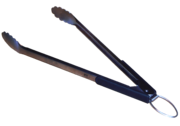 Tongs
are used for gripping and lifting
tool
Tool
A tool is a device that can be used to produce an item or achieve a task, but that is not consumed in the process. Informally the word is also used to describe a procedure or process with a specific purpose. Tools that are used in particular fields or activities may have different designations such...
s, of which there are many forms adapted to their specific use. Some are merely large
pincer
Pincer (tool)
A pincer is a hand tool used in many situations where a mechanical advantage is required to pinch, cut or pull an object. Pincers are first-class levers, but differ from pliers in that the concentration of force is either to a point, or to an edge perpendicular to the length of the tool. This...
s or
nipper
Nipper (tool)
A nipper or tile nipper is a tool used to "nip" or remove small amounts of a hard material, such as pieces of a tile which needs to be fitted around an odd or irregular shape....
s, but the greatest number fall into three classes:
Tongs which have long arm

Arm

In human anatomy, the arm is the part of the upper limb between the shoulder and the elbow joints. In other animals, the term arm can also be used for analogous structures, such as one of the paired forelimbs of a four-legged animal or the arms of cephalopods...


s terminating in small flat circular ends of tongs and are pivoted close to the handle

Handle (grip)

A handle is a part of, or attachment to, an object that can be moved or used by hand. The design of each type of handle involves substantial ergonomic issues, even where these are dealt with intuitively or by following tradition...


, as in the common fire-tongs, used for picking up pieces of coal

Coal

Coal is a combustible black or brownish-black sedimentary rock usually occurring in rock strata in layers or veins called coal beds or coal seams. The harder forms, such as anthracite coal, can be regarded as metamorphic rock because of later exposure to elevated temperature and pressure...


and placing them on a fire

Fire

Fire is the rapid oxidation of a material in the chemical process of combustion, releasing heat, light, and various reaction products. Slower oxidative processes like rusting or digestion are not included by this definition....


.
Tongs consisting of a single band of metal

Metal

A metal , is an element, compound, or alloy that is a good conductor of both electricity and heat. Metals are usually malleable and shiny, that is they reflect most of incident light...


bent round one or two bands joined at the head by a spring

Spring (device)

A spring is an elastic object used to store mechanical energy. Springs are usually made out of spring steel. Small springs can be wound from pre-hardened stock, while larger ones are made from annealed steel and hardened after fabrication...


, as in sugar

Sugar

Sugar is a class of edible crystalline carbohydrates, mainly sucrose, lactose, and fructose, characterized by a sweet flavor.Sucrose in its refined form primarily comes from sugar cane and sugar beet...


-tongs (a pair of usually silver tongs with claw-shaped or spoon-shaped ends for serving lump sugar), asparagus

Asparagus

Asparagus officinalis is a spring vegetable, a flowering perennialplant species in the genus Asparagus. It was once classified in the lily family, like its Allium cousins, onions and garlic, but the Liliaceae have been split and the onion-like plants are now in the family Amaryllidaceae and...


-tongs and the like.
Tongs in which the pivot

Lever

In physics, a lever is a rigid object that is used with an appropriate fulcrum or pivot point to either multiply the mechanical force that can be applied to another object or resistance force , or multiply the distance and speed at which the opposite end of the rigid object travels.This leverage...


or joint

Joint

A joint is the location at which two or more bones make contact. They are constructed to allow movement and provide mechanical support, and are classified structurally and functionally.-Classification:...


is placed close to the gripping ends, such as a driller

Drilling and threading

Drilling is a cutting process that uses a drill bit to cut or enlarge a hole in solid materials. The drill bit is a multipoint, end cutting tool...


's round tongs, blacksmith

Blacksmith

A blacksmith is a person who creates objects from wrought iron or steel by forging the metal; that is, by using tools to hammer, bend, and cut...


's tongs or crucible

Crucible

A crucible is a container used for metal, glass, and pigment production as well as a number of modern laboratory processes, which can withstand temperatures high enough to melt or otherwise alter its contents...


-tongs.
The tongs are the most-used cooking utensil when
grilling
Grilling
Grilling is a form of cooking that involves dry heat applied to the surface of food, commonly from above or below.Grilling usually involves a significant amount of direct, radiant heat, and tends to be used for cooking meat quickly and meat that has already been cut into slices...
, as they provide a way to move, rotate and turn the food with delicate precision.
See also
Fire iron

Fire iron

A fire iron is any metal instrument for tending to a fire.-Types of fire irons:There are three types of tools commonly used to tend a small fire, such as an indoor fireplace fire, or yule log: the spade, the tongs and the poker itself...



Forceps

Forceps

Forceps or forcipes are a handheld, hinged instrument used for grasping and holding objects. Forceps are used when fingers are too large to grasp small objects or when many objects need to be held at one time while the hands are used to perform a task. The term 'forceps' is used almost exclusively...



Hot cell

Hot cell

Shielded nuclear radiation containment chambers are commonly referred to as hot cells. The word "hot" refers to radioactivity.Hot cells are used in both the nuclear-energy and the nuclear-medicines industries....


(Tongs are often used in hot cells to permit the manipulation of radioactive isotopes.
Test tube tongs
Tweezers

Tweezers

Tweezers are tools used for picking up and manipulating objects too small to be easily handled with the human hands. They are probably derived from tongs, pincers, or scissors-like pliers used to grab or hold hot objects since the dawn of recorded history...