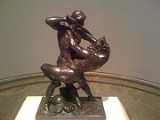 Theseus
For other uses, see Theseus (disambiguation)

Theseus (disambiguation)

Theseus was the king of Athens. The name may also refer to:*HMS Theseus, three ships of the Royal Navy*Bristol Theseus, an aircraft engine*Theseus Program, a German research program...



Theseus
ˈ ( tʰɛːsěu̯s) was the mythical founder-king of
Athens
Athens
Athens , is the capital and largest city of Greece. Athens dominates the Attica region and is one of the world's oldest cities, as its recorded history spans around 3,400 years. Classical Athens was a powerful city-state...
, son of Aethra, and fathered by
Aegeus
Aegeus
In Greek mythology, Aegeus , also Aigeus, Aegeas or Aigeas , was an archaic figure in the founding myth of Athens. The "goat-man" who gave his name to the Aegean Sea was, next to Poseidon, the father of Theseus, the founder of Athenian institutions and one of the kings of Athens.-His reign:Upon the...
and
Poseidon
Poseidon
Poseidon was the god of the sea, and, as "Earth-Shaker," of the earthquakes in Greek mythology. The name of the sea-god Nethuns in Etruscan was adopted in Latin for Neptune in Roman mythology: both were sea gods analogous to Poseidon...
, both of whom Aethra had slept with in one night. Theseus was a founder-hero, like
Perseus
Perseus
Perseus ,Perseos and Perseas are not used in English. the legendary founder of Mycenae and of the Perseid dynasty of Danaans there, was the first of the mythic heroes of Greek mythology whose exploits in defeating various archaic monsters provided the founding myths of the Twelve Olympians...
,
Cadmus
Cadmus
Cadmus or Kadmos , in Greek mythology was a Phoenician prince, the son of king Agenor and queen Telephassa of Tyre and the brother of Phoenix, Cilix and Europa. He was originally sent by his royal parents to seek out and escort his sister Europa back to Tyre after she was abducted from the shores...
, or
Heracles
Heracles
Heracles ,born Alcaeus or Alcides , was a divine hero in Greek mythology, the son of Zeus and Alcmene, foster son of Amphitryon and great-grandson of Perseus...
, all of whom battled and overcame foes that were identified with an archaic religious and social order. As Heracles was the Dorian hero, Theseus was the Athenian founding hero, considered by them as their own great reformer: his name comes from the same root as ("thesmos"), Greek for
institution
.