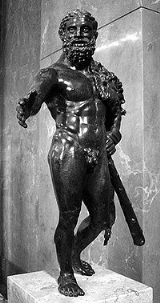 Heracles
Heracles
born
Alcaeus
(Ἀλκαῖος,
Alkaios
) or
Alcides
(Ἀλκείδης,
Alkeidēs
), was a
divine hero
Hero
A hero , in Greek mythology and folklore, was originally a demigod, their cult being one of the most distinctive features of ancient Greek religion...
in
Greek mythology
Greek mythology
Greek mythology is the body of myths and legends belonging to the ancient Greeks, concerning their gods and heroes, the nature of the world, and the origins and significance of their own cult and ritual practices. They were a part of religion in ancient Greece...
, the son of
Zeus
Zeus
In the ancient Greek religion, Zeus was the "Father of Gods and men" who ruled the Olympians of Mount Olympus as a father ruled the family. He was the god of sky and thunder in Greek mythology. His Roman counterpart is Jupiter and his Etruscan counterpart is Tinia.Zeus was the child of Cronus...
(Ζεύς) and
Alcmene
Alcmene
In Greek mythology, Alcmene or Alcmena was the mother of Heracles.-Background:Alcmene was born to Electryon, the son of Perseus and Andromeda, and king of Tiryns and Mycenae or Medea in Argolis. Her mother was Anaxo, daughter of Alcaeus and Astydamia, daughter of Pelops and Hippodameia...
, foster son of
Amphitryon
Amphitryon
Amphitryon , in Greek mythology, was a son of Alcaeus, king of Tiryns in Argolis.Amphitryon was a Theban general, who was originally from Tiryns in the eastern part of the Peloponnese. He was friends with Panopeus....
and great-grandson (and half-brother) of
Perseus
Perseus
Perseus ,Perseos and Perseas are not used in English. the legendary founder of Mycenae and of the Perseid dynasty of Danaans there, was the first of the mythic heroes of Greek mythology whose exploits in defeating various archaic monsters provided the founding myths of the Twelve Olympians...
(Περσεύς). He was the greatest of the Greek heroes, a paragon of masculinity, the ancestor of royal clans who claimed to be
Heracleidae
Heracleidae
In Greek mythology, the Heracleidae or Heraclids were the numerous descendants of Heracles , especially applied in a narrower sense to the descendants of Hyllus, the eldest of his four sons by Deianira Other Heracleidae included Macaria, Lamos, Manto, Bianor, Tlepolemus, and Telephus...
(Ἡρακλεῖδαι) and a champion of the
Olympian order
Twelve Olympians
The Twelve Olympians, also known as the Dodekatheon , in Greek mythology, were the principal deities of the Greek pantheon, residing atop Mount Olympus. Zeus, Hera, Poseidon, Demeter, Hestia, and Hades were siblings. Ares, Hermes, Hephaestus, Athena, Apollo, and Artemis were children of Zeus...
against
chthonic
Chthonic
Chthonic designates, or pertains to, deities or spirits of the underworld, especially in relation to Greek religion. The Greek word khthon is one of several for "earth"; it typically refers to the interior of the soil, rather than the living surface of the land or the land as territory...
monsters.