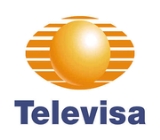 Televisa
Televisa
is a
Mexican
Mexico
The United Mexican States , commonly known as Mexico , is a federal constitutional republic in North America. It is bordered on the north by the United States; on the south and west by the Pacific Ocean; on the southeast by Guatemala, Belize, and the Caribbean Sea; and on the east by the Gulf of...
multimedia conglomerate, the largest
mass media
Mass media
Mass media refers collectively to all media technologies which are intended to reach a large audience via mass communication. Broadcast media transmit their information electronically and comprise of television, film and radio, movies, CDs, DVDs and some other gadgets like cameras or video consoles...
company in
Latin America
Latin America
Latin America is a region of the Americas where Romance languages – particularly Spanish and Portuguese, and variably French – are primarily spoken. Latin America has an area of approximately 21,069,500 km² , almost 3.9% of the Earth's surface or 14.1% of its land surface area...
and in the Spanish-speaking world. It is a major international entertainment business, with much of its programming airing in the United States on
Univision
Univision
Univision is a Spanish-language television network in the United States. It has the largest audience of Spanish language television viewers according to Nielsen ratings. Randy Falco, COO, has been in charge of the company since the departure of Univision Communications president and CEO Joe Uva...
, with which it has an exclusive contract. As of 2011, its closest competitors are
TV Azteca
TV Azteca
Azteca, is the second largest Mexican television entertainment. It was established in 1983 as the state-owned Instituto Mexicano de la Televisión , a holding of the national TV networks channel 13 and 7 and was privatized under its current name in 1993 and now is part of Grupo Salinas...
and
TVE
Televisión Española
Televisión Española is the national state-owned public-service television broadcaster in Spain. TVE's activities were previously financed by a combination of advertising revenue and subsidies from the national government, but since it's been supported by subsidies only.TVE belongs to the RTVE...
.
Grupo Televisa was founded in 1955 as
Telesistema Mexicano
Telesistema Mexicano
Telesistema Mexicano is the predecessor of Televisa. Telesistema Mexicano was a television alliance made up of the independently owned television flagship stations XEW Canal 2, XHTV Canal 4, and XHGC Canal 5 in Mexico, Distrito Federal.-History:...
, linking Mexico's first three television stations:
XHTV-TV
XHTV-TV
XHTV , founded in 1950 by Romulo O'Farril, is a flagship TV station of FOROtv. Although FOROtv does not have any full-time affiliates most Televisa locals around the republic select some FOROtv programming for their broadcasting...
(founded in 1950),
XEW-TV
XEW-TV
XEW-TV is the call sign assigned to channel 2, a television station in Mexico City, Mexico. The station is owned by Televisa and is the flagship station to the Canal de las Estrellas network. XEW is second oldest Televisa and Mexico City's station, founded in 1951.-References:...
(1951) and
XHGC-TV
XHGC-TV
XHGC-TV is a TV station owned by Televisa, broadcasting from Mexico City, and is the flagship of the Canal 5 network.-History:XHGC signed on May 10, 1952, broadcasting a Mother's Day event organized by the Excélsior newspaper; but the regular programming began at August 18, 1952.The station was...
(1952).