 Takht-e Marmar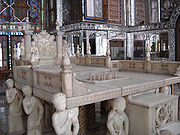 The
Marble Throne
is a 250 year old royal
throne
Throne
A throne is the official chair or seat upon which a monarch is seated on state or ceremonial occasions. "Throne" in an abstract sense can also refer to the monarchy or the Crown itself, an instance of metonymy, and is also used in many expressions such as "the power behind the...
in
Tehran
Tehran
Tehran , sometimes spelled Teheran, is the capital of Iran and Tehran Province. With an estimated population of 8,429,807; it is also Iran's largest urban area and city, one of the largest cities in Western Asia, and is the world's 19th largest city.In the 20th century, Tehran was subject to...
,
Iran
Iran
Iran , officially the Islamic Republic of Iran , is a country in Southern and Western Asia. The name "Iran" has been in use natively since the Sassanian era and came into use internationally in 1935, before which the country was known to the Western world as Persia...
.
The throne was built from 1747 to 1751 for
Fat'h Ali Shah Qajar
Fat'h Ali Shah Qajar
Fat′h Ali Shah Qajar 5 September 1772 – 23 October 1834) was the second Qajar king of Iran. He reigned from 17 June 1797 until his death.-Early life:...
. It was designed by
Mirza Baba Shirazi Naqqash-Bashi
and royal
stonecutter
Stonecutter
A Stonecutter is a person who carries on the trade of stonecutting or stonemasonry.Stonecutter or Stonecutters may also refer to:* Stonecutter, one of twelve magical Swords in the Books of the Swords series...
Ostad Mohammad Ibrahim Isfahani
. It consists of 65 marble stone pieces from a mine in
Yazd
Yazd
Yazd is the capital of Yazd Province in Iran, and a centre of Zoroastrian culture. The city is located some 175 miles southeast of Isfahan. At the 2006 census, the population was 423,006, in 114,716 families....
. The throne's supports are carved in the shape of men, women, fairies, and demons.
The Royal Balcony of the Marble Throne is said to be built during the reign of Karim Khan Zand but it has been changed several times during the Qajarperiod. The twin stone columns of the balcony were transferred to Tehran by the order of Agha Mohammad Khan from
Shiraz
Shiraz, Iran
Shiraz is the sixth most populous city in Iran and is the capital of Fars Province, the city's 2009 population was 1,455,073. Shiraz is located in the southwest of Iran on the Roodkhaneye Khoshk seasonal river...
.