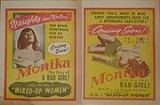 Summer with Monika
Summer with Monika
is a 1953
Swedish
Cinema of Sweden
Swedish cinema is known as producing many critically acclaimed movies, and during the 20th century was the most prominent of Scandinavia. This is largely due to the popularity and prominence of the directors Ingmar Bergman, Victor Sjöström, and more recently Lasse Hallström and Lukas...
film directed by
Ingmar Bergman
Ingmar Bergman
Ernst Ingmar Bergman was a Swedish director, writer and producer for film, stage and television. Described by Woody Allen as "probably the greatest film artist, all things considered, since the invention of the motion picture camera", he is recognized as one of the most accomplished and...
. It sparked controversy abroad for its frank depiction of nudity, and along with the film
One Summer of Happiness
from the year before, directed by
Arne Mattsson
Arne Mattsson
Arne Mattsson was a Swedish film director, born in Uppsala.His early movies were mostly comedies. His biggest success was Hon dansade en sommar , which earned him the Golden Bear at the Berlin International Film Festival and a nomination for the Grand Prize at the Cannes Film Festival in 1952...
, it started the reputation of Sweden as a sexually liberated place.
The film made a star of its lead actress,
Harriet Andersson
Harriet Andersson
Harriet Andersson is a Swedish actress, known outside Sweden for being part of one of director Ingmar Bergman's stock company....
. Bergman had been intimately involved with Andersson at the time and conceived the film as a vehicle for her. The two of them would go on to make several other films together, even after their romantic relationship had ended, most notably
Sawdust and Tinsel
Sawdust and Tinsel
-Plot:An aging circus ringmaster visits his estranged wife to see his young sons. Meanwhile, his jealous young lover has an affair with an actor.-Cast:* Åke Grönberg – Albert Johansson* Harriet Andersson – Anne* Hasse Ekman – Frans* Anders Ek – Frost...
(1953),
Smiles of a Summer Night
Smiles of a Summer Night
Smiles of a Summer Night a.k.a. Smiles on a Summer Night is a 1955 Swedish comedy film directed by Ingmar Bergman. It was the first of Bergman's films to bring the director international success, due to its exposure at the 1956 Cannes Film Festival...
(1955), and
Through a Glass Darkly
Through a Glass Darkly (film)
Through a Glass Darkly is a 1961 Swedish film written and directed by Ingmar Bergman, and produced by Allan Ekelund. The film is a three-act "chamber film", in which four family members act as mirrors for each other. It is the first of many Bergman films to be shot on the island of Fårö...
(1961).
Plot
The film's story begins in the bleak working class milieu of
Stockholm
Stockholm
Stockholm is the capital and the largest city of Sweden and constitutes the most populated urban area in Scandinavia. Stockholm is the most populous city in Sweden, with a population of 851,155 in the municipality , 1.37 million in the urban area , and around 2.1 million in the metropolitan area...
. Harry (
Lars Ekborg
Lars Ekborg
Lars Åke Rupert Ekborg, born 6 June 1926 in Uppsala, died 7 October 1969, was a Swedish actor.Ekborg was the father of actors Dan and Anders Ekborg...
) and Monika (
Harriet Andersson
Harriet Andersson
Harriet Andersson is a Swedish actress, known outside Sweden for being part of one of director Ingmar Bergman's stock company....
) are both in dead end jobs when they meet. Harry is easygoing, while Monika is adventurous, but they fall in love. When Monika gets in trouble at home, Harry steals his father's boat, and he and Monika spend an idyllic summer in the Stockholm archipelago. When the end of the summer forces them to return home, it is clear that Monika is pregnant. Harry happily accepts responsibility and settles down with Monika and their child; he gets a real job and studies to provide for his family. Monika, however, is unsatisfied with her role as homemaker. She yearns for excitement and adventure, a desire which finally leads her astray. Harry is left behind with the child.
Cast
Release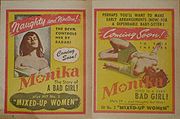 Exploitation film
Exploitation film
Exploitation film is a type of film that is promoted by "exploiting" often lurid subject matter. The term "exploitation" is common in film marketing, used for all types of films to mean promotion or advertising. These films then need something to exploit, such as a big star, special effects, sex,...
presenter
Kroger Babb
Kroger Babb
Howard W. "Kroger" Babb was an American film and television producer and showman. His marketing techniques were similar to a travelling salesman's, with roots in the medicine-show tradition...
purchased the US rights to the film in 1956. To increase excitement for the film, he edited it down to 62 minutes and emphasised the film's nudity. Renaming the film
Monika, the Story of a Bad Girl
, he provided a good deal of suggestive promotional material, including postcards featuring the nude Andersson.