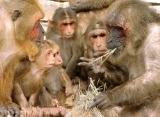 Stump-tailed Macaque
The
stump-tailed macaque
(
Macaca arctoides
), also called the
bear macaque
, is a species of
macaque
Macaque
The macaques constitute a genus of Old World monkeys of the subfamily Cercopithecinae. - Description :Aside from humans , the macaques are the most widespread primate genus, ranging from Japan to Afghanistan and, in the case of the barbary macaque, to North Africa...
found in Southern
Asia
Asia
Asia is the world's largest and most populous continent, located primarily in the eastern and northern hemispheres. It covers 8.7% of the Earth's total surface area and with approximately 3.879 billion people, it hosts 60% of the world's current human population...
. In India, it is found in south of the Brahmaputra river, in northeastern part of the country.Its range in India extends from Assam and Meghalaya to eastern Aruanchal Pradesh, Nagaland, Manipur, Mizoram and Tripura.
It is primarily
frugivorous
Frugivore
A frugivore is a fruit eater. It can be any type of herbivore or omnivore where fruit is a preferred food type. Because approximately 20% of all mammalian herbivores also eat fruit, frugivory is considered to be common among mammals. Since frugivores eat a lot of fruit they are highly dependent...
, with its diet mostly consisting of fruits. It eats many types of vegetation such as seeds, leaves and roots, but also hunts
freshwater crab
Freshwater crab
There are around 1,300 species of freshwater crabs, distributed throughout the tropics and subtropics, divided among eight families. They show direct development and maternal care of a small number of offspring, in contrast to marine crabs which release thousands of planktonic larvae. This limits...
s,
frog
Frog
Frogs are amphibians in the order Anura , formerly referred to as Salientia . Most frogs are characterized by a short body, webbed digits , protruding eyes and the absence of a tail...
s,
bird egg
Bird egg
Bird eggs are laid by females and incubated for a time that varies according to the species; a single young hatches from each egg. Average clutch sizes range from one to about 17...
s and
insect
Insect
Insects are a class of living creatures within the arthropods that have a chitinous exoskeleton, a three-part body , three pairs of jointed legs, compound eyes, and two antennae...
s.
Physical characteristics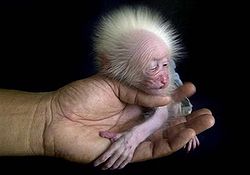 The stump-tailed macaque has long, thick, dark brown fur covering its body, but its face and its short tail, which measures between 32 and 69mm, are hairless. Infants are born white and darken as they mature. As they age, their bright pink or red faces darken to brown or nearly black and lose a lot of their hair. Males are much larger than females, measuring between 51.7-65cm long and weighing between 9.7-10.2kg, while females measure between 48.5-58.5cm and weigh between 7.5-9.1kg. Male stump-tailed macaques' canine teeth, which are important for establishing dominance within social groups, are more elongated than those of the females. Like all macaques, this species has cheek pouches to store food for short periods of time.
Habitat
This
Old World monkey
Old World monkey
The Old World monkeys or Cercopithecidae are a group of primates, falling in the superfamily Cercopithecoidea in the clade Catarrhini. The Old World monkeys are native to Africa and Asia today, inhabiting a range of environments from tropical rain forest to savanna, shrubland and mountainous...
travels quadrupedally and usually on the ground for it is not very agile in trees. It is generally found in subtropical and tropical broad leaf evergreen forests, in different elevations depending on the amount of rainfall in the area. It depends on rainforests for food and shelter and is not found in dry forests except where it ranges in the
Himalayan
Himalayas
The Himalaya Range or Himalaya Mountains Sanskrit: Devanagari: हिमालय, literally "abode of snow"), usually called the Himalayas or Himalaya for short, is a mountain range in Asia, separating the Indian subcontinent from the Tibetan Plateau...
region of India, only spending time in secondary forests if it is bordering primary tropical forests. It is distributed from North-Eastern
India
India
India , officially the Republic of India , is a country in South Asia. It is the seventh-largest country by geographical area, the second-most populous country with over 1.2 billion people, and the most populous democracy in the world...
and Southern
China
China
Chinese civilization may refer to:* China for more general discussion of the country.* Chinese culture* Greater China, the transnational community of ethnic Chinese.* History of China* Sinosphere, the area historically affected by Chinese culture...
into the North-West tip of West
Malaysia
on the
Malay Peninsula
Malay Peninsula
The Malay Peninsula or Thai-Malay Peninsula is a peninsula in Southeast Asia. The land mass runs approximately north-south and, at its terminus, is the southern-most point of the Asian mainland...
. It is also found in Burma,
Thailand
Thailand
Thailand , officially the Kingdom of Thailand , formerly known as Siam , is a country located at the centre of the Indochina peninsula and Southeast Asia. It is bordered to the north by Burma and Laos, to the east by Laos and Cambodia, to the south by the Gulf of Thailand and Malaysia, and to the...
,
Vietnam
Vietnam
Vietnam – sometimes spelled Viet Nam , officially the Socialist Republic of Vietnam – is the easternmost country on the Indochina Peninsula in Southeast Asia. It is bordered by China to the north, Laos to the northwest, Cambodia to the southwest, and the South China Sea –...
, and far Eastern
Bangladesh
Bangladesh
Bangladesh , officially the People's Republic of Bangladesh is a sovereign state located in South Asia. It is bordered by India on all sides except for a small border with Burma to the far southeast and by the Bay of Bengal to the south...
. A study population was introduced to Tanaxpillo, an uninhabited island in Lake Catemaco,
Veracruz
Veracruz
Veracruz, formally Veracruz de Ignacio de la Llave officially Estado Libre y Soberano de Veracruz de Ignacio de la Llave , is one of the 31 states that, along with the Federal District, comprise the 32 federative entities of Mexico. It is divided in 212 municipalities and its capital city is...
,
Mexico
Mexico
The United Mexican States , commonly known as Mexico , is a federal constitutional republic in North America. It is bordered on the north by the United States; on the south and west by the Pacific Ocean; on the southeast by Guatemala, Belize, and the Caribbean Sea; and on the east by the Gulf of...
in 1974, where it ranges in semi-natural conditions. Most information on the species comes from the introduced population on Tanaxpillo and other captive settings as there have been very few long-term studies of the Stump-tailed Macaque in the wild.
See also
Britches (monkey)

Britches (monkey)

Britches was a stump-tailed macaque monkey born into a breeding colony at the University of California, Riverside . He was removed from his mother at birth, had his eyelids sewn shut, and had an electronic sonar device attached to his head — a Trisensor Aid, an experimental version of a blind...


- an infant stump-tailed macaque used in sight-deprivation experiments who was removed from the laboratory by the Animal Liberation Front

Animal Liberation Front

The Animal Liberation Front is an international, underground leaderless resistance that engages in illegal direct action in pursuit of animal liberation...


.