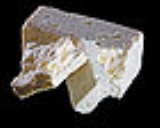 Feta
Feta
is a brined
curd
Curd
Curds are a dairy product obtained by curdling milk with rennet or an edible acidic substance such as lemon juice or vinegar, and then draining off the liquid portion. The increased acidity causes the milk proteins to tangle into solid masses, or curds. The remaining liquid, which contains only...
cheese
Cheese
Cheese is a generic term for a diverse group of milk-based food products. Cheese is produced throughout the world in wide-ranging flavors, textures, and forms....
traditionally made in
Greece
Greece
Greece , officially the Hellenic Republic , and historically Hellas or the Republic of Greece in English, is a country in southeastern Europe....
. Feta is an
aged
Cheese ripening
Cheese ripening or alternatively cheese maturation is a process in cheesemaking. It is responsible for the distinct flavour of cheese, and through the modification of "ripening agents", determines the features that define many different varieties of cheeses, such as taste, texture, and body...
crumbly cheese, commonly produced in blocks, and has a slightly grainy texture. It is used as a table cheese, as well as in salads (e.g. the
Greek salad
Greek salad
Greek salad is a summer salad in Greek cuisine.Greek salad is made with pieces of tomatoes, sliced cucumber, green bell peppers, red onion, sliced or cubed feta cheese, and Kalamata olives, typically seasoned with salt and dried oregano, and dressed with olive oil...
), pastries and in baking, notably in the popular
phyllo
Phyllo
Phyllo, filo, or fillo dough is paper-thin sheets of unleavened flour dough used for making pastries in Middle Eastern and Balkan cuisine.-History:An early, thick form of phyllo appears to be of Central Asian Turkic origin...
-based dishes
spanakopita
Spanakopita
Spanakopita or spinach pie is a Greek savory pastry in the burek family with a filling of chopped spinach, feta cheese , onions or scallions, egg, and seasoning...
("spinach pie") and tyropita ("cheese pie") and combined with olive oil and vegetables. It can also be served cooked or
grilled
Grilling
Grilling is a form of cooking that involves dry heat applied to the surface of food, commonly from above or below.Grilling usually involves a significant amount of direct, radiant heat, and tends to be used for cooking meat quickly and meat that has already been cut into slices...
, as part of a
sandwich
Sandwich
A sandwich is a food item, typically consisting of two or more slices of :bread with one or more fillings between them, or one slice of bread with a topping or toppings, commonly called an open sandwich. Sandwiches are a widely popular type of lunch food, typically taken to work or school, or...
or as a salty alternative to other cheeses in a variety of dishes.
Since 2002, feta has been a
protected designation of origin
Protected designation of origin
Protected Geographical Status is a legal framework defined in European Union law to protect the names of regional foods. Protected Designation of Origin , Protected Geographical Indication and Traditional Speciality Guaranteed are distinct regimes of geographical indications within the framework...
product.