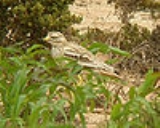 Stone Curlew
The
Stone Curlew
,
Eurasian Thick-knee
, or
Eurasian Stone-curlew
Burhinus oedicnemus
is a northern species of the Burhinidae (
stone-curlew
Stone-curlew
The Stone-curlews, also known as Dikkops or Thick-knees are a group of largely tropical birds in the family Burhinidae. Despite the group being classified as waders, most species have a preference for arid or semi-arid habitats...
)
bird
Bird
Birds are feathered, winged, bipedal, endothermic , egg-laying, vertebrate animals. Around 10,000 living species and 188 families makes them the most speciose class of tetrapod vertebrates. They inhabit ecosystems across the globe, from the Arctic to the Antarctic. Extant birds range in size from...
family.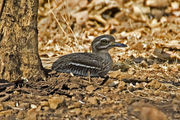 It is a fairly large wader though is mid-sized by the standards of its family. Length ranges from 38 to 46 cm (15 to 18.1 in), wingspan from 76 to 88 cm (29.9 to 34.6 in) and weight from 290 to 535 g (10.2 to 18.9 oz). with a strong yellow and black beak, large yellow eyes (which give it a "reptilian", or "goggle-eyed" appearance), and cryptic plumage. The bird is striking in flight, with black and white wing markings.
Despite being classed as a wader, this species prefers dry open habitats with some bare ground. It is largely nocturnal, particularly when singing its loud wailing songs, which are reminiscent of that of
curlew
Curlew
The curlews , genus Numenius, are a group of eight species of birds, characterised by long, slender, downcurved bills and mottled brown plumage. They are one of the most ancient lineages of scolopacid waders, together with the godwits which look similar but have straight bills...
s. Food consists of
insect
Insect
Insects are a class of living creatures within the arthropods that have a chitinous exoskeleton, a three-part body , three pairs of jointed legs, compound eyes, and two antennae...
s and other small invertebrates. It will also take small reptiles and rodents. It lays 2-3 eggs in a narrow scrape in the ground.
The stone curlew occurs throughout
Europe
Europe
Europe is, by convention, one of the world's seven continents. Comprising the westernmost peninsula of Eurasia, Europe is generally 'divided' from Asia to its east by the watershed divides of the Ural and Caucasus Mountains, the Ural River, the Caspian and Black Seas, and the waterways connecting...
, north
Africa
Africa
Africa is the world's second largest and second most populous continent, after Asia. At about 30.2 million km² including adjacent islands, it covers 6% of the Earth's total surface area and 20.4% of the total land area...
and southwestern
Asia
Asia
Asia is the world's largest and most populous continent, located primarily in the eastern and northern hemispheres. It covers 8.7% of the Earth's total surface area and with approximately 3.879 billion people, it hosts 60% of the world's current human population...
. It is a summer
migrant
Bird migration
Bird migration is the regular seasonal journey undertaken by many species of birds. Bird movements include those made in response to changes in food availability, habitat or weather. Sometimes, journeys are not termed "true migration" because they are irregular or in only one direction...
in the more temperate European and Asian parts of its range, wintering in
Africa
Africa
Africa is the world's second largest and second most populous continent, after Asia. At about 30.2 million km² including adjacent islands, it covers 6% of the Earth's total surface area and 20.4% of the total land area...
.
Etymology
The
genus
Genus
In biology, a genus is a low-level taxonomic rank used in the biological classification of living and fossil organisms, which is an example of definition by genus and differentia...
name
Burhinus
comes from the
Greek
Greek language
Greek is an independent branch of the Indo-European family of languages. Native to the southern Balkans, it has the longest documented history of any Indo-European language, spanning 34 centuries of written records. Its writing system has been the Greek alphabet for the majority of its history;...
bous
, ox, and
rhis
, nose. The
species
Species
In biology, a species is one of the basic units of biological classification and a taxonomic rank. A species is often defined as a group of organisms capable of interbreeding and producing fertile offspring. While in many cases this definition is adequate, more precise or differing measures are...
name
oedicnemus
comes from the Greek
oidio
, to swell, and
kneme
, the shin or leg, referring to the bird's prominent
tibiotarsal joint
Tibiotarsal joint
The Tibiotarsal joint is the joint between the tibia and the tarsus.Synovial distension of the tibiotarsal joint in the horse is known as Bog spavin....
s which also give it the common name of "thick-knee". This is an abbreviated form of
Pennant's
Thomas Pennant
Thomas Pennant was a Welsh naturalist and antiquary.The Pennants were a Welsh gentry family from the parish of Whitford, Flintshire, who had built up a modest estate at Bychton by the seventeenth century...
1776 coinage "thick kneed
bustard
Bustard
Bustards, including floricans and korhaans, are large terrestrial birds mainly associated with dry open country and steppes in the Old World...
".
The name "Stone Curlew" was first recorded in 1667. It derives from the bird's nocturnal calls sounding like the unrelated
Eurasian Curlew
Eurasian Curlew
The Eurasian Curlew, Numenius arquata, is a wader in the large family Scolopacidae. It is one of the most widespread of the curlews, breeding across temperate Europe and Asia...
Numenius arquata
and its preference for barren stoney
heath
Heath (habitat)
A heath or heathland is a dwarf-shrub habitat found on mainly low quality acidic soils, characterised by open, low growing woody vegetation, often dominated by plants of the Ericaceae. There are some clear differences between heath and moorland...
s.
Subspecies
There are six
subspecies
Subspecies
Subspecies in biological classification, is either a taxonomic rank subordinate to species, ora taxonomic unit in that rank . A subspecies cannot be recognized in isolation: a species will either be recognized as having no subspecies at all or two or more, never just one...
of
Burhinus oedicnemus
: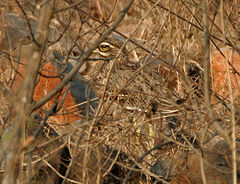 Burhinus oedicnemus distinctus (Bannerman, 1914) Canary Islands

Canary Islands

The Canary Islands , also known as the Canaries , is a Spanish archipelago located just off the northwest coast of mainland Africa, 100 km west of the border between Morocco and the Western Sahara. The Canaries are a Spanish autonomous community and an outermost region of the European Union...


central and western
Burhinus oedicnemus harterti Vaurie, 1963
Burhinus oedicnemus indicus (Salvadori, 1865)
Burhinus oedicnemus insularum (Sassi, 1908) Canary Islands, eastern
Burhinus oedicnemus oedicnemus (Linnaeus, 1758)
Burhinus oedicnemus saharae (Reichenow, 1894)
External links