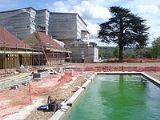 Stocks House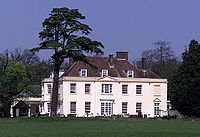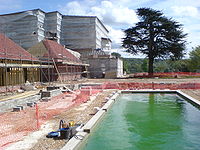 Stocks House
is a large
Georgian
Georgian architecture
Georgian architecture is the name given in most English-speaking countries to the set of architectural styles current between 1720 and 1840. It is eponymous for the first four British monarchs of the House of Hanover—George I of Great Britain, George II of Great Britain, George III of the United...
mansion, built in 1773, that is the largest property in the village of
Aldbury
Aldbury
Aldbury is a village and civil parish in Hertfordshire, England, near the borders of Bedfordshire and Buckinghamshire, in a valley close to Ashridge Park. The nearest town is Tring; Tring railway station, 1 mile west, is in the parish of Aldbury...
,
Hertfordshire
Hertfordshire
Hertfordshire is a ceremonial and non-metropolitan county in the East region of England. The county town is Hertford.The county is one of the Home Counties and lies inland, bordered by Greater London , Buckinghamshire , Bedfordshire , Cambridgeshire and...
. It was built by owners of Stocks Farm and used as their family home for many years. Stocks House was set in a 182 acre (0.73652852 km²) estate surrounded by 10000 acres (40.5 km²) of
National Trust
National Trust for Places of Historic Interest or Natural Beauty
The National Trust for Places of Historic Interest or Natural Beauty, usually known as the National Trust, is a conservation organisation in England, Wales and Northern Ireland...
land located between
Ashridge Forest
Ashridge
Ashridge is an estate and house in Hertfordshire, England; part of the land stretches into Buckinghamshire and it is close to the Bedfordshire border. It is situated in the Chiltern Hills, an Area of Outstanding Natural Beauty, about two miles north of Berkhamsted and twenty miles north west of...
and the
Chiltern Hills
Chiltern Hills
The Chiltern Hills form a chalk escarpment in South East England. They are known locally as "the Chilterns". A large portion of the hills was designated officially as an Area of Outstanding Natural Beauty in 1965.-Location:...
.
It takes its name from the nearby
abandoned medieval village
.
Ward
In 1892 Stocks House was sold by
Sir Edward Grey
Edward Grey, 1st Viscount Grey of Fallodon
Edward Grey, 1st Viscount Grey of Fallodon KG, PC, FZL, DL , better known as Sir Edward Grey, Bt, was a British Liberal statesman. He served as Foreign Secretary from 1905 to 1916, the longest continuous tenure of any person in that office...
(who had never lived there since inheriting it) to British novelist
Mary Augusta Ward
Mary Augusta Ward
Mary Augusta Ward née Arnold; , was a British novelist who wrote under her married name as Mrs Humphry Ward.- Early life:...
who lived there until her death in 1920. While she lived there her nephews
Aldous
Aldous Huxley
Aldous Leonard Huxley was an English writer and one of the most prominent members of the famous Huxley family. Best known for his novels including Brave New World and a wide-ranging output of essays, Huxley also edited the magazine Oxford Poetry, and published short stories, poetry, travel...
and
Julian Huxley
Julian Huxley
Sir Julian Sorell Huxley FRS was an English evolutionary biologist, humanist and internationalist. He was a proponent of natural selection, and a leading figure in the mid-twentieth century evolutionary synthesis...
visited on many occasions. She is buried in Aldbury. On her death Stocks had to be sold to pay off the gambling debts of her son, Arnold Ward. It was owned by the Blezard family, and then the Brown family, before becoming a school.
School
In 1944, Stocks House became a residential school when the oldest
finishing school
Finishing school
A finishing school is "a private school for girls that emphasises training in cultural and social activities." The name reflects that it follows on from ordinary school and is intended to complete the educational experience, with classes primarily on etiquette...
in England for upper-class girls, Brondesbury Manor, moved from its previous manor estate in
Surrey
Surrey
Surrey is a county in the South East of England and is one of the Home Counties. The county borders Greater London, Kent, East Sussex, West Sussex, Hampshire and Berkshire. The historic county town is Guildford. Surrey County Council sits at Kingston upon Thames, although this has been part of...
, (where it had been located since 1865) to Stocks due to the war bombing, under the direction of Brondesbury's headmistress, Frances Abbott who had been headmistress since 1916. Upon moving to Stocks in 1944, the school was then dubbed Brondesbury-at-Stocks. Abbott was succeeded in 1956 by Katharina Forbes-Dunlop, a British author.
The girls prepared for exams under the Oxford and Cambridge Schools Examinations Board and were tutored in
etiquette
Etiquette
Etiquette is a code of behavior that delineates expectations for social behavior according to contemporary conventional norms within a society, social class, or group...
, protocol and conversation, history, world affairs, languages, literature, philosophy of the
enlightenment
Age of Enlightenment
The Age of Enlightenment was an elite cultural movement of intellectuals in 18th century Europe that sought to mobilize the power of reason in order to reform society and advance knowledge. It promoted intellectual interchange and opposed intolerance and abuses in church and state...
, lawn tennis,
lacrosse
Lacrosse
Lacrosse is a team sport of Native American origin played using a small rubber ball and a long-handled stick called a crosse or lacrosse stick, mainly played in the United States and Canada. It is a contact sport which requires padding. The head of the lacrosse stick is strung with loose mesh...
, drawing, embroidery, music, dance and equestrian skills, for which the girls could keep their own ponies at Stocks and ride everyday. Stocks had stables, saddles, a tack room, paddocks and a resident riding mistress.
Dressage
Dressage
Dressage is a competitive equestrian sport, defined by the International Equestrian Federation as "the highest expression of horse training." Competitions are held at all levels from amateur to the World Equestrian Games...
and
jumping
Show jumping
Show jumping, also known as "stadium jumping," "open jumping," or "jumpers," is a member of a family of English riding equestrian events that also includes dressage, eventing, hunters, and equitation. Jumping classes commonly are seen at horse shows throughout the world, including the Olympics...
events were held. The girls could join local
fox hunts
Fox hunting
Fox hunting is an activity involving the tracking, chase, and sometimes killing of a fox, traditionally a red fox, by trained foxhounds or other scent hounds, and a group of followers led by a master of foxhounds, who follow the hounds on foot or on horseback.Fox hunting originated in its current...
or chase the beagles on foot.
Each room of Stocks had a special name given during the Napoleonic era and those names were used throughout the Brondesbury years. In keeping with the fashionable
neoclassical
Neoclassicism
Neoclassicism is the name given to Western movements in the decorative and visual arts, literature, theatre, music, and architecture that draw inspiration from the "classical" art and culture of Ancient Greece or Ancient Rome...
revival of the Napoleonic era, each room was named after a Roman province or other revered place of antiquity. For example, four of the names of the large rooms on the second story of Stocks were: Perugia, Urbino, Venetia and Petra.
In 1972 Forbes-Dunlop, the last Brondesbury headmistress, retired. She died at age 100.
Playboy
Stocks House was purchased by American
Playboy
Playboy Enterprises
Playboy Enterprises, Inc. is a privately held global media and lifestyle company founded by Hugh Marston Hefner to manage the Playboy magazine empire. Its programming and content are available worldwide on television networks, Websites, mobile platforms and radio...
executive
Victor Lownes
Victor Lownes
Victor Aubrey Lownes III An executive with Playboy Enterprises in various capacities, various vice-presidencies, always a close confidant of Hugh Hefner. Headed Playboy Europe and the UK Playboy Clubs from the mid-sixties until his dismissal in the early eighties...
and his girlfriend
Marilyn Cole
Marilyn Cole
Marilyn Cole was Playboy magazine's January 1972 Playmate of the Month. She was the magazines's first full-frontal nude centerfold, although her pubic hair was partly covered by the shadow cast from the book in her hand, so the first clearly full-frontally nude Playmate of the Month was Bonnie...
for £115,000. They installed a massive jacuzzi - thought to be the largest in the country - in the house. The mansion was used as a training camp for
Playboy bunnies
Playboy Bunny
A Playboy Bunny is a waitress at the Playboy Club. The Playboy Clubs were originally open from 1960 to 1988. The Club re-opened in one location in The Palms Hotel in Las Vegas in 2006...
and was well known for hosting extravagant parties, including the infamous 1978 25-hour party (to celebrate the 25th anniversary of the founding of
Playboy
Playboy
Playboy is an American men's magazine that features photographs of nude women as well as journalism and fiction. It was founded in Chicago in 1953 by Hugh Hefner and his associates, and funded in part by a $1,000 loan from Hefner's mother. The magazine has grown into Playboy Enterprises, Inc., with...
magazine), when Bunny Girls and guests who had been given green dots to wear, were allowed upstairs to Stocks' many bedrooms. The 1970s A-list went to Victor's parties, the same cast list that played the tables at the London
Playboy Club
Playboy Club
The Playboy Club initially was a chain of nightclubs and resorts owned and operated by Playboy Enterprises. The first club opened at 116 E. Walton Street in downtown Chicago, Illinois, United States, on February 29, 1960. Each club generally featured a Living Room, a Playmate Bar, a Dining Room...
that he ran.
Coincidentally Lownes also owned 1 Connaught Square in London, the townhouse of Mary Augusta Ward, the former owner of Stocks, where she had died.
Following Lownes' dismissal from Playboy in 1981 he remained in the property for several years, he even turned it into a hotel, but he was eventually forced to sell it due to the high running cost.
Spa
It was owned by various parties following Lownes' sale including England Cricket player
Phil Edmonds
Phil Edmonds
Phil Edmonds is a former English cricketer and a successful, albeit controversial, corporate executive....
who added a swimming pool, and golf course to the extensive grounds and turned it into health spa.
Harlequin F.C.
Harlequin F.C.
The Harlequin Football Club is an English rugby union team who play in the top level of English rugby, the Aviva Premiership. Their ground in London is Twickenham Stoop...
Rugby
Rugby football
Rugby football is a style of football named after Rugby School in the United Kingdom. It is seen most prominently in two current sports, rugby league and rugby union.-History:...
Club also owned it for a time.
In 1997 the album cover of
Oasis
Oasis (band)
Oasis were an English rock band formed in Manchester in 1991. Originally known as The Rain, the group was formed by Liam Gallagher , Paul "Bonehead" Arthurs , Paul "Guigsy" McGuigan and Tony McCarroll , who were soon joined by Liam's older brother Noel Gallagher...
'
Be Here Now
was photographed by the old pool by Stocks.
Reversion to private house
In 2004 Stocks was sold to
Peter Harris
Peter Harris (entrepreneur)
Peter Harris has a stake worth £360m in Hemel Hempstead-based Bourne Leisure, which he founded in 1964 and is still chairman. The Sunday Times Rich List estimates that his worth is £400m which places him at 200th on the 2011 Rich List....
, a retired horse trainer and entrepreneur, for an undisclosed sum. Shortly afterwards 6 months notice was given to the staff of the hotel. A planning application to
Dacorum
Dacorum
The Borough of Dacorum is a local government district in Hertfordshire, England that includes the towns of Hemel Hempstead, Berkhamsted, Tring and Kings Langley. The district, which was formed in 1974, had a population of 137,799 in 2001...
to restore the historic Stocks Hotel back to a private home was made. The plans included a total overhaul of the building, building stables, adding a swimming pool and tennis courts, and converting some of the surrounding land of Stocks Golf Club into a garden and pasture land for cattle.
The extensive renovation work was undertaken by Holloway White Allom and completed in early 2008. The architect for the project was Hugh Petter, Director at ADAM Architecture. It is now a family home once again for Harris' son-in-law
Walter Swinburn
Walter Swinburn
Walter R. Swinburn is a retired flat racing jockey who competed in Great Britain and Ireland as well as internationally.Swinburn was born in Oxford...
.