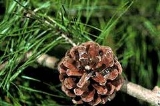 Spruce Pine
Pinus glabra
is a
tree
Tree
A tree is a perennial woody plant. It is most often defined as a woody plant that has many secondary branches supported clear of the ground on a single main stem or trunk with clear apical dominance. A minimum height specification at maturity is cited by some authors, varying from 3 m to...
found on the coastal
plain
Plain
In geography, a plain is land with relatively low relief, that is flat or gently rolling. Prairies and steppes are types of plains, and the archetype for a plain is often thought of as a grassland, but plains in their natural state may also be covered in shrublands, woodland and forest, or...
s of the
southern
Southeastern United States
The Southeastern United States, colloquially referred to as the Southeast, is the eastern portion of the Southern United States. It is one of the most populous regions in the United States of America....
United States
United States
The United States of America is a federal constitutional republic comprising fifty states and a federal district...
, from southern
South Carolina
South Carolina
South Carolina is a state in the Deep South of the United States that borders Georgia to the south, North Carolina to the north, and the Atlantic Ocean to the east. Originally part of the Province of Carolina, the Province of South Carolina was one of the 13 colonies that declared independence...
south to northern
Florida
Florida
Florida is a state in the southeastern United States, located on the nation's Atlantic and Gulf coasts. It is bordered to the west by the Gulf of Mexico, to the north by Alabama and Georgia and to the east by the Atlantic Ocean. With a population of 18,801,310 as measured by the 2010 census, it...
and west to southern
Louisiana
Louisiana
Louisiana is a state located in the southern region of the United States of America. Its capital is Baton Rouge and largest city is New Orleans. Louisiana is the only state in the U.S. with political subdivisions termed parishes, which are local governments equivalent to counties...
. This
pine
Pine
Pines are trees in the genus Pinus ,in the family Pinaceae. They make up the monotypic subfamily Pinoideae. There are about 115 species of pine, although different authorities accept between 105 and 125 species.-Etymology:...
is a straight-growing, medium-sized species, attaining heights of 20-35 m.
The
leaves
Leaf
A leaf is an organ of a vascular plant, as defined in botanical terms, and in particular in plant morphology. Foliage is a mass noun that refers to leaves as a feature of plants....
are needle-like, in bundles of two, 5-8 cm long, slender (1 mm thick), and glossy dark green. The small, slender cones are 4-6 cm long, with weak prickles on the scales that are soon shed.
Pinus glabra
differs markedly from most other pines in that it does not occur in largely pure pine forests, but is typically found as scattered trees in moist woodland habitats in mixed
hardwood
Hardwood
Hardwood is wood from angiosperm trees . It may also be used for those trees themselves: these are usually broad-leaved; in temperate and boreal latitudes they are mostly deciduous, but in tropics and subtropics mostly evergreen.Hardwood contrasts with softwood...
forest. To be able to compete successfully in such habitats, it has adapted greater shade tolerance than most other pines.