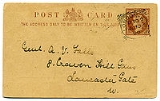 Postcard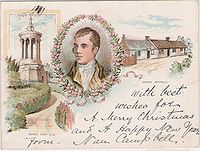 A
postcard
or
post card
is a rectangular piece of thick
paper
Paper
Paper is a thin material mainly used for writing upon, printing upon, drawing or for packaging. It is produced by pressing together moist fibers, typically cellulose pulp derived from wood, rags or grasses, and drying them into flexible sheets....
or thin
cardboard
Card stock
Card stock, also called cover stock or pasteboard, is a paper stock that is thicker and more durable than normal writing or printing paper, but thinner and more flexible than other forms of paperboard. Card stock is often used for business cards, postcards, playing cards, catalog covers,...
intended for writing and mailing without an
envelope
Envelope
An envelope is a common packaging item, usually made of thin flat material. It is designed to contain a flat object, such as a letter or card....
.
In some places, it is possible to send them for a lower fee than for a letter. Stamp collectors distinguish between postcards (which require a
stamp
Postage stamp
A postage stamp is a small piece of paper that is purchased and displayed on an item of mail as evidence of payment of postage. Typically, stamps are made from special paper, with a national designation and denomination on the face, and a gum adhesive on the reverse side...
) and
postal card
Postal card
Postal cards are postal stationery with an imprinted stamp or indicium signifying the prepayment of postage. They are sold by postal authorities. In January, 1869 Emanuel Herrmann of Austria described the advantages of a Correspondenz Karte. By October, 1869 the world's first postal card was...
s (which have the postage pre-printed on them). While a postcard is usually printed by a private company, individual or organization, a postal card is issued by the relevant postal authority. The
United States Postal Service
United States Postal Service
The United States Postal Service is an independent agency of the United States government responsible for providing postal service in the United States...
defines a postcard as: rectangular, at least 3+1/2 in high × 5 inches (127 mm) long × 0.007 inch (0.1778 mm) thick
and no more than 4+1/4 in high × 6 inches (152.4 mm) long × 0.016 inch (0.4064 mm) thick. However, some postcards have deviated from this (for example, shaped postcards).
The study and collecting of postcards is termed
deltiology
Deltiology
Deltiology is the study and collection of postcards. Professor Randall Rhoades of Ashland, Ohio, coined a word in 1945 that became the accepted description of the study of picture postcards. It took about 20 years for the name to appear in the dictionary the first time...
.
Early history of postcards
Cards with messages had been sporadically created and posted by individuals since the creation of postal services. The earliest known picture postcard was a hand-painted design on card, posted in London to the writer Theodore Hook in 1840 bearing a
penny black
Penny Black
The Penny Black was the world's first adhesive postage stamp used in a public postal system. It was issued in Britain on 1 May 1840, for official use from 6 May of that year....
stamp. He probably created and posted the card to himself as a practical joke on the postal service, since the image is a caricature of workers in the post office.
In the United States, a picture or blank card stock that held a message and sent through the mail at letter rate first began when a card postmarked in December of 1848 contained printed advertising on it. The first commercially produced card was created in 1861 by
John P. Charlton
John P. Charlton
John P. Charlton was an American printer and stationer from Philadelphia, Pennsylvania, who is often credited as the inventor of the private postal card, which he copyrighted in 1861 together with Hymen Lipman.-History of Charlton's postal card:...
of Philadelphia, who patented a postal card, selling the rights to
Hymen Lipman
Hymen Lipman
Hymen L. Lipman is credited with registering the first patent for a pencil with an attached eraser on March 30, 1858 .Hymen L. Lipman was born March 20, 1817, in Kingston, Jamaica, to English parents...
, whose postcards, complete with a decorated border, were labeled "Lipman's postal card." These cards had no images.
In Britain postcards without images were issued by Post Office, and were printed with a stamp as part of the design, which was included in the price of purchase. The first known printed picture postcard, with an image on one side, was created in France in 1870 at
Camp Conlie
Camp Conlie
Camp Conlie was one of eleven military camps established by the Republican Government of National Defense under Léon Gambetta during the Franco-Prussian war. It became notable because of events which have led to it being described as a "concentration camp", in which troops from Brittany were...
by Léon Besnardeau (1829–1914). Conlie was a training camp for soldiers in the
Franco-Prussian war
Franco-Prussian War
The Franco-Prussian War or Franco-German War, often referred to in France as the 1870 War was a conflict between the Second French Empire and the Kingdom of Prussia. Prussia was aided by the North German Confederation, of which it was a member, and the South German states of Baden, Württemberg and...
. They had a lithographed design printed on them containing emblematic images of piles of armaments on either side of a scroll topped by the arms of the Duchy of Brittany and the inscription "War of 1870. Camp Conlie. Souvenir of the National Defence. Army of Brittany". While these are certainly the first known picture postcards, there was no space for stamps and no evidence that they were ever posted without envelopes.
In the following year the first known picture postcard in which the image functioned as a souvenir was sent from Vienna. The first advertising card appeared in 1872 in Great Britain and the first German card appeared in 1874. Cards showing images increased in number during the 1880s. Images of the newly built
Eiffel Tower
Eiffel Tower
The Eiffel Tower is a puddle iron lattice tower located on the Champ de Mars in Paris. Built in 1889, it has become both a global icon of France and one of the most recognizable structures in the world...
in 1889 and 1890 gave impetus to the postcard, leading to the so-called "golden age" of the picture postcard in years following the mid-1890s.
Early US postcards
The first American postcard was developed in 1873 by the Morgan Envelope Factory of
Springfield, Massachusetts
Springfield, Massachusetts
Springfield is the most populous city in Western New England, and the seat of Hampden County, Massachusetts, United States. Springfield sits on the eastern bank of the Connecticut River near its confluence with three rivers; the western Westfield River, the eastern Chicopee River, and the eastern...
. Later in 1873, Post Master John Creswell introduced the first pre-stamped "penny postcards". These first postcards depicted
Interstate Industrial Exposition
that took place in Chicago. Postcards were made because people were looking for an easier way to send quick notes. The first postcard to be printed as a
souvenir
Souvenir
A souvenir , memento, keepsake or token of remembrance is an object a person acquires for the memories the owner associates with it. The term souvenir brings to mind the mass-produced kitsch that is the main commodity of souvenir and gift shops in many tourist traps around the world...
in the
United States
United States
The United States of America is a federal constitutional republic comprising fifty states and a federal district...
was created in 1893 to advertise the
World's Columbian Exposition
World's Columbian Exposition
The World's Columbian Exposition was a World's Fair held in Chicago in 1893 to celebrate the 400th anniversary of Christopher Columbus's arrival in the New World in 1492. Chicago bested New York City; Washington, D.C.; and St...
in
Chicago
Chicago
Chicago is the largest city in the US state of Illinois. With nearly 2.7 million residents, it is the most populous city in the Midwestern United States and the third most populous in the US, after New York City and Los Angeles...
.
The Post Office was the only establishment allowed to print postcards, and it held its monopoly until May 19, 1898, when Congress passed the Private Mailing Card Act which allowed private publishers and printers to produce postcards. Initially, the United States government prohibited private companies from calling their cards "postcards", so they were known as "souvenir cards". These cards had to be labeled "Private Mailing Cards". This prohibition was rescinded on December 24, 1901, when private companies could use the word "postcard". Postcards were not allowed to have a divided back and correspondents could only write on the front of the postcard. This was known as the "undivided back" era of postcards. On March 1, 1907 the Post Office allowed private citizens to write on the address side of a postcard. It was on this date that postcards were allowed to have a "divided back".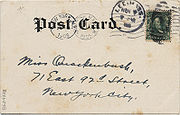 On these cards the back is divided into two sections, the left section being used for the message and the right for the address. Thus began the Golden Age of American postcards, which lasted until 1915, when
World War I
World War I
World War I , which was predominantly called the World War or the Great War from its occurrence until 1939, and the First World War or World War I thereafter, was a major war centred in Europe that began on 28 July 1914 and lasted until 11 November 1918...
blocked the import of the fine
German
Germany
Germany , officially the Federal Republic of Germany , is a federal parliamentary republic in Europe. The country consists of 16 states while the capital and largest city is Berlin. Germany covers an area of 357,021 km2 and has a largely temperate seasonal climate...
-printed cards.
Postcards, in the form of government postal cards and privately printed souvenir cards, became very popular as a result of the Columbian Exposition, held in Chicago in 1893, after postcards featuring buildings were distributed at the fair. In 1908, more than 677 million postcards were mailed.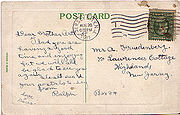 The "white border" era, named for obvious reasons, lasted from about 1916 to 1930. The "linen card" era lasted from about 1931 to the early 1950s, when cards were primarily printed on papers with a textured surface similar to linen cloth. The last and current postcard era, which began about 1939, is the "chrome" era, however these types of cards did not begin to dominate until about 1950. The images on these cards are generally based on colored
photograph
Photograph
A photograph is an image created by light falling on a light-sensitive surface, usually photographic film or an electronic imager such as a CCD or a CMOS chip. Most photographs are created using a camera, which uses a lens to focus the scene's visible wavelengths of light into a reproduction of...
s, and are readily identified by the glossy appearance given by the paper's coating.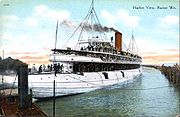 In 1973 the British Post Office introduced a new type of card, PHQ Cards, popular with collectors, especially when they have the appropriate stamp affixed and a
First day of issue
First day of issue
A First Day of Issue Cover or First Day Cover is a postage stamp on a cover, postal card or stamped envelope franked on the first day the issue is authorized for use within the country or territory of the stamp-issuing authority. Sometimes the issue is made from a temporary or permanent foreign or...
postmark
Postmark
thumb|USS TexasA postmark is a postal marking made on a letter, package, postcard or the like indicating the date and time that the item was delivered into the care of the postal service...
obtained.
Postcards in British India
In July 1879, the Post Office of India introduced a 1/4
anna
Indian anna
An Anna was a currency unit formerly used in India, equal to 1/16 rupee. It was subdivided into 4 Paise or 12 Pies . The term belonged to the Muslim monetary system...
postcard which provided postage from one place to another within British India. This was the cheapest form of post provided to the Indian people to date and proved a huge success. The establishment of a large postal system spanning India resulted in unprecedented postal access where a message on a postcard could be sent from one part of the country to another part (often to a physical address without a nearby post office) without additional postage affixed. This was followed in April 1880 by postcards meant specifically for government use and by reply post cards in 1890. The postcard facility continues to this date in independent
India
India
India , officially the Republic of India , is a country in South Asia. It is the seventh-largest country by geographical area, the second-most populous country with over 1.2 billion people, and the most populous democracy in the world...
.
British seaside postcards
In 1894, British publishers were given permission by the
Royal Mail
Royal Mail
Royal Mail is the government-owned postal service in the United Kingdom. Royal Mail Holdings plc owns Royal Mail Group Limited, which in turn operates the brands Royal Mail and Parcelforce Worldwide...
to manufacture and distribute picture postcards, which could be sent through the post. The first UK postcards were produced by printing firm Stewarts of Edinburgh and early postcards were pictures of famous landmarks, scenic views, photographs or drawings of celebrities and so on. With steam locomotives providing fast and affordable travel, the
seaside
Seaside resort
A seaside resort is a resort, or resort town, located on the coast. Where a beach is the primary focus for tourists, it may be called a beach resort.- Overview :...
became a popular tourist destination, and generated its own souvenir-industry: the picture postcard was, and is, an essential staple of this industry.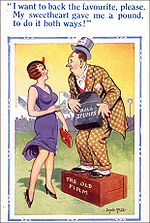 In the early 1930s, cartoon-style saucy postcards became widespread, and at the peak of their popularity the sale of saucy postcards reached a massive 16 million a year. They were often bawdy in nature, making use of
innuendo
Innuendo
An innuendo is a baseless invention of thoughts or ideas. It can also be a remark or question, typically disparaging , that works obliquely by allusion...
and
double entendre
Double entendre
A double entendre or adianoeta is a figure of speech in which a spoken phrase is devised to be understood in either of two ways. Often the first meaning is straightforward, while the second meaning is less so: often risqué or ironic....
s and traditionally featured
stereotypical
Stereotype
A stereotype is a popular belief about specific social groups or types of individuals. The concepts of "stereotype" and "prejudice" are often confused with many other different meanings...
characters such as vicars, large ladies and put-upon husbands, in the same vein as the
Carry On
Carry On films
The Carry On films are a series of low-budget British comedy films, directed by Gerald Thomas and produced by Peter Rogers. They are an energetic mix of parody, farce, slapstick and double entendres....
films. In the early 1950s, the newly elected
Conservative
Conservative Party (UK)
The Conservative Party, formally the Conservative and Unionist Party, is a centre-right political party in the United Kingdom that adheres to the philosophies of conservatism and British unionism. It is the largest political party in the UK, and is currently the largest single party in the House...
government were concerned at the apparent deterioration of morals in Britain and decided on a crackdown on these postcards. The main target on their hit list was the renowned postcard artist
Donald McGill
Donald McGill
Donald Fraser Gould McGill, was an English graphic artist whose name has become synonymous with a whole genre of saucy seaside postcards that were sold mostly in small shops in British coastal towns...
. In the more liberal 1960s, the saucy postcard was revived and became to be considered, by some, as an art form. This helped its popularity and once again they became an institution. However, during the 1970s and 1980s, the quality of the artwork and humour started to deteriorate and, with changing attitudes towards the cards' content, the demise of the saucy postcard occurred. Original postcards are now highly sought after, and rare examples can command high prices at auction. The best-known saucy seaside postcards were created by a publishing company called
Bamforths
Bamforths
Bamforth & Co Ltd is a publishing, film and illustration company based in Leeds, West Yorkshire, England.-History:Bamforth & Co Ltd was started in 1870 by James Bamforth, a portrait photographer in Holmfirth, West Yorkshire. In 1883 he began to specialise in making lantern slides. During 1898...
, based in the town of
Holmfirth
Holmfirth
Holmfirth is a small town located on the A6024 Woodhead Road in the Holme Valley, within the Metropolitan Borough of Kirklees, West Yorkshire, England. Centred upon the confluence of the Holme and Ribble rivers, Holmfirth is south of Huddersfield and from Glossop. It mostly consists of...
,
West Yorkshire
West Yorkshire
West Yorkshire is a metropolitan county within the Yorkshire and the Humber region of England with a population of 2.2 million. West Yorkshire came into existence as a metropolitan county in 1974 after the passage of the Local Government Act 1972....
,
England
England
England is a country that is part of the United Kingdom. It shares land borders with Scotland to the north and Wales to the west; the Irish Sea is to the north west, the Celtic Sea to the south west, with the North Sea to the east and the English Channel to the south separating it from continental...
.
Despite the decline in popularity of postcards that are overtly 'saucy', postcards continue to be a significant economic and cultural aspect of British seaside tourism. Sold by newsagents and street vendors, as well as by specialist souvenir shops, modern seaside postcards often feature multiple depictions of the resort in unusually favourable weather conditions.
John Hinde
John Hinde (photographer)
John Wilfrid Hinde was an English photographer whose idealistic and nostalgic style influenced the art of postcard photography and was widely known for his meticulously planned shoots....
, the British photographer, used saturated colour and meticulously planned his photographs, which made his postcards of the later twentieth century become collected and admired as
kitsch
Kitsch
Kitsch is a form of art that is considered an inferior, tasteless copy of an extant style of art or a worthless imitation of art of recognized value. The concept is associated with the deliberate use of elements that may be thought of as cultural icons while making cheap mass-produced objects that...
. Such cards are also respected as important documents of
social history
Social history
Social history, often called the new social history, is a branch of History that includes history of ordinary people and their strategies of coping with life. In its "golden age" it was a major growth field in the 1960s and 1970s among scholars, and still is well represented in history departments...
, and have been influential on the work of
Martin Parr
Martin Parr
Martin Parr is a British documentary photographer, photojournalist and photobook collector. He is known for his photographic projects that take a critical look at aspects of modern life, in particular provincial and suburban life in England...
.
Controversy
The initial appearance of picture postcards (and the enthusiasm with which the new medium was embraced) raised some legal issues. Picture postcards allowed and encouraged many individuals to send images across national borders, and the legal availability of a postcard image in one country did not guarantee that the card would be considered "proper" in the destination country, or in the intermediate countries that the card would have to pass through. Some countries might refuse to handle postcards containing sexual references (in seaside postcards) or images of full or partial nudity (for instance, in images of classical statuary or paintings).
In response to this new phenomenon, the
Ottoman Empire
Ottoman Empire
The Ottoman EmpireIt was usually referred to as the "Ottoman Empire", the "Turkish Empire", the "Ottoman Caliphate" or more commonly "Turkey" by its contemporaries...
banned the sale or importation of some materials relating to the Islamic prophet
Muhammad
Muhammad
Muhammad |ligature]] at U+FDF4 ;Arabic pronunciation varies regionally; the first vowel ranges from ~~; the second and the last vowel: ~~~. There are dialects which have no stress. In Egypt, it is pronounced not in religious contexts...
in 1900. Affected postcards that were successfully sent through the OE before this date (and are postmarked accordingly) have a high rarity value and are considered valuable by collectors.
Glossary of postcard terms
3 D postcard
- 1970's
Appliqué
A term used to describe a postcard which has some form of cloth, metal or other embellishment attached to it.
Art Déco
Artistic style of the 1920s, recognisable by its symmetrical designs and straight lines.
Art Nouveau
Artistic style of the turn of the century, characterised by flowing lines and flowery symbols, yet often depicting impressionist more than representational art.
Artist Signed
Postcards with artwork that has the artist's signature, and the art is often unique for postcards.
Bas Relief
Postcards with a heavily raised surface, giving a papier-mâché appearance.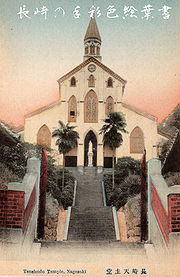 Big Letter
A term used to describe a postcard that shows the name of a place in very big letters that do not have pictures inside each letter (see also Large Letter).
Composites
A number of individual cards, that when placed together in a group, form a larger picture. Also called "installment" cards.
Court Cards
Court card
Court card or court sized card was the name given to a size of picture postcard, mainly used in the United Kingdom, which were approximately 4.75 x 3.5 inches and predates the standard size of 5.5 x 3.5 inches....
The official size for British postcards between 1894–1899, measuring 115 ×.
Divided Back
Postcards with a back divided into two sections, one for the message, the other for the address. British cards were first divided in 1902 and American cards in 1907.
Django Fontina
A postcard written to a stranger, typically as a means of disseminating poetry.
Early
A term loosely used to describe any card issued before the Divided Back was introduced.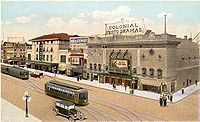 Embossed
Postcards with a raised surface.
Hand-tinted
Black-and-white images were tinted by hand using watercolours and stencils.
Hold-to-Light
Also referred to as 'HTL', postcards often of a night time scene with cut out areas to show the light.
Intermediate Size
The link between Court Cards and Standard Size, measuring 130 ×.
Kaleidoscopes
Postcards with a rotating wheel that reveals a myriad of colours when turned.
Large Letter
A term used to describe a postcard which has the name of a place shown as a series of very large letters, inside of each of which is a picture of that locale (see also Big Letter).
Midget Postcards
Novelty cards of the size 90 ×.
Novelty
Any postcard which deviates in any way from the norm. Cards which do something, or have articles attached to them, or are printed in an unusual size or on strange materials. An example is cards made of leather.
Oilette
A trade name used by Raphael Tuck & Sons to describe postcards reproduced from original paintings.
Postcardese
The style of writing used on postcards; short sentences, jumping from one subject to another.
Real Photographic
Abbreviated to 'RP'. Used to describe postcards produced by a photographic rather than a printing process.
Reward Cards
Cards that were given away to school children for good work.
Standard Size
Introduced in Britain in November 1899, measuring 140 ×.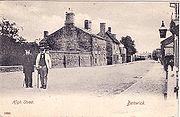 Topographical
A term used to describe postcards showing street scenes and general views. Judges Postcards

Judges Postcards

Judges Postcards is a picture postcard manufacturer based in St Leonards-on-Sea, East Sussex. It was known as Judges Limited between 1910 and 1984.- Fred Judge :...


produced many British topographical views.
Undivided Back
Describes postcards with a plain back where all of this space was used for the address. This is a term often used to describe Early cards, although undivided were still in common use up until 1907.
Vignette
Usually found on undivided back cards, consisting of a design which does not occupy the whole of the picture side. Vignettes may be anything from a small sketch in one corner of the card, to a design cover three quarters of the card. The purpose is to leave some space for the message to be written, as the entire reverse of the card could only be used for the address.
Write-Away
Used to describe a card with the opening line of a sentence, which the sender would then complete. Often found on early comic cards.
See also
Advertising postcard

Advertising postcard

An advertising postcard is a postcard used for advertising purposes . Because the postcard begins as a blank sheet of paper, the options for what may be advertised are endless. Postcards are used in advertising as an alternative to or complementary addition to other print advertising such as...



Chicago Postcard Museum

Chicago Postcard Museum

The Chicago Postcard Museum is an online private and independent organization that seeks to provide a visual history of Chicago through postcards.-History:...



Deltiology

Deltiology

Deltiology is the study and collection of postcards. Professor Randall Rhoades of Ashland, Ohio, coined a word in 1945 that became the accepted description of the study of picture postcards. It took about 20 years for the name to appear in the dictionary the first time...



e-card

E-card

An e-card is similar to a postcard or greeting card, with the primary difference being that it is created using digital media instead of paper or other traditional materials. E-cards are made available by publishers usually on various Internet sites, where they can be sent to a recipient, usually...



Ellen Clapsaddle

Ellen Clapsaddle

Ellen Hattie Clapsaddle was an American illustrator/commercial artist in the late 19th and early 20th centuries...



Esther Howland

Esther Howland

Esther Howland was an artist and businesswoman who is responsible for popularizing Valentine's Day greeting cards in America.After her graduation from Mount Holyoke College in 1847, Howland received an ornate English Valentine from a business associate of her father when she was 19 years old...



Frances Brundage

Frances Brundage

Frances Isabelle Brundage was an American illustrator best known for her depictions of attractive and endearing children on postcards, valentines, calendars, and other ephemera published by Raphael Tuck & Sons, Samuel Gabriel Company, and Saalfield Publishing. She received an education in art at...



Francis Frith

Francis Frith

Francis Frith was an English photographer of the Middle East and many towns in the United Kingdom....



Greeting card

Greeting card

A greeting card is an illustrated, folded card featuring an expression of friendship or other sentiment. Although greeting cards are usually given on special occasions such as birthdays, Christmas or other holidays, they are also sent to convey thanks or express other feeling. Greeting cards,...



James Valentine

James Valentine (photographer)

James Valentine was a well-known photographer of Dundee, Scotland. Valentines of Dundee produced Scottish topographical views from the 1860s, and later became internationally famous as the producers of picture postcards.-History:...



F.G.O Stuart
Judges Postcards

Judges Postcards

Judges Postcards is a picture postcard manufacturer based in St Leonards-on-Sea, East Sussex. It was known as Judges Limited between 1910 and 1984.- Fred Judge :...



Mail Art

Mail art

Mail art is a worldwide cultural movement that began in the early 1960s and involves sending visual art through the international postal system. Mail Art is also known as Postal Art or Correspondence Art...



Paper size

Paper size

Many paper size standards conventions have existed at different times and in different countries. Today there is one widespread international ISO standard and a localised standard used in North America . The paper sizes affect writing paper, stationery, cards, and some printed documents...


s
PHQ Cards
Postal card

Postal card

Postal cards are postal stationery with an imprinted stamp or indicium signifying the prepayment of postage. They are sold by postal authorities. In January, 1869 Emanuel Herrmann of Austria described the advantages of a Correspondenz Karte. By October, 1869 the world's first postal card was...



Postcardware

Postcardware

Postcardware, also called just cardware, is a style of software distribution similar to shareware, distributed by the author on the condition that users send the author a postcard.This is similar to beerware...



Postcrossing

Postcrossing

Postcrossing is an online project that allows its members to send and receive real postcards from all over the world. The project's tag line is "send a postcard and receive a postcard back from a random person somewhere in the world!" Its members, also known as Postcrossers, send postcards to other...



Postino

Postino

Postino is an application built for the iPhone[1] and the Facebook[2] social network, which allows users to create custom physical postcards and to send them worldwide. The user takes a new photo with the camera , writes a message and a signature, pick a destination address, and send the postcard...



PostSecret

PostSecret

PostSecret is an ongoing community mail art project, created by Frank Warren, in which people mail their secrets anonymously on a homemade postcard...



QSL card
Real photo postcard

Real photo postcard

In 1903 Kodak introduced the . The camera, designed for postcard-size film, allowed the general public to take photographs and have them printed on postcard backs. They are usually the same size as standard vintage postcards . Also known by the acronym "RPPC".Kodak's 3A camera pioneered in its use...



Touchnote mobile phone postcards

Touchnote

Touchnote.com is a London business offering a variation on the traditional postcard and personalised greeting card.The website was launched in October 2008...



External links