 Smocking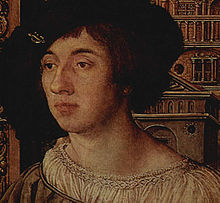 Smocking
is an
embroidery
Embroidery
Embroidery is the art or handicraft of decorating fabric or other materials with needle and thread or yarn. Embroidery may also incorporate other materials such as metal strips, pearls, beads, quills, and sequins....
technique used to gather
fabric
Fabric
A fabric is a textile material, short for "textile fabric".Fabric may also refer to:*Fabric , the spatial and geometric configuration of elements within a rock*Fabric , a nightclub in London, England...
so that it can stretch. Before
elastic
Elastomer
An elastomer is a polymer with the property of viscoelasticity , generally having notably low Young's modulus and high yield strain compared with other materials. The term, which is derived from elastic polymer, is often used interchangeably with the term rubber, although the latter is preferred...
, smocking was commonly used in
cuff
Cuff
A cuff is an extra layer of fabric at the lower edge of the sleeve of a garment covering the arms. In US usage the word may also refer to the end of the leg of a pair of trousers...
s,
bodice
Bodice
A bodice, historically, is an article of clothing for women, covering the body from the neck to the waist. In modern usage it typically refers to a specific type of upper garment common in Europe during the 16th to the 18th century, or to the upper portion of a modern dress to distinguish it from...
s, and
neckline
Neckline
The neckline is the top edge of a garment that surrounds the neck, especially from the front view. Neckline also refers to the overall line between all the layers of clothing and the neck and shoulders of a person, ignoring the unseen undergarments....
s in garments where
button
Button
In modern clothing and fashion design, a button is a small fastener, most commonly made of plastic, but also frequently of seashell, which secures two pieces of fabric together. In archaeology, a button can be a significant artifact. In the applied arts and in craft, a button can be an example of...
s were undesirable. Smocking developed in
England
England
England is a country that is part of the United Kingdom. It shares land borders with Scotland to the north and Wales to the west; the Irish Sea is to the north west, the Celtic Sea to the south west, with the North Sea to the east and the English Channel to the south separating it from continental...
and has been practised since the
Middle Ages
Middle Ages
The Middle Ages is a periodization of European history from the 5th century to the 15th century. The Middle Ages follows the fall of the Western Roman Empire in 476 and precedes the Early Modern Era. It is the middle period of a three-period division of Western history: Classic, Medieval and Modern...
and is unusual among embroidery methods in that it was often worn by laborers. Other major embroidery styles are purely decorative and represented status symbols. Smocking was practical for garments to be both form fitting and flexible, hence its name derives from
smock
— a farmer's work shirt. Smocking was used most extensively in the eighteenth and nineteenth centuries.
Materials
Smocking requires lightweight fabric with a stable weave that gathers well.
Cotton
Cotton
Cotton is a soft, fluffy staple fiber that grows in a boll, or protective capsule, around the seeds of cotton plants of the genus Gossypium. The fiber is almost pure cellulose. The botanical purpose of cotton fiber is to aid in seed dispersal....
and
silk
Silk
Silk is a natural protein fiber, some forms of which can be woven into textiles. The best-known type of silk is obtained from the cocoons of the larvae of the mulberry silkworm Bombyx mori reared in captivity...
are typical fiber choices, often in
lawn
Lawn cloth
Lawn cloth or lawn is a plain weave textile, originally of linen but now chiefly cotton. Lawn is designed using fine, high count yarns, which results in a silky, untextured feel. The fabric is made using either combed or carded yarns. When lawn is made using combed yarns, with a soft feel and...
or
voile
Voile
Voile is a soft, sheer fabric, usually made of 100% cotton or cotton blends including linen or polyester. The term comes from French, and means veil. Because of its light weight, the fabric is mostly used in soft furnishing. Full-length curtains in hot countries are made with voile and used as...
. Smocking is worked on a
crewel embroidery
Crewel embroidery
Crewel Embroidery, or Crewelwork, is a decorative form of surface embroidery using wool and a variety of different embroidery stitches to follow a design outline applied to the fabric. The technique is at least a thousand years old...
needle
Sewing needle
A sewing needle is a long slender tool with a pointed tip. The first needles were made of bone or wood; modern ones are manufactured from high carbon steel wire, nickel- or 18K gold plated for corrosion resistance. The highest quality embroidery needles are plated with two-thirds platinum and...
in cotton or silk thread and normally requires three times the width of initial material as the finished item will have. Historically, smocking was also worked in
pique
Pique
Piqué, or marcella, refers to a weaving style, normally used with cotton yarn, which is characterized by raised parallel cords or fine ribbing. Twilled cotton and corded cotton are close relatives....
, crepe de Chine, and
cashmere
Cashmere wool
Cashmere wool, usually simply known as cashmere, is a fiber obtained from Cashmere and other types of goats. The word cashmere derives from an old spelling of Kashmir. Cashmere is fine in texture, and strong, light, and soft. Garments made from it provide excellent...
. According to
Good Housekeeping: The Illustrated Book of Needlecrafts
, "Any type of fabric can be smocked if it is supple enough to be gathered."
Fabric can be gathered into pleats in a variety of ways.
Early smocking, or gauging, was done by hand. Some embroiderers also made their own guides using cardboard and an embroidery marking pencil. By 1880, iron-on transfer dots were available and advertised in magazines such as Weldon's. The iron on transfers places evenly spaced dots onto the wrong side of the fabric, which were then pleated using a regular running stitch.
Since the early 1950s, pleating machines have been available to home smockers. Using gears and specialty pleater needles, the fabric is forced through the gears and onto the threaded needles. Pleating machines are typically offered in 16-row, 24-row and 32-row widths. Manufacturers include Read and Amanda Jane.
Method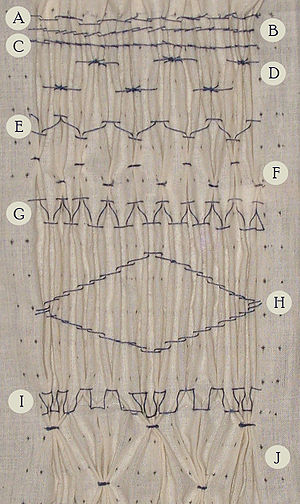 Smocking refers to work done before a garment is assembled. It usually involves reducing the dimensions of a piece of fabric to one-third of its original width, although changes are sometimes lesser with thick fabrics. Individual smocking stitches also vary considerably in tightness, so embroiderers usually work a
sampler
Sampler (needlework)
A sampler is a piece of embroidery produced as a demonstration or test of skill in needlework. It often includes the alphabet, figures, motifs, decorative borders and sometimes the name of the person who embroidered it and the date...
for practice and reference when they begin to learn smocking.
Traditional hand smocking begins with marking
smocking dots
in a grid pattern on the wrong side of the fabric and gathering it with temporary
running stitch
Running stitch
The running stitch or straight stitch is the basic stitch in hand-sewing and embroidery, on which all other forms of sewing are based. The stitch is worked by passing the needle in and out of the fabric...
es. These stitches are anchored on each end in a manner that facilitates later removal and are analogous to basting stitches. Then a row of cable stitching stabilizes the top and bottom of the working area.
Smocking may be done in many sophisticated patterns.
Standard hand smocking stitches are:
A.
Cable stitch
: a tight stitch of double rows that joins alternating columns of gathers.
B.
Stem stitch
: a tight stitch with minimum flexibility that joins two columns of gathers at a time in single overlapping rows with a downward slope.
C.
Outline stitch
: similar to the stem stitch but with an upward slope.
D.
Cable flowerette
: a set of gathers worked in three rows of stitches across four columns of gathers. Often organized in diagonally arranged sets of flowerettes for loose smocking.
E.
Wave stitch
: a medium density pattern that alternately employs tight horizontal stitches and loose diagonal stitches.
F.
Honeycomb stitch
: a medium density variant on the cable stitch that double stitches each set of gathers and provides more spacing between them, with an intervening diagonal stitch concealed on the reverse side of the fabric.
G.
Surface honeycomb stitch
: a tight variant on the honeycomb stitch and the wave stitch with the diagonal stitch visible, but spanning only one gather instead of a gather and a space.
H.
Trellis stitch
: a medium density pattern that uses stem stitches and outine stitches to form diamond-shaped patterns.
I.
Vandyke stitch
: a tight variant on the surface honeycomb stitch that wraps diagonal stitches in the opposite direction.
J.
Bullion stitch
: a complex knotted stitch that joins several gathers in a single stitch. Organized similarly to cable flowerettes.
Smocker's knot: (not depicted) a simple knotted stitch

Knotted stitch

A knotted stitch is any embroidery technique in which the yarn or thread is knotted around itself. Common knotted stitches include French knots and coral stitch...


used to finish work with a thread or for decorative purposes.
Organization
The Smocking Arts Guild of America (SAGA) is the premiere needlework organization for smocking and fine handsewing, as well as French machine sewing and related needlearts, including silk ribbon embroidery, shadowwork embroidery, and pulled thread work.
External links