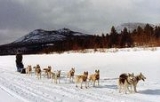 Sled dog
Sled dogs
, known also as
sleigh man dogs
,
sledge dogs,
or
sleddogs
, are highly trained
types
Dog type
Dog types are broad categories of dogs based on function, with dogs identified primarily by specific function or style of work rather than by lineage or appearance....
of
dog
Dog
The domestic dog is a domesticated form of the gray wolf, a member of the Canidae family of the order Carnivora. The term is used for both feral and pet varieties. The dog may have been the first animal to be domesticated, and has been the most widely kept working, hunting, and companion animal in...
s that are used to pull a
dog sled
Dog sled
A dog sled is a sled pulled by one or more sled dogs used to travel over ice and through snow. Numerous types of sleds are used, depending on their function. They can be used for dog sled racing.-History:...
, a wheel-less vehicle on runners also called a
sled
Sled
A sled, sledge, or sleigh is a land vehicle with a smooth underside or possessing a separate body supported by two or more smooth, relatively narrow, longitudinal runners that travels by sliding across a surface. Most sleds are used on surfaces with low friction, such as snow or ice. In some cases,...
or sleigh, over
snow
Snow
Snow is a form of precipitation within the Earth's atmosphere in the form of crystalline water ice, consisting of a multitude of snowflakes that fall from clouds. Since snow is composed of small ice particles, it is a granular material. It has an open and therefore soft structure, unless packed by...
or
ice
Ice
Ice is water frozen into the solid state. Usually ice is the phase known as ice Ih, which is the most abundant of the varying solid phases on the Earth's surface. It can appear transparent or opaque bluish-white color, depending on the presence of impurities or air inclusions...
, by means of
harnesses
Dog harness
A dog harness is piece of equipment for dogs, generally similar to harness tack for horses. There are various designs depending on the type of use, whether it be for assistance to a disabled person, hauling a cart or sled, or pulling a human being, such as in skijoring or pulka...
and lines.
Sled dogs have become a popular winter recreation and sport in
North America
North America
North America is a continent wholly within the Northern Hemisphere and almost wholly within the Western Hemisphere. It is also considered a northern subcontinent of the Americas...
and
Europe
Europe
Europe is, by convention, one of the world's seven continents. Comprising the westernmost peninsula of Eurasia, Europe is generally 'divided' from Asia to its east by the watershed divides of the Ural and Caucasus Mountains, the Ural River, the Caspian and Black Seas, and the waterways connecting...
; sled dogs are now found even in such unlikely places as
Germany
Germany
Germany , officially the Federal Republic of Germany , is a federal parliamentary republic in Europe. The country consists of 16 states while the capital and largest city is Berlin. Germany covers an area of 357,021 km2 and has a largely temperate seasonal climate...
and
Japan
Japan
Japan is an island nation in East Asia. Located in the Pacific Ocean, it lies to the east of the Sea of Japan, China, North Korea, South Korea and Russia, stretching from the Sea of Okhotsk in the north to the East China Sea and Taiwan in the south...
.