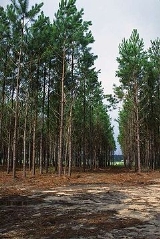 Slash Pine
Pinus elliottii
, commonly known as the
Slash Pine
, is a
pine
Pine
Pines are trees in the genus Pinus ,in the family Pinaceae. They make up the monotypic subfamily Pinoideae. There are about 115 species of pine, although different authorities accept between 105 and 125 species.-Etymology:...
native to the
southeastern United States
Southeastern United States
The Southeastern United States, colloquially referred to as the Southeast, is the eastern portion of the Southern United States. It is one of the most populous regions in the United States of America....
, from southern
South Carolina
South Carolina
South Carolina is a state in the Deep South of the United States that borders Georgia to the south, North Carolina to the north, and the Atlantic Ocean to the east. Originally part of the Province of Carolina, the Province of South Carolina was one of the 13 colonies that declared independence...
west to southeastern
Louisiana
Louisiana
Louisiana is a state located in the southern region of the United States of America. Its capital is Baton Rouge and largest city is New Orleans. Louisiana is the only state in the U.S. with political subdivisions termed parishes, which are local governments equivalent to counties...
, and south to the
Florida
Florida
Florida is a state in the southeastern United States, located on the nation's Atlantic and Gulf coasts. It is bordered to the west by the Gulf of Mexico, to the north by Alabama and Georgia and to the east by the Atlantic Ocean. With a population of 18,801,310 as measured by the 2010 census, it...
Keys
Florida Keys
The Florida Keys are a coral archipelago in southeast United States. They begin at the southeastern tip of the Florida peninsula, about south of Miami, and extend in a gentle arc south-southwest and then westward to Key West, the westernmost of the inhabited islands, and on to the uninhabited Dry...
.
It is fast-growing, but not very long-lived by pine standards (to 200 years), and prefers humid climates and moist soil.
Slash Pine is named after the "slashes" –
swamp
Swamp
A swamp is a wetland with some flooding of large areas of land by shallow bodies of water. A swamp generally has a large number of hammocks, or dry-land protrusions, covered by aquatic vegetation, or vegetation that tolerates periodical inundation. The two main types of swamp are "true" or swamp...
y ground overgrown with trees and bushes – that constitute its habitat.
This
tree
Tree
A tree is a perennial woody plant. It is most often defined as a woody plant that has many secondary branches supported clear of the ground on a single main stem or trunk with clear apical dominance. A minimum height specification at maturity is cited by some authors, varying from 3 m to...
reaches heights of 18–30 m (59.1–98.4 ft) with a trunk diameter of 0.6–0.8 m (2–2.6 ft).