 Sitka Summer Music Festival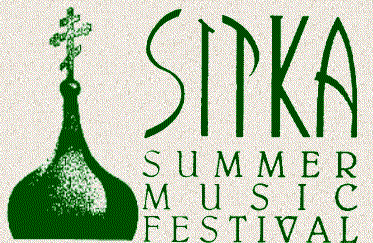 The
Sitka Summer Music Festival
(abbreviated
SSMF
) is a month-long classical
chamber music
Chamber music
Chamber music is a form of classical music, written for a small group of instruments which traditionally could be accommodated in a palace chamber. Most broadly, it includes any art music that is performed by a small number of performers with one performer to a part...
festival in the community of Sitka,
Alaska
Alaska
Alaska is the largest state in the United States by area. It is situated in the northwest extremity of the North American continent, with Canada to the east, the Arctic Ocean to the north, and the Pacific Ocean to the west and south, with Russia further west across the Bering Strait...
.
About
The festival takes place in early summer during the month of June with three groupings of musicians. Each group of musicians performs three
concert
Concert
A concert is a live performance before an audience. The performance may be by a single musician, sometimes then called a recital, or by a musical ensemble, such as an orchestra, a choir, or a musical band...
s before a new group arrives to perform the next three concerts.
Each season of the festival consists of around ten evening concerts, the centerpieces of the festival, as well as several free, informal "brown bag" concerts and multiple fundraising events and cruises.
All of the evening concerts occur at the breathtaking venue of Harrigan Centennial Hall, in downtown Sitka. While it is not an
auditorium
Auditorium
An auditorium is a room built to enable an audience to hear and watch performances at venues such as theatres. For movie theaters, the number of auditoriums is expressed as the number of screens.- Etymology :...
(rather, the main hall of a convention/civic center), its glass-panel backdrop reveals a clear view of Crescent Harbor,
Eastern Channel
Eastern Channel
Eastern Channel is a body of deep water adjacent to the southern half of Sitka, Alaska. It is the best suited of three channels for large ships to approach harbor in Sitka....
and its assortment of small, tree-covered islands dotting its water, snow-capped mountains, and an occasional
bald eagle
Bald Eagle
The Bald Eagle is a bird of prey found in North America. It is the national bird and symbol of the United States of America. This sea eagle has two known sub-species and forms a species pair with the White-tailed Eagle...
swooping down from the sky.
The festival's
sheet music
Sheet music
Sheet music is a hand-written or printed form of music notation that uses modern musical symbols; like its analogs—books, pamphlets, etc.—the medium of sheet music typically is paper , although the access to musical notation in recent years includes also presentation on computer screens...
library is housed in Stratton Library at the former
Sheldon Jackson College
Sheldon Jackson College
Sheldon Jackson College was a small private college located on Baranof Island in Sitka, Alaska, United States. Founded in 1878, it was the oldest institution of higher learning in Alaska and maintained a historic relationship with the Presbyterian Church. The college was named in honor of Rev...
in Sitka.
The current Artistic Director is
Paul Rosenthal
Paul Rosenthal
Paul Rosenthal is an American virtuoso violinist.Rosenthal has played the violin since the age of three, going on to attend the Juilliard School in New York City and the University of Southern California under acclaimed master Jascha Heifetz. Paul Rosenthal also is skilled at both the trumpet and...
.
Zuill Bailey
Zuill Bailey
Zuill Bailey , Alexandria, Virginia, is an American cellist. A Juilliard graduate, he has appeared with a number of major orchestras internationally, and has an exclusive international recording contract with the Telarc label...
presently serves as Assistant Director and will assume the full directorship upon Rosenthal's retirement in 2012.
Other series
The festival also offers a series of Autumn and Winter Classics at
Alaska Pacific University
Alaska Pacific University
Alaska Pacific University is a small liberal arts college located in Anchorage, Alaska, that emphasizes experiential and active learning...
in
Anchorage
Anchorage, Alaska
Anchorage is a unified home rule municipality in the southcentral part of the U.S. state of Alaska. It is the northernmost major city in the United States...
, where the festival's full-time office located. During February and June the festival also offers a winter and summer touring series sending a small group of musicians (a
piano quintet
Piano quintet
In European classical music, a piano quintet is a work of chamber music written for piano and four other instruments, most commonly piano, two violins, viola, and cello . Among the most frequently performed piano quintets are those by Robert Schumann, Johannes Brahms, César Franck, Antonín Dvořák...
at most) to a number of small, usually rural communities throughout the state. The winter series visits different communities each year, Sitka notwithstanding, which always hosts the finale concert.
History
The festival began in 1972 as an informal musical reunion of the students of
Jascha Heifetz
Jascha Heifetz
Jascha Heifetz was a violinist, born in Vilnius, then Russian Empire, now Lithuania. He is widely regarded as one of the greatest violinists of all time.- Early life :...
and
Gregor Piatigorsky
Gregor Piatigorsky
Gregor Piatigorsky was a Russian-born American cellist.-Early life:...
from the
University of Southern California
University of Southern California
The University of Southern California is a private, not-for-profit, nonsectarian, research university located in Los Angeles, California, United States. USC was founded in 1880, making it California's oldest private research university...
. Their concerts were a success and the "reunion" became an annual festival, growing larger throughout the years. The Autumn and Winter Classics in Anchorage were founded in 1980 and have also continued successfully since.
Musicians
While there have been 110 festival musicians since its inception in 1972, a list of the more notable musicians classified by instrument is below:
Cello
Piano
Viola
Violin
A
full list
of musicians.
External links