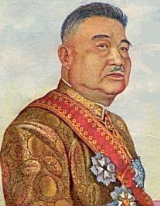 Sisavang Vong
Sisavang Phoulivong
(14 July 1885 – 29 October 1959), was king of
Kingdom of Luang Phrabang
Kingdom of Luang Phrabang
The Kingdom of Luang Phrabang was formed in 1707 as a result of the split of the Kingdom of Lan Xang. The monarchy was so weak that it was forced to pay tribute at various times to the Burmese and the Siamese...
and later
Kingdom of Laos
Kingdom of Laos
The Kingdom of Laos was a sovereign state from 1953 until December 1975, when Pathet Lao overthrew the government and created the Lao People's Democratic Republic. Given self-rule in 1949 as part of a federation with the rest of French Indochina, the 1953 Franco-Lao Treaty finally established a...
from 28 April 1904 until his death on 20 October 1959.
Early life
He was born at Luang Phrabang, on July 14, 1885. His father was
Zakarine
Zakarine
King Zakarine, also known as Sakkarin, Sakharine, Sackarine, Zackarine, and Zacharine was the King of Luang Prabang from 1895 to 1904.-Early life:He was brought up in Luang...
, King of Luang Phrabang and his mother was Queen Thongsy. He was educated at Lycée Chasseloup-Laubat, Saigon and
l'École Coloniale
École nationale de la France d'Outre-mer
The École Nationale de la France d'Outre-Mer was a French grande école, providing training for future colonial administrators...
,
Paris
Paris
Paris is the capital and largest city in France, situated on the river Seine, in northern France, at the heart of the Île-de-France region...
. He was known as a "playboy" king. He had up to 50 children by as many as 15 wives, two of whom were his half sisters and one of whom was a niece. Fourteen of the children would die in the
Mekong
Mekong
The Mekong is a river that runs through China, Burma, Laos, Thailand, Cambodia and Vietnam. It is the world's 10th-longest river and the 7th-longest in Asia. Its estimated length is , and it drains an area of , discharging of water annually....
after a boating accident.
His wives included:
Princess Kamuni

Kham-Oun I

Queen Kham-Oun I is mother of Savang Vatthana. She died at the Royal Palace, Luang Prabang....


(1885–1915), daughter of Prince Ko and Princess Duangbadani
Khamphane (1896–1983), his half sister by his father's wife Mom La; they had no children
Khamla, a commoner
Khamboua, a commoner
Khamtip, a commoner
Princess Khamtouan of Luang Prabang, his half sister (one son)
Princess Kamaduni of the Vang Hnaxxs family
Mom Khamphoui, a commoner
Princess Indrakama, a daughter of Prince Jayasena, Prince Sri Dibudinha and his wife, Pong
Princess Kamuni
Princess Khamphoui, the daughter of his half-brother
Chansy (1900–1984), a commoner
King of Laos
He succeeded his father as King of
Luang Prabang
Luang Prabang
Luang Prabang, or Louangphrabang , is a city located in north central Laos, where the Nam Khan river meets the Mekong River about north of Vientiane. It is the capital of Luang Prabang Province...
after the death of his father, 25 March 1904. Luang Phrabang was then a French protectorate within French Indochina. He ascended the throne, at the old Royal Palace, Luang Prabang, 15 April 1904, and was crowned there, 4 March 1905. During the early years of his reign, the French built a modern palace for him, the
Royal Palace of Luang Prabang
Royal Palace Museum
The Royal Palace in Luang Prabang, Laos was built in 1904 during the French colonial era for King Sisavang Vong and his family. The site for the palace was chosen so that official visitors to Luang Prabang could disembark from their river voyages directly below the palace and be received there...
for his use of residence. Under his kingdom he had united provinces Houaphan, 1931; Houakhong;
Xiengkhouang
Xiangkhoang
Xiangkhouang may refer to:* Xiangkhouang Province* Xiangkhoang Plateau* Xieng Khouang Airport...
and
Vientiane
Vientiane
-Geography:Vientiane is situated on a bend of the Mekong river, which forms the border with Thailand at this point.-Climate:Vientiane features a tropical wet and dry climate with a distinct monsoon season and a dry season. Vientiane's dry season spans from November through March. April marks the...
, 1942; Champassak and Sayboury, 1946.
He was a lifelong supporter of French rule in Laos, and in 1945 he refused to cooperate with Lao nationalists and he was deposed when the Lao Issara declared the country independent. In April 1946, the French took over once again and he was reinstated as king (the first time a Lao monarch actually ruled all of what is today called Laos).
In 1954 he celebrated his
Golden Jubilee
Golden Jubilee
A Golden Jubilee is a celebration held to mark a 50th anniversary.- In Thailand :King Bhumibol Adulyadej, the world's longest-reigning monarch, celebrated his Golden Jubilee on 9 June 1996.- In the Commonwealth Realms :...
, becoming the longest-reigning king in Asia until King
Bhumibol Adulyadej
Bhumibol Adulyadej
Bhumibol Adulyadej is the current King of Thailand. He is known as Rama IX...
of
Thailand
Thailand
Thailand , officially the Kingdom of Thailand , formerly known as Siam , is a country located at the centre of the Indochina peninsula and Southeast Asia. It is bordered to the north by Burma and Laos, to the east by Laos and Cambodia, to the south by the Gulf of Thailand and Malaysia, and to the...
, who surpassed his reign in 2001.
When he became ill, he made his son Crown Prince
Savang Vatthana
Savang Vatthana
Savang or Sisavang Vatthana was the last king of the Kingdom of Laos. He ruled from 1959 after his father's death, until his forced abdication in 1975...
regent. His son succeeded him on his death in 1959. He was cremated and buried in Wat That Luang in 1961, and during his funeral procession was transported by the royal funeral carriage, a 12-meter-high wooden hearse with a carved seven-headed serpent. Many representatives were at the state funeral including Prince Bhanubandhu, who represented Thailand.
Sisavangvong University
Sisavangvong University
Sisavangvong University was a university in Vientiane, Laos, established in 1958 and named after King Sisavangvong. Following the exodus of teaching staff in 1975 when the communists came to power in Laos, Sisavangvong University was dissolved and carved up into separate colleges, leaving the...
was named in his honor, but was abolished in 1975 when the communists took power in Laos.
Because he presided over independence from the French Union, statues of him survived the communist revolution and remain in Luang Prabang and Vientiane. Both statues depict him in the act of bestowing a constitution upon the people.
Honours
Grand Cross of the Royal Order of Cambodia

Royal Order of Cambodia

The Royal Order of Cambodia was a French colonial chivalric order of knighthood in Colonial Cambodia, still in use in the kingdom of Cambodia.-Colonial:...


– 1905
Grand Cross of the Order of the Dragon of Annam – 1905
Decoration of the Golden Gong, 1st Class of Annam
Grand Cross of the Legion d'Honneur

Légion d'honneur

The Legion of Honour, or in full the National Order of the Legion of Honour is a French order established by Napoleon Bonaparte, First Consul of the Consulat which succeeded to the First Republic, on 19 May 1802...


of France

France

The French Republic , The French Republic , The French Republic , (commonly known as France , is a unitary semi-presidential republic in Western Europe with several overseas territories and islands located on other continents and in the Indian, Pacific, and Atlantic oceans. Metropolitan France...


– 1927 (Commander – 1905)
Grand Officer of the Order of the Black Star of Benin of France – 1935
Grand Officer of the Order of the Crown

Order of the Crown (Belgium)

The Order of the Crown is an Order of Belgium which was created on 15 October 1897 by King Leopold II in his capacity as ruler of the Congo Free State. The order was first intended to recognize heroic deeds and distinguished service achieved from service in the Congo Free State - many of which acts...


of Belgium – 1935
Officer of the Order of Arts and Letters of France – 1949
Croix de Guerre

Croix de guerre

The Croix de guerre is a military decoration of France. It was first created in 1915 and consists of a square-cross medal on two crossed swords, hanging from a ribbon with various degree pins. The decoration was awarded during World War I, again in World War II, and in other conflicts...


with Palm of France – 1949
Knight of the Order of the Royal House of Chakri

Order of the Royal House of Chakri

The Most Illustrious Order of the Royal House of Chakri was established in 1882 by King Rama V of The Kingdom of Siam to commemorate the Bangkok Centennial...


of Thailand – 1955
Grand Cross of the National Order of Merit of Vietnam – 1955