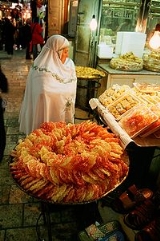 Shopping
Shopping
is the examining of goods or services from retailers with the intent to
purchase
Trade
Trade is the transfer of ownership of goods and services from one person or entity to another. Trade is sometimes loosely called commerce or financial transaction or barter. A network that allows trade is called a market. The original form of trade was barter, the direct exchange of goods and...
at that time. Shopping is an activity of
selection
Selection
In the context of evolution, certain traits or alleles of genes segregating within a population may be subject to selection. Under selection, individuals with advantageous or "adaptive" traits tend to be more successful than their peers reproductively—meaning they contribute more offspring to the...
and/or purchase. In some contexts it is considered a
leisure
Leisure
Leisure, or free time, is time spent away from business, work, and domestic chores. It is also the periods of time before or after necessary activities such as eating, sleeping and, where it is compulsory, education....
activity as well as an economic one.
In
ancient Rome
Ancient Rome
Ancient Rome was a thriving civilization that grew on the Italian Peninsula as early as the 8th century BC. Located along the Mediterranean Sea and centered on the city of Rome, it expanded to one of the largest empires in the ancient world....
, there was
Trajan's Market
Trajan's Market
Trajan's Market is a large complex of ruins in the city of Rome, Italy, located on the Via dei Fori Imperiali, at the opposite end to the Colosseum...
with
taberna
Taberna
A taberna was a single room shop covered by a barrel vault within great indoor markets of ancient Rome. Each taberna had a window above it to let light into a wooden attic for storage and had a wide doorway....
e that served as retailing units.
Shopping list
Shopping list
A shopping list is a list of items needed to be purchased by a shopper. Consumers often compile a shopping list of groceries to purchase on the next visit to the grocery store. The list may be compiled immediately before the shopping trip or incrementally as shopping needs arise throughout the...
s are known to be used by Romans as one was discovered by
Hadrian's wall
Hadrian's Wall
Hadrian's Wall was a defensive fortification in Roman Britain. Begun in AD 122, during the rule of emperor Hadrian, it was the first of two fortifications built across Great Britain, the second being the Antonine Wall, lesser known of the two because its physical remains are less evident today.The...
dated back to 75–125 AD and written for a soldier.
To some people, shopping is considered a recreational and diversional activity in which one visits a variety of stores with a premeditated intent to purchase a product.