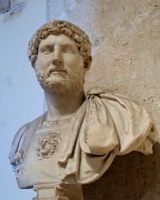 Hadrian
Hadrian
was
Roman Emperor
Roman Emperor
The Roman emperor was the ruler of the Roman State during the imperial period . The Romans had no single term for the office although at any given time, a given title was associated with the emperor...
from 117 to 138. He is best known for building
Hadrian's Wall
Hadrian's Wall
Hadrian's Wall was a defensive fortification in Roman Britain. Begun in AD 122, during the rule of emperor Hadrian, it was the first of two fortifications built across Great Britain, the second being the Antonine Wall, lesser known of the two because its physical remains are less evident today.The...
, which marked the northern limit of
Roman Britain
Roman Britain
Roman Britain was the part of the island of Great Britain controlled by the Roman Empire from AD 43 until ca. AD 410.The Romans referred to the imperial province as Britannia, which eventually comprised all of the island of Great Britain south of the fluid frontier with Caledonia...
. In Rome, he re-built the
Pantheon
Pantheon, Rome
The Pantheon ,Rarely Pantheum. This appears in Pliny's Natural History in describing this edifice: Agrippae Pantheum decoravit Diogenes Atheniensis; in columnis templi eius Caryatides probantur inter pauca operum, sicut in fastigio posita signa, sed propter altitudinem loci minus celebrata.from ,...
and constructed the
Temple of Venus and Roma
Temple of Venus and Roma
The Temple of Venus and of Rome — in Latin, Templum Veneris et Romae — is thought to have been the largest temple in Ancient Rome. Located on the Velian Hill, between the eastern edge of the Forum Romanum and the Colosseum, it was dedicated to the goddesses Venus Felix and Roma Aeterna...
. In addition to being emperor, Hadrian was a
humanist
Humanism
Humanism is an approach in study, philosophy, world view or practice that focuses on human values and concerns. In philosophy and social science, humanism is a perspective which affirms some notion of human nature, and is contrasted with anti-humanism....
and was philhellene in all his tastes. He was the third of the so-called Five Good Emperors.
Hadrian was born Publius Aelius Hadrianus. His predecessor
Trajan
Trajan
Trajan , was Roman Emperor from 98 to 117 AD. Born into a non-patrician family in the province of Hispania Baetica, in Spain Trajan rose to prominence during the reign of emperor Domitian. Serving as a legatus legionis in Hispania Tarraconensis, in Spain, in 89 Trajan supported the emperor against...
was a maternal cousin of Hadrian's father.