 Shigeru Ban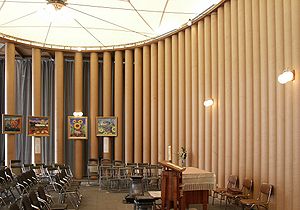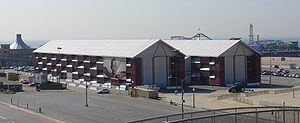 Shigeru Ban
is an accomplished
Japan
Japan
Japan is an island nation in East Asia. Located in the Pacific Ocean, it lies to the east of the Sea of Japan, China, North Korea, South Korea and Russia, stretching from the Sea of Okhotsk in the north to the East China Sea and Taiwan in the south...
ese and international
architect
Architect
An architect is a person trained in the planning, design and oversight of the construction of buildings. To practice architecture means to offer or render services in connection with the design and construction of a building, or group of buildings and the space within the site surrounding the...
, most famous for his innovative work with paper, particularly recycled cardboard paper tubes used to quickly and efficiently house disaster victims. Shigeru Ban was the winner in 2005 at age 48 of the 40th annual
Thomas Jefferson Medal in Architecture
Thomas Jefferson Medal in Architecture
The Thomas Jefferson Foundation Medal in Architecture is presented for notable achievement in design or for distinguished contributions to the field of architecture. The award has been made annually since its establishment in 1966. The award is granted jointly by the Thomas Jefferson Foundation and...
from the
University of Virginia
University of Virginia
The University of Virginia is a public research university located in Charlottesville, Virginia, United States, founded by Thomas Jefferson...
in Charlottesville. He was profiled by
Time
Magazine in their projection of 21st century innovators in the field of architecture and design.
Early life and education
Shigeru Ban studied at the
Southern California Institute of Architecture
Southern California Institute of Architecture
The Southern California Institute of Architecture in Los Angeles , California, is an independent, nonprofit school offering undergraduate and graduate degrees in architecture. It offers community design and outreach programs, and free public access to frequent exhibitions and lectures by leading...
and later went on to
Cooper Union's School of Architecture
Cooper Union
The Cooper Union for the Advancement of Science and Art, commonly referred to simply as Cooper Union, is a privately funded college in the East Village neighborhood of Manhattan, New York City, United States, located at Cooper Square and Astor Place...
where he studied under
John Hejduk
John Hejduk
John Quentin Hejduk , was an American architect, artist and educator who spent much of his life in New York City, USA...
and graduated in 1984. Hejduk was a part of the
New York Five
The New York Five
The New York Five refers to a group of five New York City architects whose work appeared in a Museum of Modern Art exhibition organized by Arthur Drexler in 1967, and the subsequent book Five Architects in 1972.These five had a common allegiance to a pure form of architectural modernism, harkening...
. From Hejduk, Ban not only learned fundamental elements of architecture, but also gained an interest in 'architectonic poetics' or the creation of three-dimensional poetry. Hejduk, the most experimentally minded of the New York Five, had a lasting influence on Ban, whose work has continuing explorations into basic geometric elements. Ban's formal explorations with basic building materials helped to lead him into unique structural solutions.
Design approach
For Ban, one of the most important themes in his work is the "invisible structure". That is, he doesn't overtly express his structural elements, but rather chooses to incorporate it into the design. Ban is not interested in the 'newest' materials and techniques, but rather the expression of the concept behind his building. The materials he chooses to use are deliberately chosen for how they aid the building to do so.
Ban entertains several schools of architecture, first he is a Japanese architect and uses many themes and methods found in traditional Japanese architecture (such as
shōji
Shoji
In traditional Japanese architecture, a shōji is a door, window or room divider consisting of translucent paper over a frame of wood which holds together a lattice of wood or bamboo...
) and the idea of a 'universal floor' to allow continuity between all rooms in a house. In his buildings, this translates to a floor without change in elevation. By choosing to study under Hejduk, Ban opted to do something different. Hejduk's Rationalist views on architecture provided a way of revisiting Western modernism and gaining a richer appreciation than the reductive vision of it as a rationalized version of the traditionalist—yet ultra-modern—Japanese space. With his Western education and influences, Ban has become one of the forerunning Japanese architects who embrace the combination of Western and Eastern building forms and methods. Perhaps most influential from Hejduk was the study of the structure of architectural systems. Ban is most famous now for his innovative work with paper and cardboard tubing as a material for building construction. He was the first architect in Japan to construct a building primarily out of
paper
Paper
Paper is a thin material mainly used for writing upon, printing upon, drawing or for packaging. It is produced by pressing together moist fibers, typically cellulose pulp derived from wood, rags or grasses, and drying them into flexible sheets....
, with his paper house and required special approval for his building to pass Japan's
building code
Building code
A building code, or building control, is a set of rules that specify the minimum acceptable level of safety for constructed objects such as buildings and nonbuilding structures. The main purpose of building codes are to protect public health, safety and general welfare as they relate to the...
. Ban is attracted to using paper because it is low cost, recyclable, low-tech and replaceable. The last aspect of Ban's influences is his
humanitarianism
Humanitarianism
In its most general form, humanitarianism is an ethic of kindness, benevolence and sympathy extended universally and impartially to all human beings. Humanitarianism has been an evolving concept historically but universality is a common element in its evolution...
and his attraction to ecological architecture. Ban's work with paper and other materials is heavily based on its sustainability and because it produces very little waste. As a result of this, Ban's DIY
refugee shelter
Refugee shelter
Refugee shelters include the most basic kind of structure created in the aftermath of a conflict or natural disaster as a temporary residence for victims who have lost or abandoned their homes. There is a continuum ranging from the most temporary tent accommodation through transitional shelter to...
s (used in Japan after the Kobe earthquake, in
Turkey
Turkey
Turkey , known officially as the Republic of Turkey , is a Eurasian country located in Western Asia and in East Thrace in Southeastern Europe...
,
Rwanda
Rwanda
Rwanda or , officially the Republic of Rwanda , is a country in central and eastern Africa with a population of approximately 11.4 million . Rwanda is located a few degrees south of the Equator, and is bordered by Uganda, Tanzania, Burundi and the Democratic Republic of the Congo...
and around the world) are very popular and effective for low-cost disaster relief-housing.
Ban created the Japanese pavilion building at
Expo 2000
Expo 2000
Expo 2000 was a World's Fair held in Hanover, Germany from Thursday, June 1 to Tuesday, October 31, 2000. It was located on the Hanover fairground , which is famous for hosting CeBIT...
in Hanover in collaboration with the architect
Frei Otto
Frei Otto
Frei Paul Otto is a German architect and structural engineer.- Life :Otto was born in Siegmar . He studied architecture in Berlin before being drafted into the Luftwaffe as a fighter pilot in the last years of World War II...
and structural engineers
Buro Happold
Buro Happold
Buro Happold is a professional services firm providing engineering consultancy, design, planning, project management and consulting services for all aspects of buildings, infrastructure and the environment, with its head office in Bath, Somerset...
. The 72-metre-long
gridshell
Gridshell
A gridshell is a structure which derives its strength from its double curvature , but is constructed of a grid or lattice....
structure was made with paper tubes. But due to stringent building laws in Germany, the roof had to be reinforced with a substructure. After the exhibition the structure was
recycled
Recycling
Recycling is processing used materials into new products to prevent waste of potentially useful materials, reduce the consumption of fresh raw materials, reduce energy usage, reduce air pollution and water pollution by reducing the need for "conventional" waste disposal, and lower greenhouse...
and returned to paper pulp.
Ban fits well into the category of "Ecological Architects" but he also can make solid claims for being modernist, a Japanese experimentalist as well as a rationalist. "I don't like waste" is an apt quote from Ban, summing up his philosophy, known as "Paper Architecture".
Major works
Furniture House, a series of prefabricated homes built in Japan, China, and the US
Curtain wall house (1995), Itabashi, Tokyo

Tokyo

, ; officially , is one of the 47 prefectures of Japan. Tokyo is the capital of Japan, the center of the Greater Tokyo Area, and the largest metropolitan area of Japan. It is the seat of the Japanese government and the Imperial Palace, and the home of the Japanese Imperial Family...


, Japan
Naked House (2000), Kawagoe, Saitama prefecture, Japan

Japan

Japan is an island nation in East Asia. Located in the Pacific Ocean, it lies to the east of the Sea of Japan, China, North Korea, South Korea and Russia, stretching from the Sea of Okhotsk in the north to the East China Sea and Taiwan in the south...



Japanese Pavilion (2000) at Hannover World Exhibition Expo 2000

Expo 2000

Expo 2000 was a World's Fair held in Hanover, Germany from Thursday, June 1 to Tuesday, October 31, 2000. It was located on the Hanover fairground , which is famous for hosting CeBIT...


, Hannover, Germany

Germany

Germany , officially the Federal Republic of Germany , is a federal parliamentary republic in Europe. The country consists of 16 states while the capital and largest city is Berlin. Germany covers an area of 357,021 km2 and has a largely temperate seasonal climate...



Nomadic Museum

Nomadic Museum

The Nomadic Museum is a purpose-built temporary structure used to house the Ashes and Snow photography and film exhibition by Gregory Colbert.Gregory Colbert originally conceived of the idea for a sustainable traveling museum in 1999...


(2005-present), built to house Gregory Colbert's video/photo work "Ashes and Snow"
Takatori Catholic Church

Takatori Catholic Church

Takatori Catholic Church  is a Catholic church in :Nagata-ku, Kobe, Japan. It lies a fifteen minute walk from Takatori Station in Kobe, Hyōgo Prefecture, Japan.- History :...


, Hyōgo Prefecture

Hyogo Prefecture

is a prefecture of Japan located in the Kansai region on Honshū island. The capital is Kobe.The prefecture's name was previously alternately spelled as Hiogo.- History :...


, Japan. (JR Kobe Line, 15 minutes walk from Takatori station)
Musée d'art Moderne Georges Pompidou, Metz

Metz

Metz is a city in the northeast of France located at the confluence of the Moselle and the Seille rivers.Metz is the capital of the Lorraine region and prefecture of the Moselle department. Located near the tripoint along the junction of France, Germany, and Luxembourg, Metz forms a central place...


, France
Luxurious villa designs Maison S und Maison H on an exclusive private island: Mandarin Oriental Dellis Cay
External links