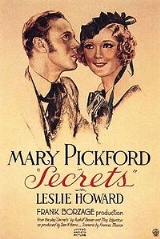 Secrets (film)
Secrets
is a
1933
1933 in film
-Events:* March 2 - King Kong premieres in New York City.* June 6 - The first drive-in theater opens, in Camden, New Jersey.* British Film Institute founded....
Western
Western (genre)
The Western is a genre of various visual arts, such as film, television, radio, literature, painting and others. Westerns are devoted to telling stories set primarily in the latter half of the 19th century in the American Old West, hence the name. Some Westerns are set as early as the Battle of...
film directed by
Frank Borzage
Frank Borzage
Frank Borzage was an American film director and actor.-Biography:Frank Borzage's father, Luigi Borzaga, was born in Ronzone, in 1859. As a stonemason, he sometimes worked in Switzerland; he met his future wife, Maria Ruegg , where she worked in a silk factory...
and starring
Mary Pickford
Mary Pickford
Mary Pickford was a Canadian-born motion picture actress, co-founder of the film studio United Artists and one of the original 36 founders of the Academy of Motion Picture Arts and Sciences...
in her last film role. The film is a remake of
Secrets
Secrets (1924 film)
Secrets is a silent film directed by Frank Borzage. The film is based upon a 1872 opera called Don César de Bazan and was remade in 1933 with Mary Pickford in the leading role. Although the film was never released on video or DVD, copies still exist.-Plot:The films opens in present. 75-year-old...
(1924), a
silent film
Silent film
A silent film is a film with no synchronized recorded sound, especially with no spoken dialogue. In silent films for entertainment the dialogue is transmitted through muted gestures, pantomime and title cards...
starring
Norma Talmadge
Norma Talmadge
Norma Talmadge was an American actress and film producer of the silent era. A major box office draw for more than a decade, her career reached a peak in the early 1920s, when she ranked among the most popular idols of the American screen.Her most famous film was Smilin' Through , but she also...
.
In 1930, Pickford had begun a remake of the Norma Talmadge
Secrets
titled
Forever Yours
with director
Marshall Neilan
Marshall Neilan
Marshall Ambrose Neilan was an American motion picture actor, screenwriter, film director, and producer.-Early life:...
and actors
Kenneth MacKenna
Kenneth MacKenna
Kenneth MacKenna was an American actor and film director, born Leo Mielziner, Jr. in Canterbury, New Hampshire.-Family:Parents were portrait artist Leo Mielziner, Sr.,...
and
Don Alvarado
Don Alvarado
Don Alvarado was an American actor, assistant film director, and film production manager.-Life and career:Born as José Paige in Albuquerque, New Mexico...
. After spending $300,000, Pickford stopped production and destroyed all negatives.
Plot
Wealthy banker and shipowner William Marlowe and his wife Martha have their hearts set on marrying their daughter Mary to English aristocrat Lord Hurley. However, Mary has other ideas. She has fallen in love with John Carlton, one of her father's clerks. When Mr. Marlowe finds out, he fires John. John decides to go west to make his fortune, then return for Mary, but she insists on going with him. They elope.
The couple settle in California and after a while, have a herd of cattle and a baby boy. While John and hired hand Sunshine are away getting supplies, notorious outlaw Jake Houser and his gang show up and
rustle the herd
Cattle raiding
Cattle raiding is the act of stealing cattle.In Australia, such stealing is often referred to as duffing, and the person as a duffer...
. John rounds up the other ranchers. They catch and hang three of the gang, including Jake's brother, but Jake gets away. Vowing revenge, the outlaw and his men attack the Carlton home. Fortunately, help arrives and the rustlers are wiped out. The baby succumbs to illness during the gunfight.
Years pass, and the Carltons prosper greatly. Four more children are born, and John runs for governor of the state. They host a party on the night before the election at their mansion. Lolita Martinez, John's lover, scandalizes everyone by showing up. In private, she insists that Mary free John to marry her. Mary agrees, but John spurns his mistress and begs his wife's forgiveness; she gives it on condition that he tell her about all his prior lovers. Lolita makes public their affair, but John still wins the election.
Later, he becomes a senator, serving for thirty years in
Washington, D.C.
Washington, D.C.
Washington, D.C., formally the District of Columbia and commonly referred to as Washington, "the District", or simply D.C., is the capital of the United States. On July 16, 1790, the United States Congress approved the creation of a permanent national capital as permitted by the U.S. Constitution....
before deciding to retire and move back to California. This puzzles the couple's grown children; Mary explains that they want time for themselves, to enjoy secrets they can share with no one else. When their offspring still oppose their decision, the couple sneak away.
Cast
Mary Pickford

Mary Pickford

Mary Pickford was a Canadian-born motion picture actress, co-founder of the film studio United Artists and one of the original 36 founders of the Academy of Motion Picture Arts and Sciences...


as Mary Marlowe Carlton
Leslie Howard

Leslie Howard (actor)

Leslie Howard was an English stage and film actor, director, and producer. Among his best-known roles was Ashley Wilkes in Gone with the Wind and roles in Berkeley Square , Of Human Bondage , The Scarlet Pimpernel , The Petrified Forest , Pygmalion , Intermezzo , Pimpernel Smith...


as John Carlton
C. Aubrey Smith as Mr. William Marlowe
Blanche Friderici

Blanche Friderici

Blanche Friderici , sometimes credited as Blanche Frederici, was an American film and stage actress.-Early life and education:She was born in Brooklyn, New York.-Theatre:...


as Mrs. Martha Marlowe (as Blanche Frederici)
Doris Lloyd

Doris Lloyd

Hessy Doris Lloyd was an English actress.She appeared in over 150 films between 1920 and 1967, including the 1933 low-budget Monogram Pictures version of Oliver Twist, in which she played Nancy...


as Susan Channing, Mary's friend
Herbert Evans as Lord Hurley
Ned Sparks

Ned Sparks

Ned Sparks was a Canadian character actor. Sparks was well known for his deadpan expression and deep, gravelly voice.-Early life and career:...


as Sunshine
Allan Sears as Jake Houser
Mona Maris

Mona Maris

Mona Maris was an Argentine film actress who was born in Buenos Aires.-Ancestry and education:Her given name was Mona Maria Emita Cap de Vielle. Her mother was a Spanish Basque and her father a French Basque...


as Señora Lolita Martinez
Huntley Gordon

Huntley Gordon

Huntley Gordon was an actor born in Montreal, Quebec.-Profile:Gordon was educated in both Canada and England. He had various jobs including working in a bank, in a silver mine, contracting, as a commercial traveller, and being a cigarette factory owner before settling on the stage and at one time...


as William Carlton as an Adult
Ethel Clayton

Ethel Clayton

Ethel Clayton was an American actress of the silent film era.-Career:Clayton's screen debut came in 1909, in a short called Justified. She jockeyed her early film appearances with a burgeoning stage career. Her pretty blond looks were reminiscient of the famous Gibson Girl drawings by Charles Dana...


as Audrey Carlton as an Adult
Bessie Barriscale

Bessie Barriscale

Bessie Barriscale was an American silent film and stage actress, and a major star for producer Thomas Ince in the late 1910s.-Early life and career:...


as Susan Carlton as an Adult
Theodore von Eltz

Theodore von Eltz

Theodore von Eltz was an American film actor. He appeared in over 200 films between 1915 and 1957.He was born in New Haven, Connecticut, and died in Woodland Hills, Los Angeles.-Selected filmography:...


as Robert Carlton as an Adult